This year's FIRST Robotics Competition Los Angeles Regional, held at Da Vinci High School in El Segundo, was a great success! The event was at full capacity with 44 teams participating, and despite some occasional rain moving in and out of the area, everyone managed to stay dry, and teams reported having a great time.
Students were excited to have visits with Cathy Looman, Director of Education for season sponsor HAAS Automation, and Annabel Flores, Chief Operating Officer, Global Spectrum Dominance, for local lead sponsor Raytheon Technologies. Annabel welcomed teams Sunday morning during Opening Ceremony, sharing some of her personal experiences in the professional world and offering words of encouragement to all the students participating.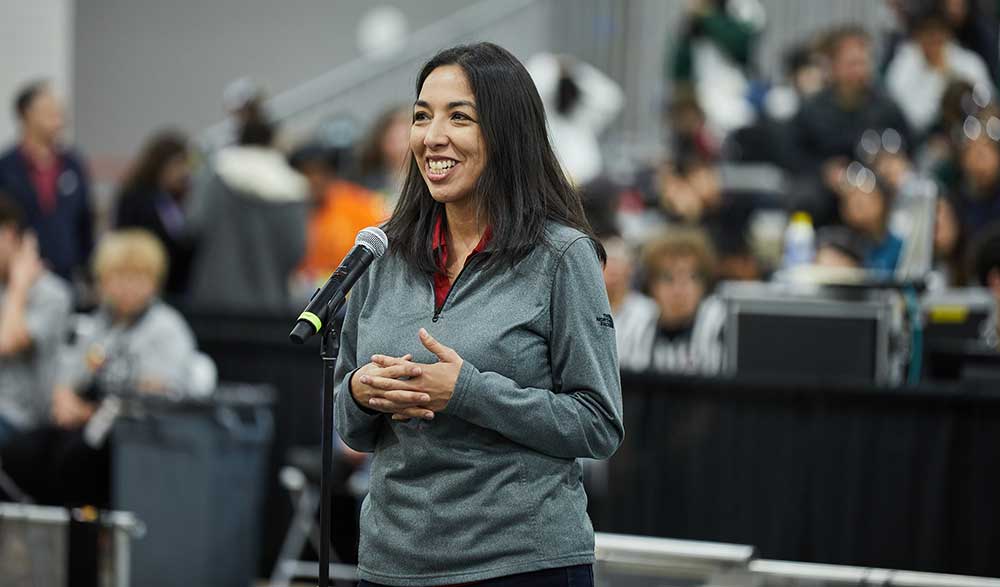 On Friday, team 4201 Vitruvian Bots held a panel on Neurodiversity in STEAM, sponsored by LA Regional sponsor Raytheon. Nearly 100 students and mentors gathered to hear from panelists discussing some of the challenges and triumphs they've experienced as students and professionals in STEAM. Panelists also shared suggestions for students about how to successfully pursue any needed accommodations as they navigate their educational and professional futures.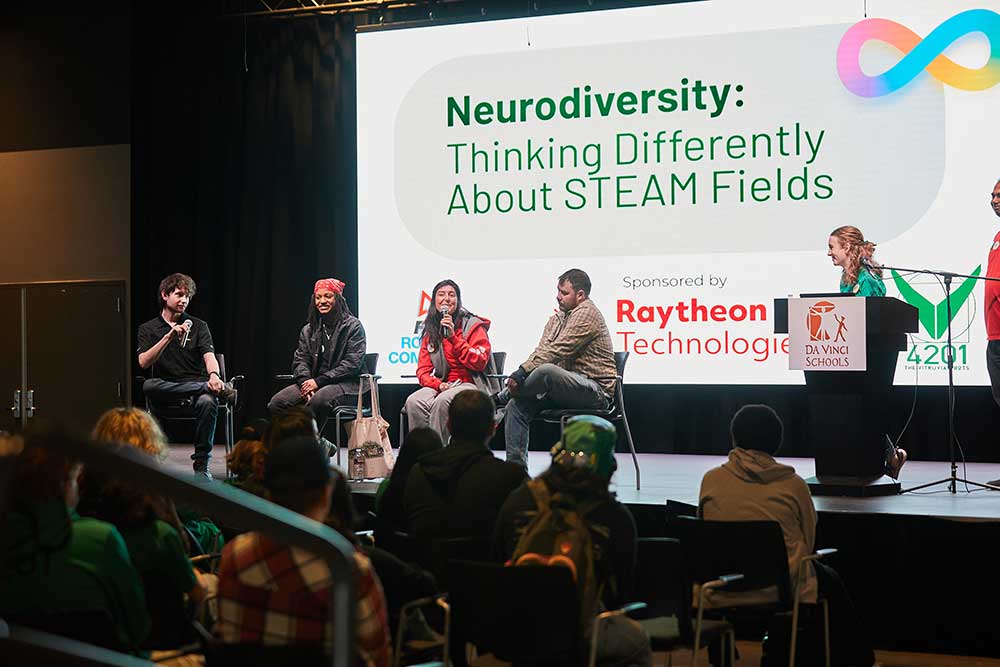 Saturday night, the Woodie Flowers Finalist Award was presented to Rigoberto Cruz, mentor for team 5089 Robo-Nerds. It turned out to be a very exciting weekend for team 5089 Robo-Nerds, as the team also received the FIRST Impact Award for the region on Sunday night! The Volunteer of the Year was presented to Joan Horvath, who has served as Judge Advisor for a number of years, and has been a judge in Los Angeles since the region started in 2000.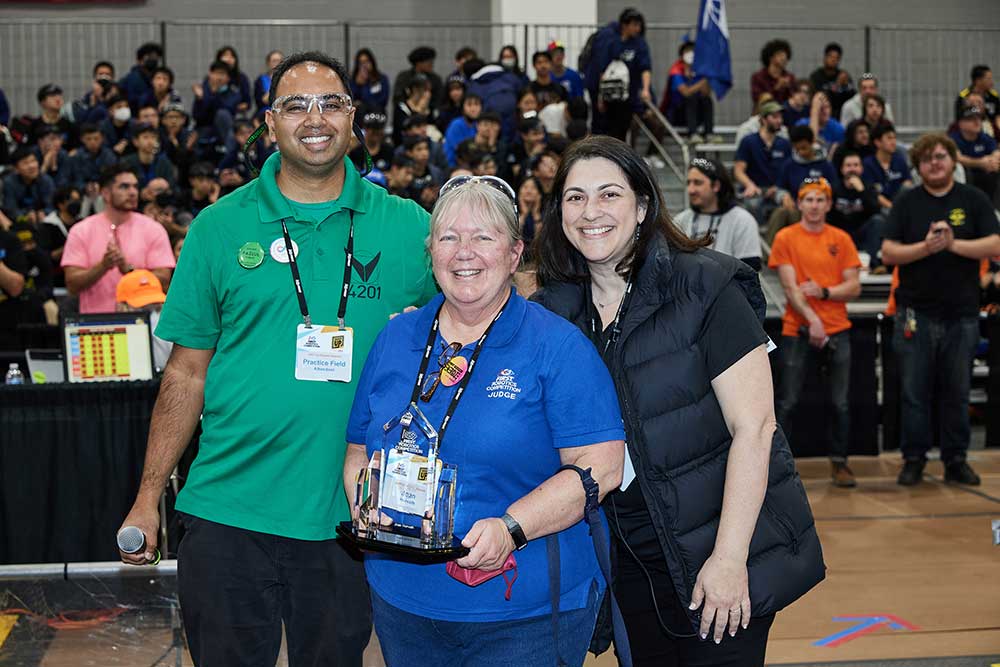 The playoffs were highly competitive, with well-matched alliances turning in close-scoring matches. In the end, Team 687 Nerd Herd led the winning alliance, along with Team 5199 Robot Dolphins from Outer Space, Team 702 Bagel Bytes and Team 6833 Phoenix Robotics.
Gracious host venue Da Vinci High School and their team, 4201 Vitruvian Bots, helped make it possible for FIRST California to hold another successful LA Regional!
Big thanks to Matt with Matt Beard Photography for capturing these amazing Los Angeles Regional memories!
Feel free to download and share any of these photos.  You can tag FIRST California on Instagram at @firstroboticscalifornia and use hashtags #FIRSTinCA, #firstininspires, #CHARGEDUP and #omgrobots.
LIST OF TEAMS ADVANCING TO CHAMPIONSHIPS IN HOUSTON!!!
The following teams and individuals earned top honors at the Los Angeles Regional and earned their way to compete at the FIRST Championships in Houston, April 19-22, 2023
FIRST Impact Award
The FIRST Impact Award is the most prestigious award at FIRST, it honors the team that best represents a model for other teams to emulate and best embodies the purpose and goals of FIRST.   
The FIRST Impact Award is presented to the team judged to have the most significant measurable impact of its partnerships among its participants and community over a sustained period, not just a single build season. The winner is able to demonstrate progress towards FIRST's mission of transforming our culture.  The recipient team will be invited to a FIRST Championship where it will compete for the FIRST Impact Award against winners from other qualifying events.
Engineering Inspiration
The Engineering Inspiration Award celebrates outstanding success in advancing respect and appreciation for engineering within a team's school and community.  This team will advance to the Championships and receive a $5000 NASA grant toward registration.
4201 – The Vitruvian Bots from El Segundo, CA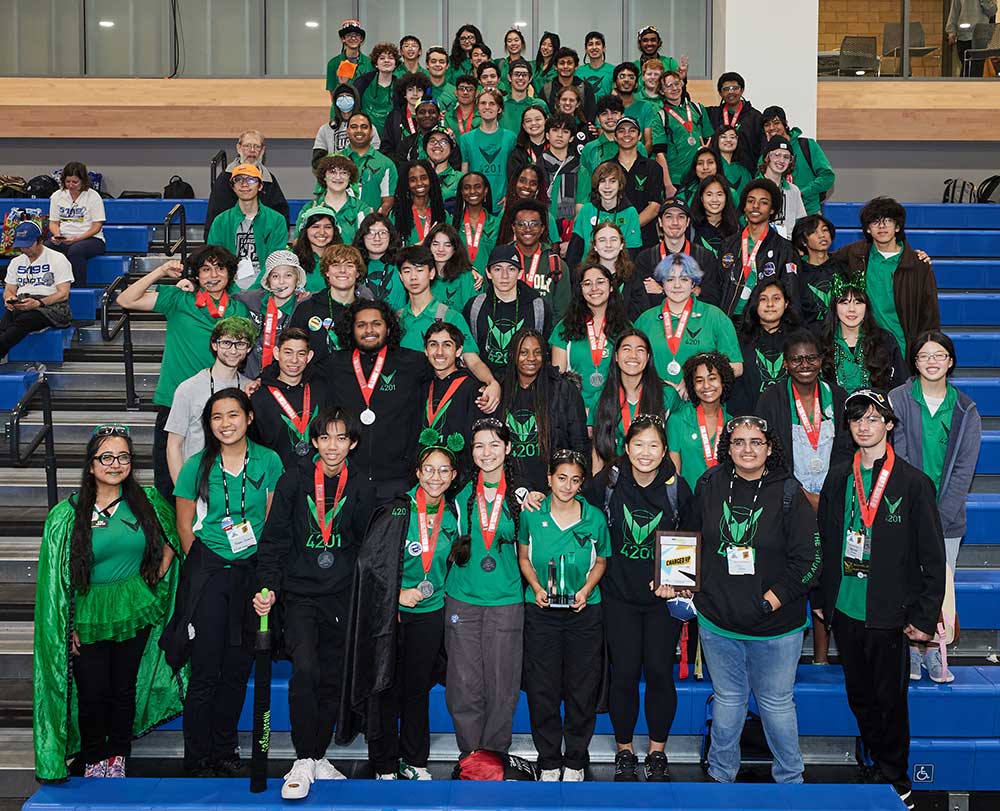 Regional Winners
Team

687

, The Nerd Herd from Carson, CA

Team

5199

, Robot Dolphins from Outer Space from Dana Point, CA

Team

702

, Bagel Bytes from Culver City, CA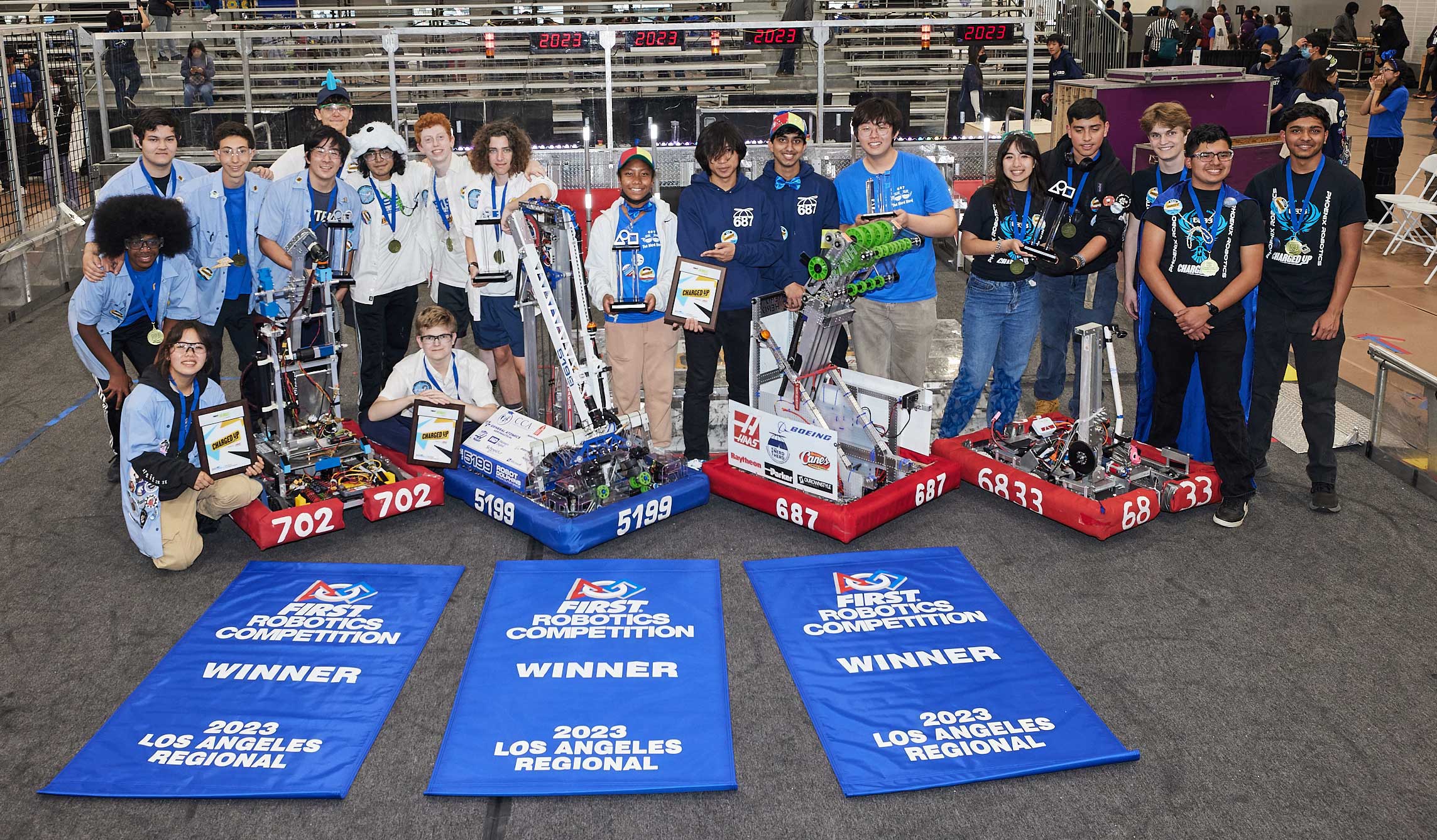 Dean's List Finalist
In an effort to recognize the leadership and dedication of FIRST's most outstanding FRC students, the Kamen family sponsors an award for selected top students known as the FIRST Dean's List. This award celebrates a student's outstanding leadership and effectiveness in advancing respect and appreciation for engineering and engineers, both within their school, as well as their community. FIRST Dean's List Finalists will compete at the championship for the FIRST Dean's List.
Brianna Adewinmbi from Team 687, The Nerd Herd
Naomi Uehara from Team 4201, The Vitruvian Bots
Woodie Flowers Finalist Award
FIRST stands apart from other competitions in STEM and sports due to the FIRST Ethos of Gracious Professionalism, the concept of Coopertition, and the commitment to the FIRST Core Values. The guiding force behind these principles was Dr. Woodie Flowers. Dr. William Murphy, Jr., who was instrumental in creating the concept of FIRST with Dean Kamen, recognized the unique perspective, wisdom, and communication style that Woodie brought to the FIRST Robotics Competition.
In honor of Woodie, Dr. Murphy founded the Woodie Flowers Award in 1996. He recognized that the FIRST ethos would be carried forward by our FIRST mentors and sought to celebrate those mentors who demonstrate the leadership, ethical behavior, and communication skills exemplified by Woodie. Woodie believed "societies get the best of what they celebrate".
Being recognized by students, through nomination essays, makes this honor very meaningful to mentors. It is truly an honor for a mentor to be nominated for this award.
"This mentor evolved from starting an FRC team with a few students to a strong contingent of support for all three FIRST programs. He not only emphasizes technical skills but embraces everyone's natural talents to help them improve and build a better team. He has made great strides in creating opportunities for underrepresented students and combating language barriers. He is helping his students cruise to success.

Please join us in congratulating the 2023 Los Angeles Regional Woodie Flowers FINALIST Award winner, Rigoberto Cruz, from Team 5089, The Robo-Nerds!"
Rigoberto Cruz, from Team 5089, The Robo-Nerds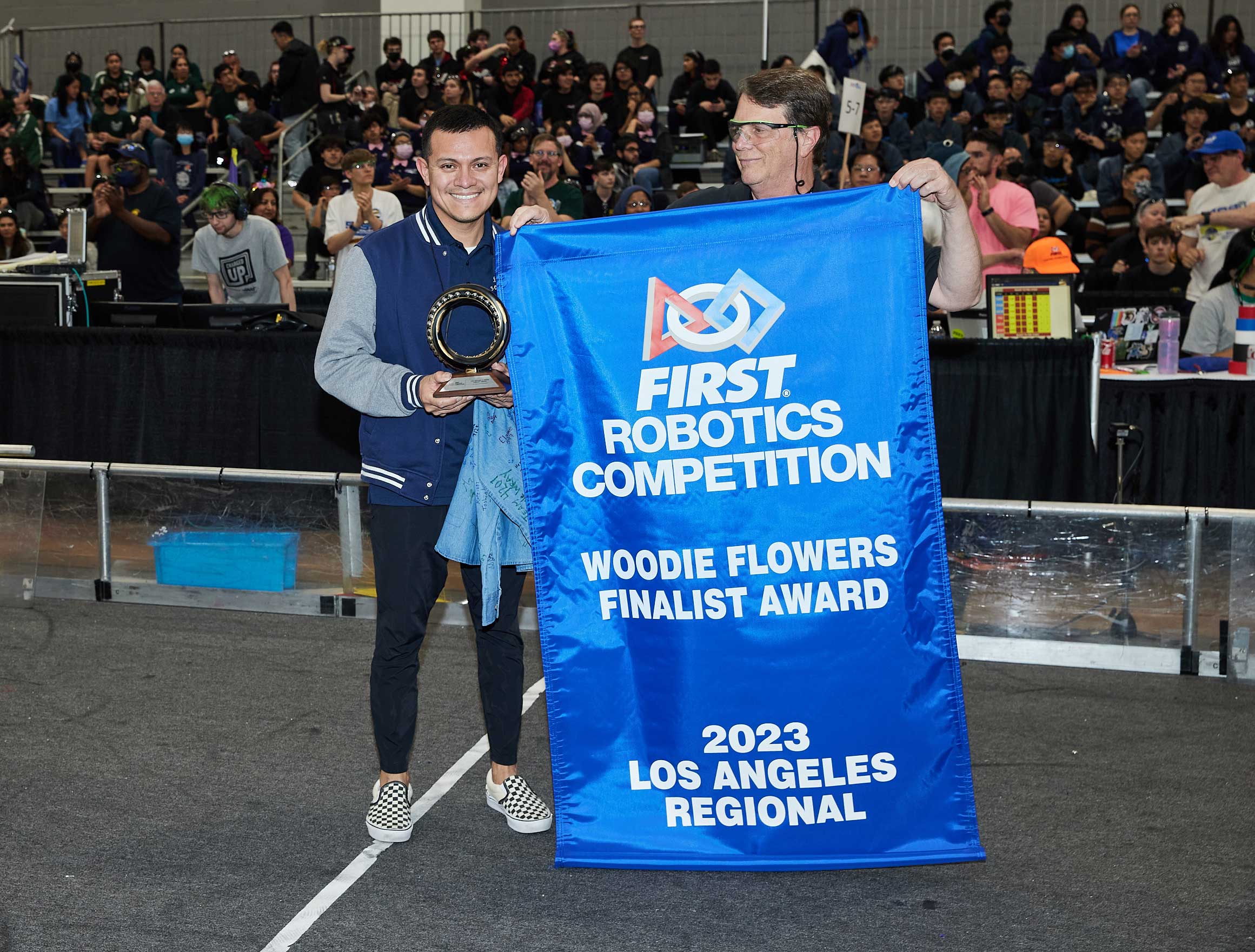 Additional Awards
Congratulations to the Teams and individuals that earned the remaining awards at the Los Angeles Regional! See the list here.
Instagram Highlights
Don't Miss Out on the Best Moments of Los Angeles Regional. Watch Our Instagram Highlight Tab!