FIRST Robotics Competition
ORANGE COUNTY REGIONAL
March 9-12, 2022 | Costa Mesa, CA
ORANGE COUNTY FAIR & EVENTS CENTER  | 88 Fair Dr.
Countdown to the Orange County Regional
The Orange County Regional
Dubbed a varsity Sport for the Mind,™ FIRST Robotics Competition (FRC) combines the excitement of sport with the rigors of science and technology.
Under strict rules, limited resources, and time limits, teams of high school students are challenged to raise funds, design a team "brand," hone teamwork skills, and build and program a robot to go head to head against a field of competitors. It's as close to "real world" engineering as a student can get.
We are excited to be planning a return to an in-person FIRST Robotics Competition event for the 2021-2022 season!
Our goal is to offer a traditional FIRST Robotics Competition in-person, three-day event. See our COVID-19 Updates below for details.
The Orange County Regional is a high-energy, high-tech spectator sporting event where teams, professionals and young people together solve an engineering design problem in an intense and competitive way. The program is life-changing, career-molding and a lot of fun.
In a pre-pandemic world, we invite you to experience the excitement of this exciting competition, tour the "pits" to visit with teams and robots, and cheer on your favorite team. In the 2022 season, we invite you to checkout the fun online via our live broadcast on March 11-12, 2022. Link to the livesteam is coming soon!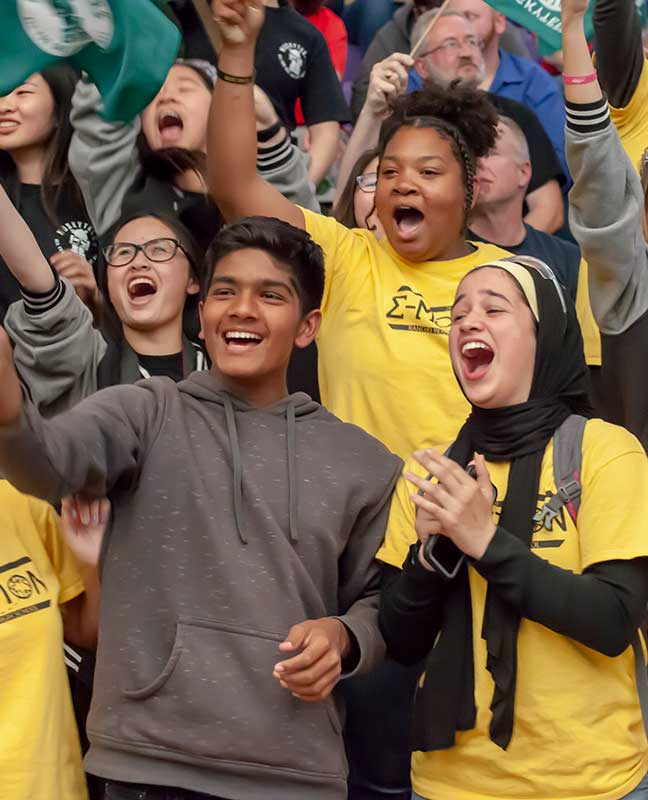 Teams at the Orange County Regional will vie for regional awards and a spot at the FIRST Championship which will be help in April in Houston, Texas. The competition is part of FIRST, a not-for-profit organization dedicated to inspire young people's interest and participation in science and technology.   
This year's game, RAPID REACT, is part of the 2021-2022 FIRST season, FIRST  FORWARD presented by Qualcomm. Game details will be released in January 2022.
Transportation drives us forward – impacting economies, bridging cultures, and making us all more globally interconnected.
FIRST Robotics Competition teams will be challenged to reimagine the future of safe, high-speed travel and lightning-fast deliveries through innovative engineering, creative thinking, and teamwork in
2022 RAPID REACT presented by The Boeing Company.
February 15, 2022 – We will follow the 2022 FIRST Orange County Regional COVID-19 Policies and Plan.  Please review the plan in detail to make advance preparations for your team to attend the event.  We look forward to hosting you and for a fun and safe event for all!
January 6, 2022 – FIRST California is closely monitoring COVID and its potential impact to the FIRST community.  At this point we are moving forward with plans to provide our usual in-person, 3-day competition.
As the pandemic evolves, we are continuing to develop plans on how to best keep our community safe while also offering an impactful FIRST experience.  We have not yet determined final policies that may affect spectator attendance or team size limits, though our goal is to not limit team attendance.  This will be based on county or venue-specific COVID guidelines leading up the FRC Regional. 
 Please know we remain committed to delivering our programs to as many students as possible, as safely as possible.
Other plans to ensure a safe event may include implementing modifications such as the use of masks, vaccination and/or negative COVID test, health screening, event scaling, social distancing, event formatting, contract tracing and other precautions as determined by local conditions and regulations.
Thank you for your continued support and understanding as we navigate the year ahead together.
September 16, 2021 – We are excited to be planning a return to an in-person FIRST Robotics Competition event for the 2021-22 season.  Our goal is to offer a traditional FIRST Robotics Competition in-person, three-day event. 
With a focus on delivering FIRST to students as safely as possible, we will be looking at the ability to implement modifications such as the use of masks, health screening, event scaling, social distancing, event formatting, and other precautions as determined by local conditions and regulations. We will post our plan once we get closer to the start of the event as conditions are changing so frequently.
While we're looking forward to seeing in-person competition and celebration, we are ready to adjust plans if needed. Plans B and C are in the works should they be needed, which could include shorter, smaller events, and, if needed, remote participation activities like what we did in the 2021 season.
We thank you for your continued support for our mission as we navigate the season together!
Click to download: 2022 Orange County Regional Public Schedule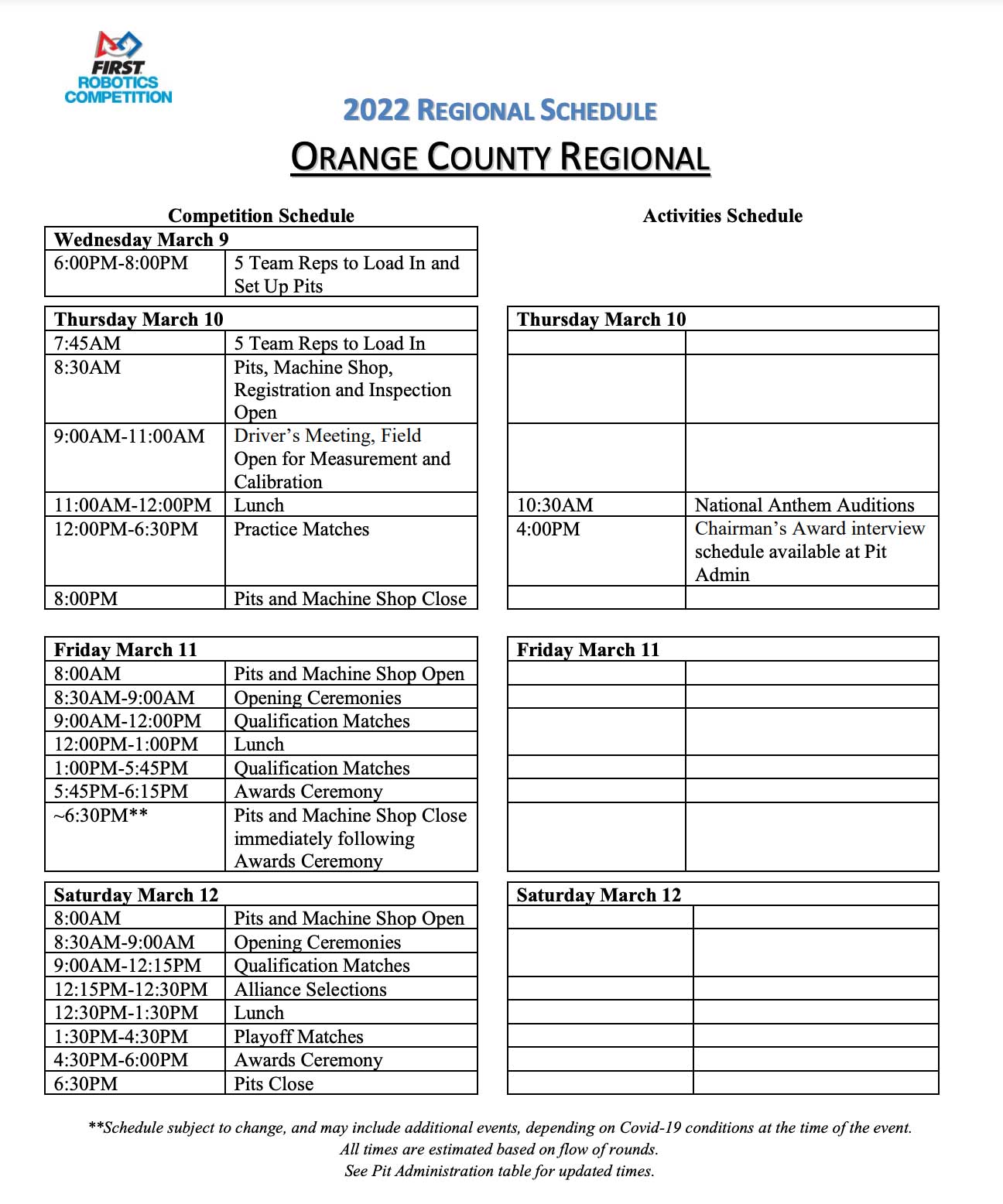 **Schedule subject to change, and may include additional events, depending on Covid-19 conditions at the time of the event.
All times are estimated based on flow of rounds.
See Pit Administration table for updated times.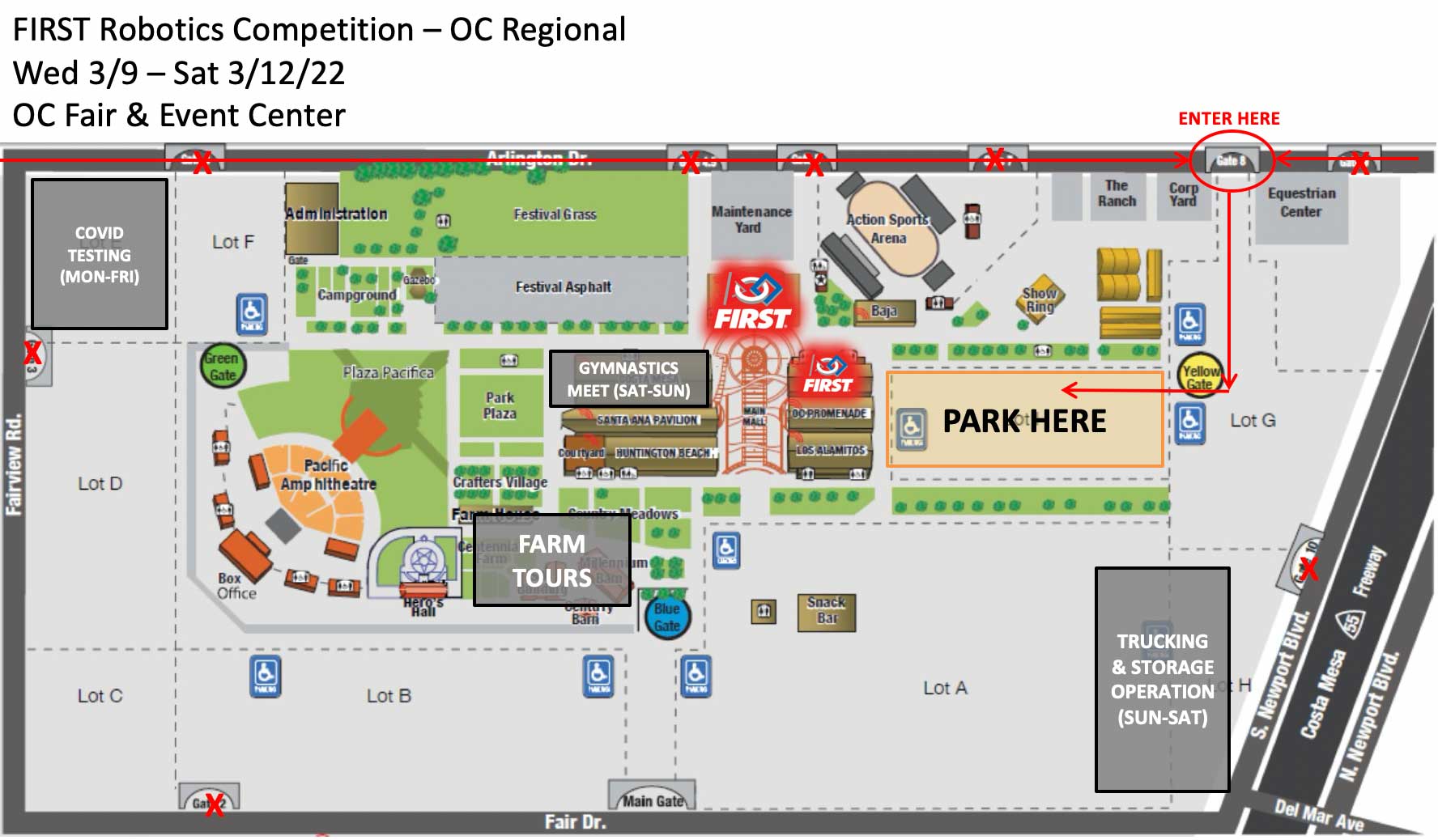 Enter via Gate 8 (approx. 905 Arlington Drive) and make your way to Parking Lot I. The "field" is inside The Hangar (B18), and the "pit" is inside the Anaheim Building (B16). Entry through any other Gate may not provide immediate access to these buildings.
Upon arrival, FIRST volunteers must physically present their Hang Tag upon arrival at Gate 8. General Parking is $10 per day and you may be redirected to a different Gate.
As a reminder, you may set up your pit area during this load-in period but you may not work on your robots during this time. Only five members from each team may enter the venue during load-in, and one of them must be an adult mentor. You must also wear safety glasses to enter.
You may encounter other move-in and event activity, including a men's gymnastics meet nearby. Please be respectful of all visitors to the grounds.
24hr Security Office – 714-708-1588
SACK LUNCHES:
The venue has graciously agreed to allow students to bring in sack lunches and bottled water.
This applies to lunches made at home, and absolutely no commercially prepared outside food may be brought into the venue. To be clear, this means no bulk ordering of pizza, sub sandwiches, etc.
ORDER BOX LUNCHES:
We worked with the venue to provide a reasonably priced box lunch option, and you should submit orders directly to the venue, using the information on the form. The deadline for submitting orders is 4pm on March 2.
Click here for box lunch order form.
ON-SITE CONCESSIONS:
There will also be food concessions open on-site, selling lunch, drinks and snack foods.
Thank you to our Sponsors!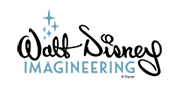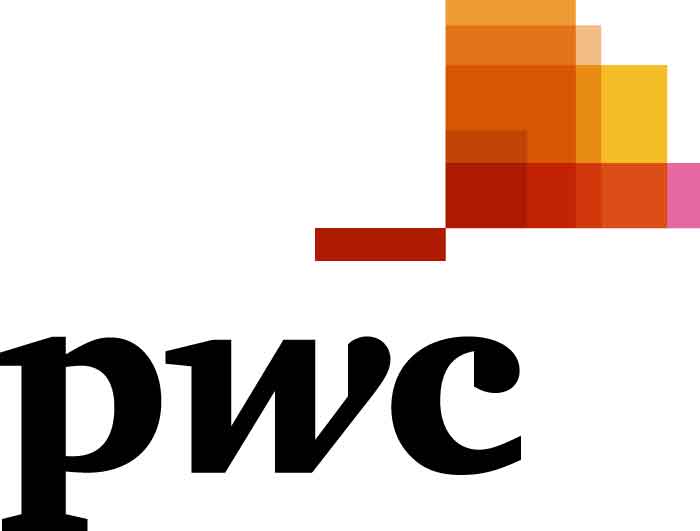 Gerald Oppenheimer Family Foundation
The Kenneth T. and Eileen L. Norris Foundation
WAYS TO SPONSOR
Financial Support of Events or Teams, In-kind Donation of Parts, Equipment and/or Facilities,
Student Scholarships,
Student Internships
SUPPORT THE ORANGE COUNTY REGIONAL
To discuss sponsorship opportunities and benefits of sponsorship, please contact FIRST California Senior Regional Director, David Berggren, through the Contact Form at the bottom of this page.
FIRST IS FUELED BY VOLUNTEERS
For 30 years, FIRST® volunteers have fueled the mission by inspiring millions of young people to reach for the stars. You are part of a global support system we've built for students who need a spark of curiosity and encouragement to launch their dreams. Together, we're inspiring the next generation of innovators, technology leaders, and change-makers here on Earth – and beyond.
Volunteer Opportunities!
Non-Technical and Technical Roles Available
EXAMPLES OF ROLES
Field Reset, Volunteer and VIP Check-In Assistants, Practice Field Attendant, Replacement Parts, Crowd Control, and more!
APPLY TO VOLUNTEER
Create an account in the FIRST Dashboard – click here to apply.
Click the Volunteer Registration tab & choose 'Volunteer at an Event'.
Filter events by location/ program and select Orange County Regional.
Choose up to five roles and apply.
Complete your required youth protection background screening (US & Canada).
You will receive an email from your local event coordinator if you are assigned to a volunteer role.