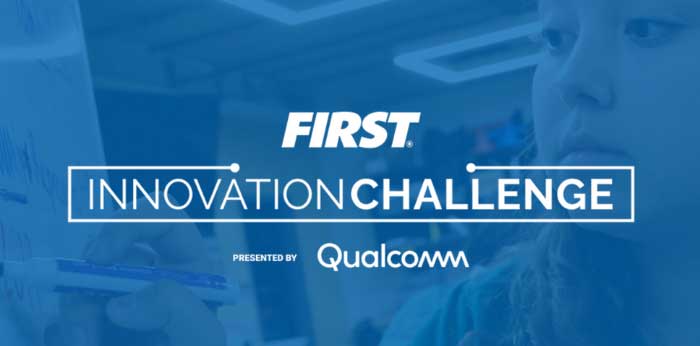 What better time to announce our four new Qualcomm Innovation Ambassador teams than during #NationalInventorsMonth?
Thanks to the generous support of Qualcomm, this season we created the Qualcomm Innovation Ambassador Team grant. The grant was inspired by the 2021 FIRST Innovation Challenge sponsored by Qualcomm which gave students the opportunity to explore what it means to be an innovator and find solutions to society's greatest challenges that impact the world for generations to come.
We are so proud to have 16 semi-finalist and 4 finalists from California FIRST Robotics Competition teams for the FIRST Innovation Challenge!
"Innovation is at the heart of everything we do," said Natalie Dusi, Corporate Responsibility Manager, Qualcomm Incorporated. "We couldn't be more proud of the teams who participated in this year's challenge and are thrilled to see so many California teams represented as finalists."
QUALCOMM INNOVATION AMBASSADOR TEAMS
California FIRST Robotics Competition teams that were selected as FIRST Innovation Challenge semi-finalist were able to apply to be a Qualcomm Innovation Ambassador team for their region.
The Qualcomm Innovation Ambassador designation honors the teams that have committed to exploring the many facets of what it means to be an innovator and best embody the Qualcomm ethos of "We dream big. We invent bigger."
The teams selected for this grant will help us grow the Innovation Challenge and raise the bar of amazing and creative solutions coming from our FIRST teams.
We had a lot of remarkable applications and it was a tough decision, but we are excited to announce the winning teams for the 2021 Qualcomm Innovation Ambassador Grant as:
Please take a moment to listen to winning team's personal stories of impact that resulted from participating in the the FIRST Innovation Challenge.
GREATER SAN DIEGO INNOVATION AMBASSADOR
Team 3749 – Team Optix
San Diego, CA
GREATER LOS ANGELES INNOVATION AMBASSADOR
Team 867 – Absolute Value
Arcadia, CA
GREATER CENTRAL VALLEY INNOVATION AMBASSADOR
Team 5458 – Digital Minds
Woodland, CA
GREATER SAN FRANCISCO BAY INNOVATION AMBASSADOR
Team 115 – MVRT
Cupertino, CA
Congratulations to our new Qualcomm Innovation Ambassador teams!  We are excited to see how they use their ingenuity to ignite future inventors with their stories and passion!