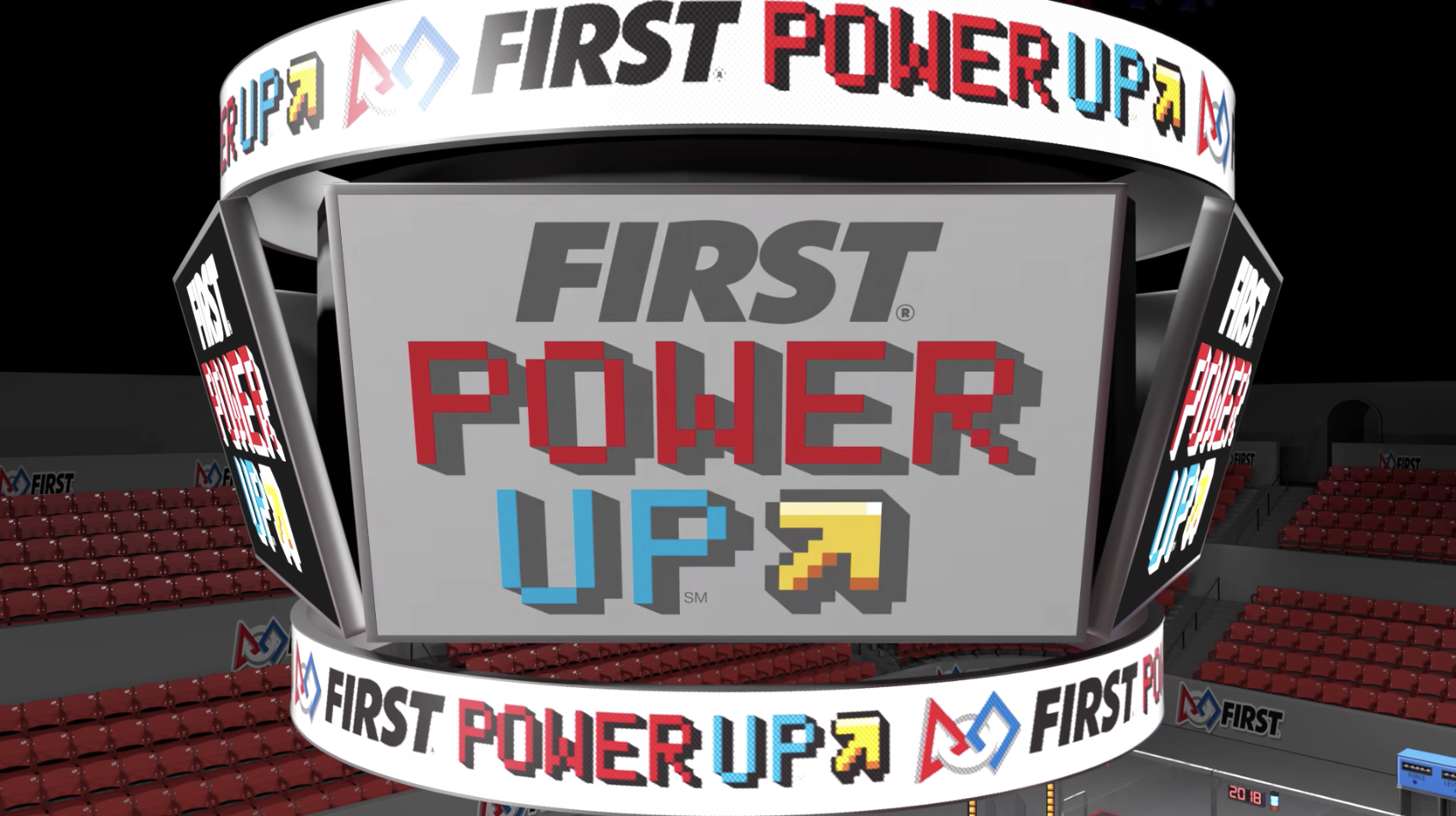 Inventor and FIRST Founder Dean Kamen launched the 2018 FIRST Robotics Competition season today with the Kickoff of a new robotics game called FIRST POWER UP in New Hampshire, hometown of FIRST Headquarters. More than 91,000 high-school students on 3,647 teams at 137 venues around the globe joined the 2018 Kickoff via Twitch Live Broadcast.
FIRST POWER UP finds FIRST Robotics Competition teams trapped in an 8-bit video game.
Each three-team alliance has three ways to help defeat the boss:
tipping the scale or the alliance's switch in their favor to earn points
exchanging power cubes for power ups (force, boost, and levitate) to gain a temporary advantage during the match
climbing the scale tower to face the boss.
The alliance with the highest score at the end of the match, which includes autonomous and teleoperated periods, defeats the boss and wins the game.
OFFICIAL GAME ANIMATION:

At today's Kickoff, teams were shown the FIRST POWER UP game field and challenge details for the first time, and received the Kickoff Kit from the Kit of Parts, which is made up of motors, batteries, control system components, construction materials, and a mix of additional automation components – with limited instructions.
Working with adult mentors, students have six weeks to design, build, program, and test their robots to meet the season's engineering challenge. Once these young inventors build a robot, their teams will participate in one or more of the global 158 Regional and District events that measure the effectiveness of each robot, the power of collaboration, and the determination of students.
California will be the host to 9 Regional FRC events in 2018:
Mar 7-10 – SAN DIEGO REGIONAL presented by Qualcomm
Mar 14-17 – LOS ANGELES REGIONAL
Mar 15-18 – SAN FRANCISCO REGIONAL 
Mar 21-24 – ORANGE COUNTY REGIONAL
Mar 21-24 – SACRAMENTO REGIONAL
Mar 28-31 – SILICON VALLEY REGIONAL
Mar 28-31 – VENTURA REGIONAL
April 4-7 – AEROSPACE VALLEY REGIONAL
April 5-8 – CENTRAL VALLEY REGIONAL
The 2018 FIRST Robotics Competition Kickoff event was an opportunity for teams from all over the world to come together as a community to share in the excitement of seeing the new game unveiled. Teams at local Kickoffs in Australia, Canada, China, Dominican Republic, Israel, Mexico, Turkey, and the United States watched the proceedings via live broadcast.
In California, thousands of students, mentors, sponsors and volunteers gathered at 11 Kickoff locations throughout the state.
Now it's GO TIME!  We wish everyone the best of luck over the next 6 weeks as innovative minds and problem solving skills are put to the test!