Congratulations to the 37 Teams from California, Nevada, Istanbul and Switzerland PLUS all the Mentors, Volunteers, Sponsors, Friends and Family members who participated in the Aerospace Valley FIRST Robotics Regional from April 3-6, 2019!
ADVANCING TO CHAMPIONSHIPS IN HOUSTON!!!
The following teams and individuals earned top honors at the Aerospace Valley Regional and earned their way to compete at the FIRST Championships in Houston in April.
Regional Chairman's Award
Team 589, Falkon Robotics from La Crescenta, CA
The Chairman's Award represents the true spirit of FIRST.  It honors the team that best serves as a model for other teams to emulate and that embodies the goals of FIRST.  It remains FIRST's most prestigious team award.  The Chairman's Award is presented to the team judged to have the most significant measurable impact of its partnerships among its participants, school, and community over a sustained period, not just a single build season or school year. The winner is able to demonstrate progress towards FIRST's mission of transforming our culture.  The recipient will be invited to the FIRST Championship where it will compete for the Chairman's Award against the winners from all the other qualifying events.
What the judges had to say …
"This team successfully targets the proper resources to achieve their goals for diversity. Their use of effective social media helps these space explorers soar to global heights. Their systematic approach propels their school community forward through partnering with sponsors to lunch and learn. "They don't just build good robots, they build good people!"
Engineering Inspiration
Team 5857, Walnut Valley Robotics from Walnut, CA
The Engineering Inspiration Award celebrates outstanding success in advancing respect and appreciation for engineering within a team's school and community.  This team will advance to the Championships and receive a $5000 NASA grant toward registration.
What the judges had to say …
"This team has enthusiastically brought engineering and FIRST into their schools, district, community and beyond.  They are nuts about fostering future members and STEM professionals by mentoring FIRST Lego League teams and FIRST Tech Challenge Teams and tournaments.  This team does not let a wall stop their spread of FIRST and the opportunities of STEM careers but they have moved their enthusiasm out of the country.  They're "Ghana" change lives with their efforts."
Regional Winners
Team 1678, Citrus Circuits from Davis, CA
Team 3476, Code Orange from Irvine, CA
Team 2637, Phantom Catz from Rolling Hills Estates, CA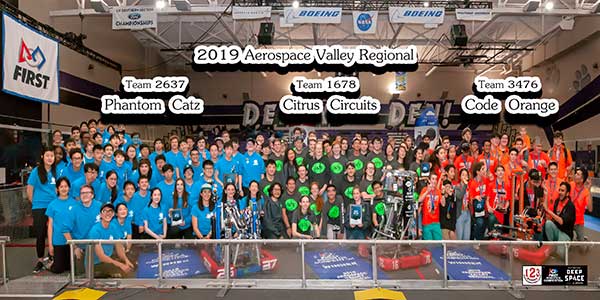 Rookie All-Star Award
Team 7607, Pass The Wrench from Palmdale, CA
This award celebrates a 1st year team demonstrating an early but strong partnership effort, implementing the mission of FIRST.  Its winner understands what FIRST is really trying to accomplish and realizes that technical work is fun and challenging, made better by building a partnership among team, community and school.  This is not an easy challenge for a rookie team but the judges want to recognize and reward one team that got it right.
What the judges had to say …
"This team has "stepped up to the plate" by building their robot to bring to compete and support the mission of FIRST to inspire other students to learn more about how fun and exciting science and technology can be.  This young but strong team will be one to watch in upcoming Robotics Competitions!"
Regional Finalists
(Advancing to Championships because of a Wild Card)
Team 6072, Triton Tech from Newport Beach, CA
Dean's List Finalist
FIRST Dean's List Finalist – Piper Hallack from Team 4014, Top Hat Technicians
FIRST Dean's List Finalist – Carter Laws from Team 6957, The A.C.E.S.
In an effort to recognize the leadership and dedication of FIRST's most outstanding FRC students, the Kamen family sponsors an award for selected top students known as the FIRST Dean's List.
This award celebrates a student's outstanding leadership and effectiveness in advancing respect and appreciation for engineering and engineers, both within their school, as well as their community. FIRST Dean's List Finalists will compete at the championship for the FIRST Dean's List.
Woodie Flowers Finalist Award
Robin Dorfman from Team 980, Thunderbots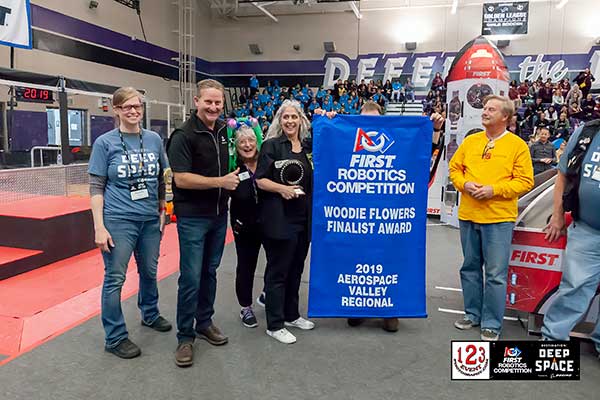 Awards
Congratulations to the Teams and individuals that earned the remaining awards at the Aerospace Valley Regional! See the list here.
---
Photos
123EVENTPHOTOGRAPHY: The 2019 Aerospace Valley Regional WEB & DEVICE-FRIENDLY Gallery contains high quality (but lower resolution) images to upload fast for your phone, devices and social media, etc.
123EVENTPHOTOGRAPHY: The 2019 Aerospace Valley Regional HIGH RESOLUTION Gallery contains high resolution images that should only be used to make prints from. NOTE: The device you are downloading to must have the available memory/storage. They recommend using a desktop computer with an external hard drive or a flash drive. By selecting to download any images, you assume all resulting responsibility.
Please be sure to assign the photo credits to 123 Event Photography on your shared images.
---
Press
ANTELOPE VALLEY PRESS:
Robotics Teams Draw Cheers During Competition
---
Support
An immense THANK YOU to all the Sponsors who contributed to this very successful Regional with funding, mentors, volunteers and enthusiasm! Regional Sponsors include NASA, Northrup Grumman, Lockheed Martin, City of Lancaster, Antelope Valley Union High School District, Mojave Air and Space Port, BMS Lumber, Destination Lancaster, Primetime Party Rentals and Aerospace Valley Robotics.
---
We hope you too had a memorable experience at the Aerospace Valley Regional Regional.  We'd love to hear your stories.  Please consider sharing them with us here in the comments below or on our facebook page.  Photo and video links welcome!