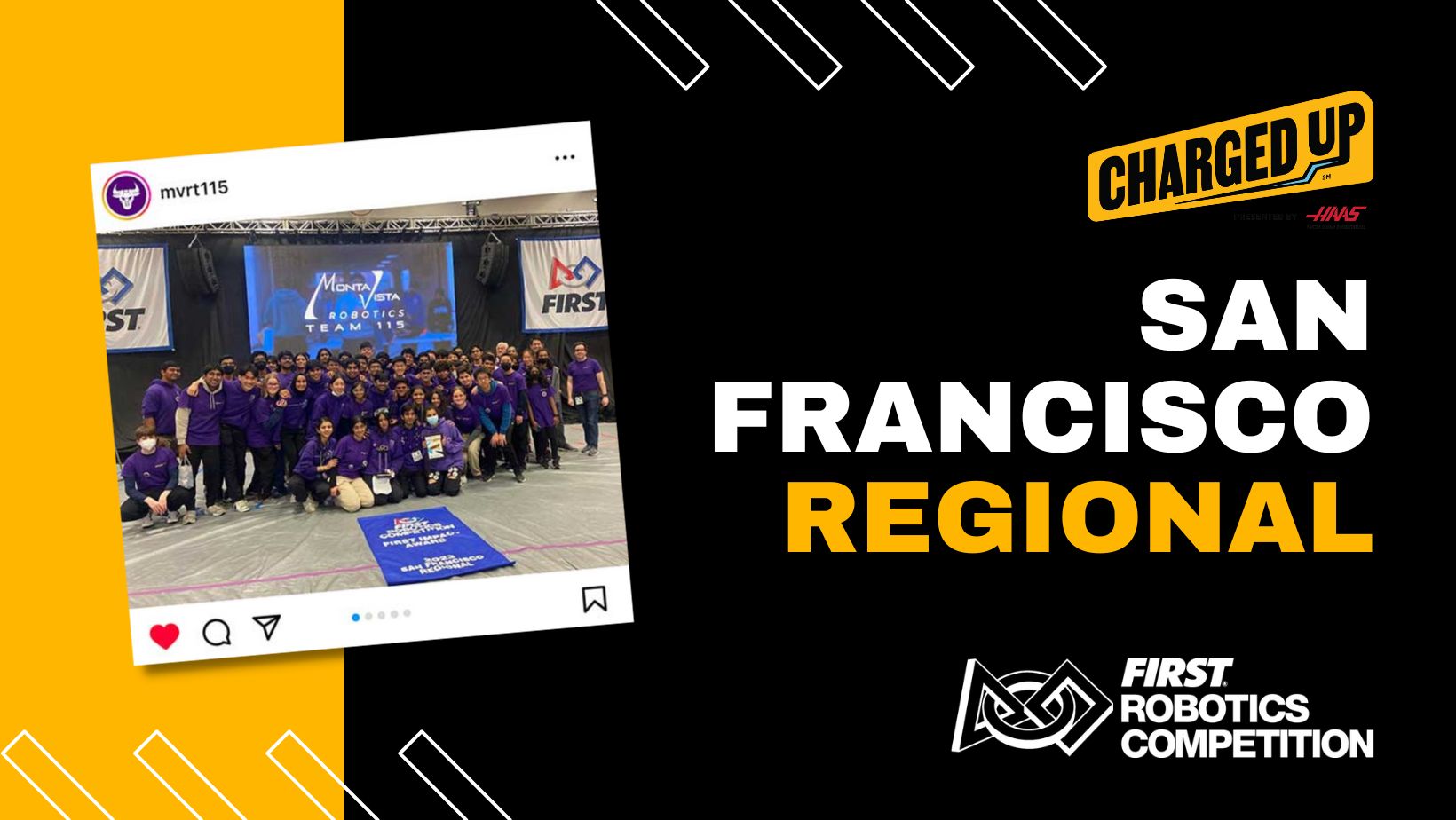 The 2023 San Francisco Regional is in the books! Congratulations to all 42 teams that participated in the San Francisco FIRST Robotics Regional Competition from March 16-19, 2023! 
Putting a working robot on the field is a feat in and of itself! A big thank you to all of the mentors, volunteers, and sponsors that helped make this regional a favorite of so many participants. Your work is appreciated.
SFR began with an inspiring set of remarks by California State Senator Scott Wiener (CA SD-11). The Senator then watched the opening match and visited with teams in their pits. Later that day, SFR would award its 2023 Woodie Flowers Finalist Award to Jenny Stevens of team 9143. Additionally, long time CA FIRST volunteer Laura Hall was named SFR Volunteer of the Year.
Despite the rain on our final day, the teams came in ready for action. After a quick end to qualification matches, our top eight ranked teams picked their alliances, and an exciting playoff round commenced. The final best-of-three series was played between the second seeded alliance (teams 971, 972, and 8016) and the fourth seeded alliance (teams 1351. 115, and 9143), with the former taking the crown as the winner of the 2023 San Francisco Regional. After an exciting final set of matches, SFR announced the winners of the FIRST Impact Award (Team 115), Engineering Inspiration Award (Team 1700), and the Rookie All Star award (Team 9038).
LIST OF TEAMS ADVANCING TO CHAMPIONSHIPS IN HOUSTON!!!
The following teams and individuals earned top honors at the San Francisco Regional and earned their way to compete at the FIRST Championships in Houston, April 19-22, 2023
FIRST Impact Award
The FIRST Impact Award is the most prestigious award at FIRST, it honors the team that best represents a model for other teams to emulate and best embodies the purpose and goals of FIRST.   
The FIRST Impact Award is presented to the team judged to have the most significant measurable impact of its partnerships among its participants and community over a sustained period, not just a single build season. The winner is able to demonstrate progress towards FIRST's mission of transforming our culture.  The recipient team will be invited to a FIRST Championship where it will compete for the FIRST Impact Award against winners from other qualifying events.
Team is 115, MVRT from Cupertino, CA
Engineering Inspiration
The Engineering Inspiration Award celebrates outstanding success in advancing respect and appreciation for engineering within a team's school and community.  This team will advance to the Championships and receive a $5000 NASA grant toward registration.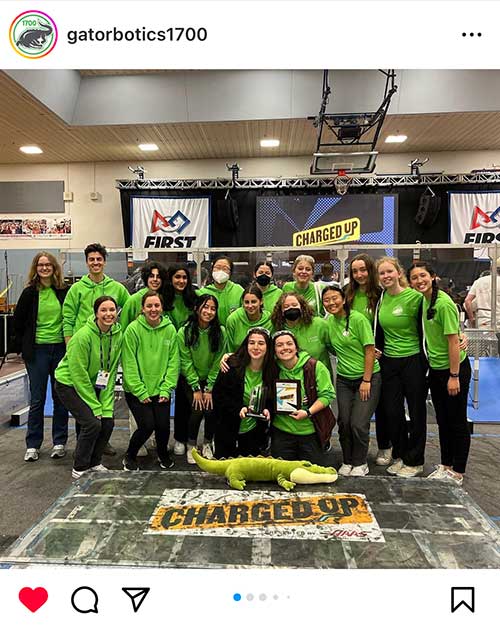 Regional Winners
Team 971, Spartan Robotics from Mountain View, CA
Team 972, Iron Claw from Los Gatos, CA
Team 8016, Eco Robotics from Rohnert Park, CA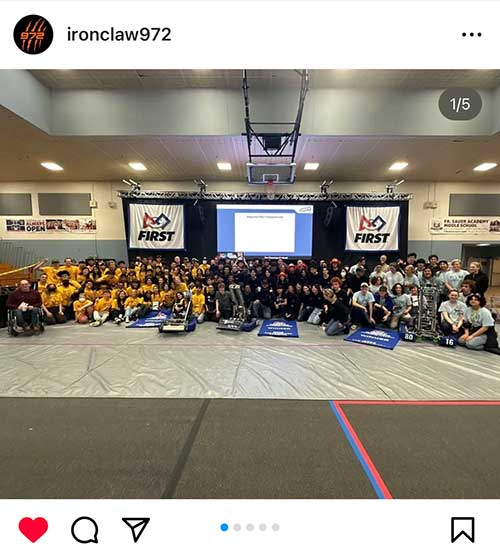 Dean's List Finalist
In an effort to recognize the leadership and dedication of FIRST's most outstanding FRC students, the Kamen family sponsors an award for selected top students known as the FIRST Dean's List. This award celebrates a student's outstanding leadership and effectiveness in advancing respect and appreciation for engineering and engineers, both within their school, as well as their community. FIRST Dean's List Finalists will compete at the championship for the FIRST Dean's List.
Cameron Nguyen from Team 649, MSET Fish
Priyanka Karunakaran from Team 2854, Prototypes
Woodie Flowers Finalist Award
FIRST stands apart from other competitions in STEM and sports due to the FIRST Ethos of Gracious Professionalism, the concept of Coopertition, and the commitment to the FIRST Core Values. The guiding force behind these principles was Dr. Woodie Flowers. Dr. William Murphy, Jr., who was instrumental in creating the concept of FIRST with Dean Kamen, recognized the unique perspective, wisdom, and communication style that Woodie brought to the FIRST Robotics Competition.
In honor of Woodie, Dr. Murphy founded the Woodie Flowers Award in 1996. He recognized that the FIRST ethos would be carried forward by our FIRST mentors and sought to celebrate those mentors who demonstrate the leadership, ethical behavior, and communication skills exemplified by Woodie. Woodie believed "societies get the best of what they celebrate".
Being recognized by students, through nomination essays, makes this honor very meaningful to mentors. It is truly an honor for a mentor to be nominated for this award.
Jenny Stevens from Team 9143, Armor Robotics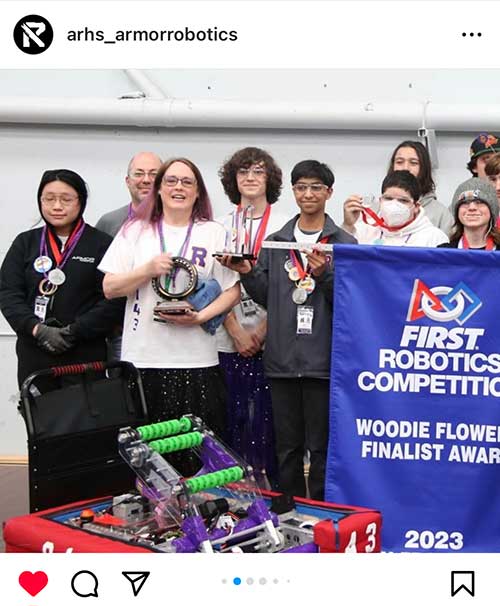 Additional Awards
Congratulations to the Teams and individuals that earned the remaining awards at the San Francisco Regional! See the list here.
Instagram Highlights
Don't Miss Out on the Best Moments of San Francisco Regional. Watch Our Instagram Highlight Tab!