From April 5-8, 2023, this year's Silicon Valley Regional welcomed 59 teams from 5 countries to compete in a fantastic Sport for the Mind event.  There were 56 veterans and 3 rookie teams in attendance. It was great to have speakers from PG&E and the KLA Foundation.  
Highlights from the event included trivia, Gracious Professionalism pins as well as world class robots playing the Charged Up sponsored by Haas robot game.
The Volunteer of the Year was Cameron Tacklind, and the Woodie Flowers Finalist Awardee was Marta Carrillo from Team 1967 in San Jose CA.
Event winners were Team 254 from San Jose CA, Team 1678 from Davis CA, Team 100 from Woodside CA, and Team 2489 from San Jose CA.  The FIRST Impact Award was given to Team 5985 from Wollongong Australia. 
We'd like to extend an immense THANK YOU to all the sponsors, mentors and volunteers who contributed to this very successful Regional. 
LIST OF TEAMS ADVANCING TO CHAMPIONSHIPS IN HOUSTON!!!
The following teams and individuals earned top honors at the Silicon Valley Regional and earned their way to compete at the FIRST Championships in Houston, April 19-22, 2023
FIRST Impact Award
The FIRST Impact Award is the most prestigious award at FIRST, it honors the team that best represents a model for other teams to emulate and best embodies the purpose and goals of FIRST.   
The FIRST Impact Award is presented to the team judged to have the most significant measurable impact of its partnerships among its participants and community over a sustained period, not just a single build season. The winner is able to demonstrate progress towards FIRST's mission of transforming our culture.  The recipient team will be invited to a FIRST Championship where it will compete for the FIRST Impact Award against winners from other qualifying events.
This team's impact will leave you in TEARS,
With all those they have helped across the YEARS.
Their documentation was quite extensive and showed the breadth of their REACH,
In three years, twenty-three hundred students they did TEACH.
Taking Lego robotics to a new HEIGHT,
They turned it into therapy, vocational training, and a shining LIGHT.
Saving a FRC regional with funding and SPACE,
This team is many-a-student's home and safe PLACE.
To create opportunities and transform communities, this team does STRIVE,
Please join us and congratulate team five-nine-eight-FIVE!
 Team 5985 – Project Bucephalus from Wollongong, Australia
Engineering Inspiration
The Engineering Inspiration Award celebrates outstanding success in advancing respect and appreciation for engineering within a team's school and community.  This team will advance to the Championships and receive a $5000 NASA grant toward registration.
This team boasts a robust internal training and mentorship program, ensuring that new members quickly find their "sea legs".
They advocate for STEM education in their local community, securing national funding, and empowering other teams to join them.
Their "fluid" approach to Outreach "washes" over language barriers by teaching conversation skills. And by joining forces with international teams, they reach well beyond their shores.
Their commitment continues to make "waves" with medical partnerships.
"Go baby go"!
Regional Winners
Team 254 – The Cheesy Poofs from San Jose, CA
Team 1678 – Citrus Circuits from Davis, CA
Team 100 – Wildhats from Woodside, CA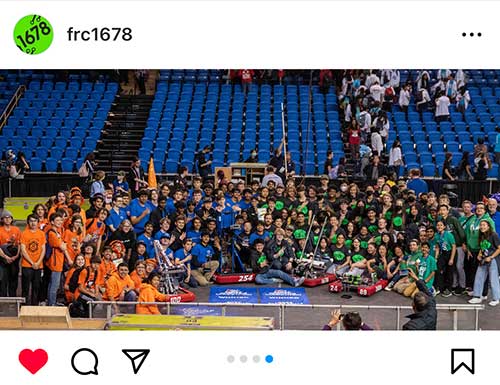 Regional Finalist (wildcard)
Team 9126 – Silver Hawks from Kaohsiung City, Chinese Taipei
Team 2489 – The Insomniacs from San Jose, CA
Team 604 – Quixilver from San Jose, CA
Dean's List Finalist
In an effort to recognize the leadership and dedication of FIRST's most outstanding FRC students, the Kamen family sponsors an award for selected top students known as the FIRST Dean's List. This award celebrates a student's outstanding leadership and effectiveness in advancing respect and appreciation for engineering and engineers, both within their school, as well as their community. FIRST Dean's List Finalists will compete at the championship for the FIRST Dean's List.
Alison Lin from Team 1678, Citrus Circuits

Ian Parker from Team 581, Blazing Bulldogs
Woodie Flowers Finalist Award
FIRST stands apart from other competitions in STEM and sports due to the FIRST Ethos of Gracious Professionalism, the concept of Coopertition, and the commitment to the FIRST Core Values. The guiding force behind these principles was Dr. Woodie Flowers. Dr. William Murphy, Jr., who was instrumental in creating the concept of FIRST with Dean Kamen, recognized the unique perspective, wisdom, and communication style that Woodie brought to the FIRST Robotics Competition.
In honor of Woodie, Dr. Murphy founded the Woodie Flowers Award in 1996. He recognized that the FIRST ethos would be carried forward by our FIRST mentors and sought to celebrate those mentors who demonstrate the leadership, ethical behavior, and communication skills exemplified by Woodie. Woodie believed "societies get the best of what they celebrate".
Being recognized by students, through nomination essays, makes this honor very meaningful to mentors. It is truly an honor for a mentor to be nominated for this award.
 This mentor challenges students to plan for the future through leadership development weekends, where students are at the forefront of envisioning technical goals. This mentor teaches young women to advocate for their ideas, from early whiteboard brainstorming sessions all the way to competition strategy. Working to inspire the broader FIRST community, this mentor hosts summer bootcamps to introduce others to robotics. Operating with an "above and beyond attitude" she has inspired generations!

Please join us in congratulating the 2023 Silicon Valley Regional Woodie Flowers FINALIST Award winner, Marta Carrillo, from Team 1967!
Marta Carrillo from Team 1967, The Janksters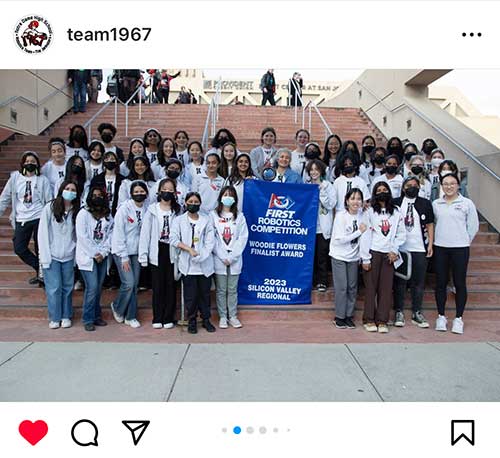 Additional Awards
Congratulations to the Teams and individuals that earned the remaining awards at the Silion Valley Regional! See the list here.