The Monterey Bay Regional welcomed 36 teams this year from California, Arizona and Chinese Taipei at Seaside High School from March 29 – April 1, 2023.  The weather on setup day was a bit challenging, and we were thrilled that Mother Nature cooperated for the rest of the event.  Many teams enjoyed the location and took some time to enjoy the nearby Monterey beach.
Congressman Jimmy Panetta (CA-19) joined us during the qualification matches and delivered a great talk to the students about the importance of STEM.  He was then shown around the event and spent time speaking with many students and teams.
Other highlights of the event were the Mentor Networking event which was hosted by Team 971 from Mountain View CA, and the FIRST Impact Award Exchange which was hosted by Team 1671 from Clovis CA.
The Volunteer of the Year was awarded to Roby Hyde from Team 5104 in Pacific Grove CA, and the Woodie Flowers Finalist Award was given to Matt Lussier from Team 7413 in Pacific Grove CA.
The winning alliance was Team 1323 from Madera CA, Team 5940 from Redwood City CA, and Team 6998 from Chinese Taipei.  It was great to see an international alliance take home the honors!
The FIRST Impact Award winner was Team 2486 from Flagstaff AZ. Congratulations to all teams for a great event!
LIST OF TEAMS ADVANCING TO CHAMPIONSHIPS IN HOUSTON!!!
The following teams and individuals earned top honors at the Monterey Bay Regional and earned their way to compete at the FIRST Championships in Houston, April 19-22, 2023
FIRST Impact Award
The FIRST Impact Award is the most prestigious award at FIRST, it honors the team that best represents a model for other teams to emulate and best embodies the purpose and goals of FIRST.   
The FIRST Impact Award is presented to the team judged to have the most significant measurable impact of its partnerships among its participants and community over a sustained period, not just a single build season. The winner is able to demonstrate progress towards FIRST's mission of transforming our culture.  The recipient team will be invited to a FIRST Championship where it will compete for the FIRST Impact Award against winners from other qualifying events.
This team has organized outreach events, led workshops, hosted competitions, and sponsored teams – building strong FIRST LINKAGES everywhere they go. Their strong advocacy for STEM with their local government has impacted countless people and driven real change. Their focus on mentorship and accessibility reaches many in their surrounding isolated communities.

They are truly NUTS about the FIRST mission and THEY are the change we love to see! Way to go Team 2486!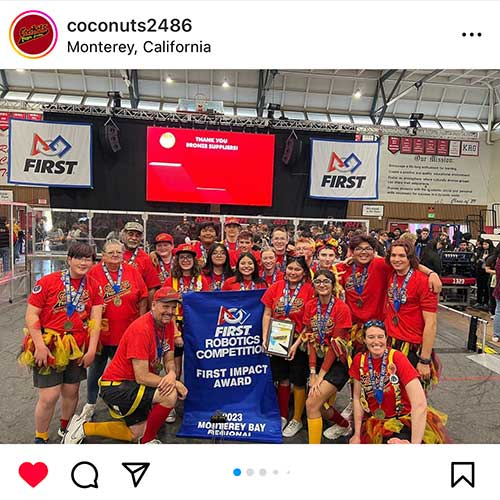 Engineering Inspiration
The Engineering Inspiration Award celebrates outstanding success in advancing respect and appreciation for engineering within a team's school and community.  This team will advance to the Championships and receive a $5000 NASA grant toward registration.
Not only are they building innovative robots, but they are working to transform a culture. They understand that not all learning can be done through books which is why these COOL CATS are working through all levels of their government to promote STEM and FIRST.
Team 6998 – Unipards from Tainin, Chinese Taipei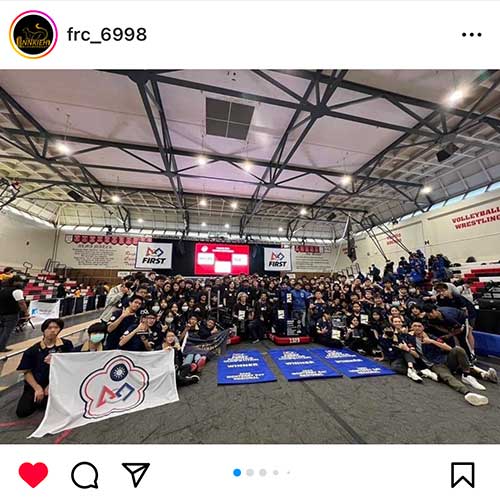 Regional Winners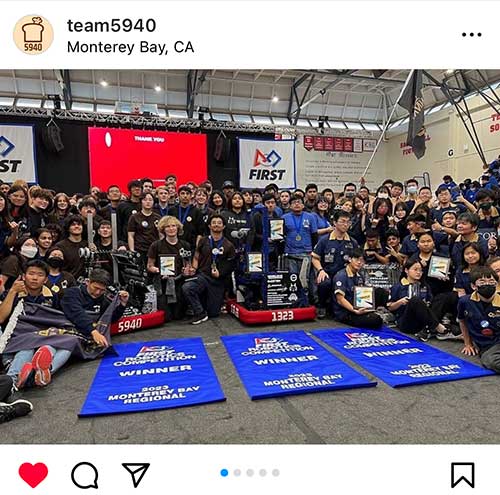 Regional Finalist (wildcard)
Dean's List Finalist
In an effort to recognize the leadership and dedication of FIRST's most outstanding FRC students, the Kamen family sponsors an award for selected top students known as the FIRST Dean's List. This award celebrates a student's outstanding leadership and effectiveness in advancing respect and appreciation for engineering and engineers, both within their school, as well as their community. FIRST Dean's List Finalists will compete at the championship for the FIRST Dean's List.
Eleanor Lyons from Team 7413, Plus Ultra

Sindhu Gokaraju Team 4255, Robodores

 
Woodie Flowers Finalist Award
FIRST stands apart from other competitions in STEM and sports due to the FIRST Ethos of Gracious Professionalism, the concept of Coopertition, and the commitment to the FIRST Core Values. The guiding force behind these principles was Dr. Woodie Flowers. Dr. William Murphy, Jr., who was instrumental in creating the concept of FIRST with Dean Kamen, recognized the unique perspective, wisdom, and communication style that Woodie brought to the FIRST Robotics Competition.
In honor of Woodie, Dr. Murphy founded the Woodie Flowers Award in 1996. He recognized that the FIRST ethos would be carried forward by our FIRST mentors and sought to celebrate those mentors who demonstrate the leadership, ethical behavior, and communication skills exemplified by Woodie. Woodie believed "societies get the best of what they celebrate".
Being recognized by students, through nomination essays, makes this honor very meaningful to mentors. It is truly an honor for a mentor to be nominated for this award.
​​This mentor is a volunteer, mentor, advocate, and inspiration and has helped multiple teams. Students share how this mentor "promotes a wonderful work ethic, makes us laugh during stressful times, opens doors for us, and believes in us."  He provides insight in technical, logistical, and business skills to his students. "Every day we interact with him, he inspires us to be better people."
Matthew Lussier from Team 7413, Plus Ultra
Additional Awards
Congratulations to the Teams and individuals that earned the remaining awards at the Monterey Bay Regional! See the list here.