The FIRST Robotics Competition Central Valley Regional, at the Fresno Convention Center from March 9-12, 2023, was a big success!  There were 39 teams in attendance and the weekend was Charged Up! 
Among the teams that came from all parts of California, we also had teams visiting from Arizona, Idaho, Mexico and Chinese Taipei. The teams had a special visit from Patti Poppe, the CEO of Pacific Gas & Electric Company. Patti and her husband Eric, along with matching funds from PG&E, donated $200,000 to Northern California FIRST events and teams, including 20 of the teams competing at the regional.  And they announced they were committing to another $200,000 for the 2024 season!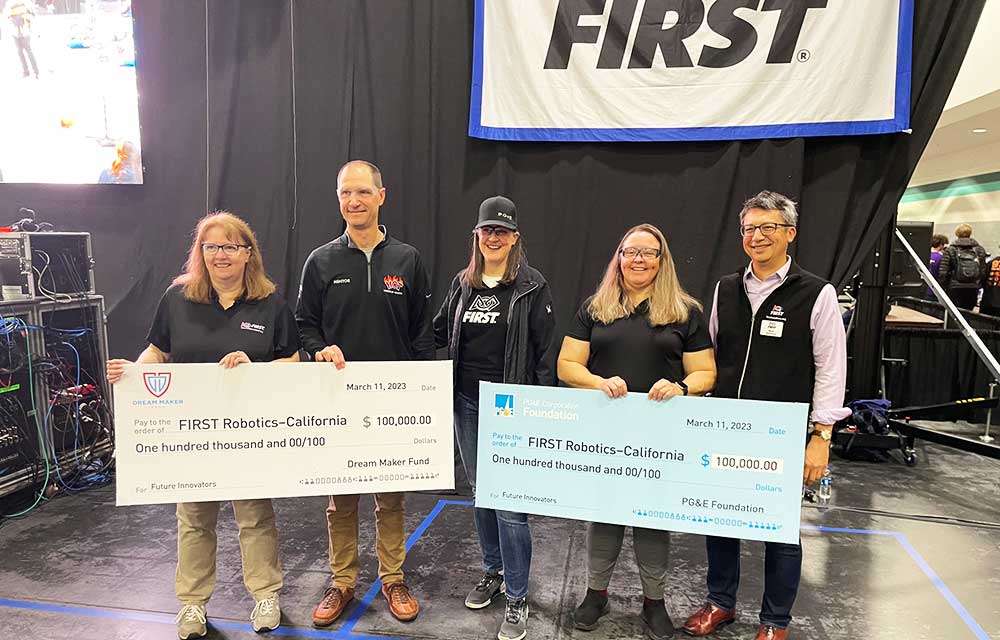 The Central Valley Regional was also hosting several local FIRST Tech Challenge and FIRST LEGO League Challenge and Explore teams, which included the a team that will be competing at the World Championship in Houston this April. There was even more excitement for teams when they visited the Air Force booth and got to talk with officers about the many opportunities that exist using the skills they learn through FIRST within the Air Force and Space Force. 
The competition was filled with excitement and culminated with many awards to teams for their skills, talents, performance, outreach, dedication, and Gracious Professionalism at the event. In fact, 47 individuals were awarded an exclusive FIRST California Gracious Professional pin for being 'Caught in the Act!'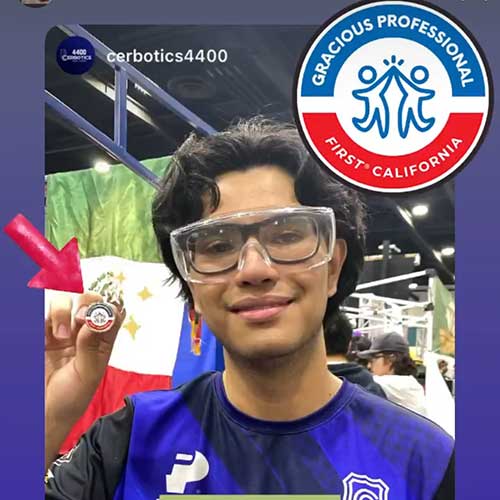 We'd like to extend an immense THANK YOU to all the sponsors, mentors and volunteers who contributed to this very successful Regional.
We hope you too had a memorable experience at the Central Valley Regional! 
LIST OF TEAMS ADVANCING TO CHAMPIONSHIPS IN HOUSTON!!!
The following teams and individuals earned top honors at the Central Valley Regional and earned their way to compete at the FIRST Championships in Houston, April 19-22, 2023
FIRST Impact Award
The FIRST Impact Award represents the true spirit of FIRST.  It honors the team that best serves as a model for other teams to emulate and that embodies the goals of FIRST.  It remains FIRST's most prestigious team award.  The FIRST Impact Award is presented to the team judged to have the most significant measurable impact of its partnerships among its participants, school, and community over a sustained period, not just a single build season or school year. The winner is able to demonstrate progress towards FIRST's mission of transforming our culture.  The recipient will be invited to the FIRST Championship where it will compete for the FIRST Impact Award against the winners from all the other qualifying events.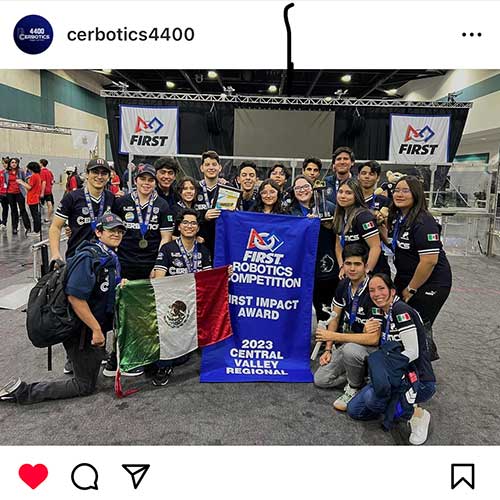 You can watch their Impact Award video here.
Engineering Inspiration
The Engineering Inspiration Award celebrates outstanding success in advancing respect and appreciation for engineering within a team's school and community.  This team will advance to the Championships and receive a $5000 NASA grant toward registration.
This team's dedicated outreach team strives to bring engineering and stem fields to underrepresented communities. They empower Girl Scouts and kids of all ages, those with learning disabilities and other nations through their robust outreach. Their sustained outreach efforts prove they are anything but inert.
Team 840, Aragon Robotics from San Mateo, CA
Regional Winners
Dean's List Finalist
In an effort to recognize the leadership and dedication of FIRST's most outstanding FRC students, the Kamen family sponsors an award for selected top students known as the FIRST Dean's List. This award celebrates a student's outstanding leadership and effectiveness in advancing respect and appreciation for engineering and engineers, both within their school, as well as their community. FIRST Dean's List Finalists will compete at the championship for the FIRST Dean's List.
Anisha Shukla from Team 2135, Presentation Invasion
Emilia Plancarte from Team 4400, Cerbotics
Woodie Flowers Finalist Award
FIRST stands apart from other competitions in STEM and sports due to the FIRST Ethos of Gracious Professionalism, the concept of Coopertition, and the commitment to the FIRST Core Values. The guiding force behind these principles was Dr. Woodie Flowers. Dr. William Murphy, Jr., who was instrumental in creating the concept of FIRST with Dean Kamen, recognized the unique perspective, wisdom, and communication style that Woodie brought to the FIRST Robotics Competition.
In honor of Woodie, Dr. Murphy founded the Woodie Flowers Award in 1996. He recognized that the FIRST ethos would be carried forward by our FIRST mentors and sought to celebrate those mentors who demonstrate the leadership, ethical behavior, and communication skills exemplified by Woodie. Woodie believed "societies get the best of what they celebrate".
Being recognized by students, through nomination essays, makes this honor very meaningful to mentors. It is truly an honor for a mentor to be nominated for this award.
You shared high praise for the accomplishments and dedication of your mentors and your teams. Based on your input, we now recognize the outstanding contributions of ONE mentor to the FIRST experience.

This nominee has dedicated over half their life to the FIRST mission. Their passion and commitment to their team and FIRST is unmatched. They work to make their team and their community more efficient and effective. This mentor works with nearly every part of their team from design, software, business, and graphic design inspiring their students to be well-rounded. He is an exceptional role model to students on their teams and to every team he works with.

Please join us in congratulating the 2023 Central Valley Regional Woodie Flowers FINALIST Award winner, Andrew Nabors, from Team 1671! 
Andrew Nabors from Team 1671, Buchanan Bird Brains
Additional Awards
Congratulations to the Teams and individuals that earned the remaining awards at the Central Valley Regional! See the list here.