Congratulations to the 36 Teams from California and China PLUS all the Mentors, Volunteers, Sponsors, Friends and Family members who participated in the Inaugural Monterey Bay FIRST Robotics Regional from March 21-24, 2019!
It was amazing to kick off the inaugural event with Woodie Flowers who, as always, inspired the crowd and spent time with each individual team. 
You can catch Woodie's thought provoking opening speech in the video below. 👇🏼

ADVANCING TO CHAMPIONSHIPS IN HOUSTON!!!
The following teams and individuals earned top honors at the Monterey Bay Regional and earned their way to compete at the FIRST Championships in Houston in April.
Regional Chairman's Award
Team 1671, Buchanan Bird Brains from Clovis, CA 
The Chairman's Award represents the true spirit of FIRST.  It honors the team that best serves as a model for other teams to emulate and that embodies the goals of FIRST.  It remains FIRST's most prestigious team award.  The Chairman's Award is presented to the team judged to have the most significant measurable impact of its partnerships among its participants, school, and community over a sustained period, not just a single build season or school year. The winner is able to demonstrate progress towards FIRST's mission of transforming our culture.  The recipient will be invited to the FIRST Championship where it will compete for the Chairman's Award against the winners from all the other qualifying events.
What the judges had to say …
"This team flies around their community, delivering extensive mentoring and workshops. They've really spread their wings through their signature workshop in a box, children's activity book, and other initiatives to help identify the districts in need of resources.
Terns for the worst?  No ruffled feathers, no grousing around.  There's no ducking of responsibility on this team : they flock together and do what needs to be done."
Engineering Inspiration
Team 2073, EagleForce from Elk Grove, CA
The Engineering Inspiration Award celebrates outstanding success in advancing respect and appreciation for engineering within a team's school and community.  This team will advance to the Championships and receive a $5000 NASA grant toward registration.
What the judges had to say …
"Their outreach to elementary schools, the community, and within their schools allow others to GEEK OUT. The RIGHT ARM of this team is reaching out on a project to help a student in their district. Their academy has expanded their school district's offering of new classes. Their annual learning-based off-season event inspires other FRC teams. They have proven themselves as a FORCE to be reckoned with."
Regional Winners
Team 1671, Buchanan Bird Brains from Clovis, CA 
Team 6814, Ellipse from Santa Rosa, CA
Team 702, Bagel Bytes from Culver City, CA
Team 2643, Dark Matter from San Jose, CA

Rookie All-Star Award
Team 7528, Nuts and Bolts from Morgan Hill, CA
This award celebrates a 1st year team demonstrating an early but strong partnership effort, implementing the mission of FIRST.  Its winner understands what FIRST is really trying to accomplish and realizes that technical work is fun and challenging, made better by building a partnership among team, community and school.  This is not an easy challenge for a rookie team but the judges want to recognize and reward one team that got it right.
What the judges had to say …
"Our Rookie All-Star Award is presented to a team which was very efficient in their execution as demonstrated by IMPRESSIVE rankings this weekend. With a well stated business plan, including a mission to inspire enthusiasm for STEM, some key sponsorship and a sustainable plan with outreach PLUS helping a local middle school FLL team, this team has fastened themselves together to build and develop into a winning FIRST robotics team."
Regional Finalists
(Advancing to Championships because of 3 Wild Cards)
Team 3128, Aluminum Narwhals from San Diego, CA
Team 6506, Steel Boot from Salinas, CA 
Team 6059, System Overload Robotics from Livermore, CA
Dean's List Finalist
FIRST Dean's List Finalist – Christopher Oliver from Team 7667 
FIRST Dean's List Finalist – Cady Boronkay from Team 2643
In an effort to recognize the leadership and dedication of FIRST's most outstanding FRC students, the Kamen family sponsors an award for selected top students known as the FIRST Dean's List.
This award celebrates a student's outstanding leadership and effectiveness in advancing respect and appreciation for engineering and engineers, both within their school, as well as their community. FIRST Dean's List Finalists will compete at the championship for the FIRST Dean's List.
Woodie Flowers Finalist Award
Shifei Yin from Team 5823 in China was presented the Woodie Flowers Finalist award by non-other than Woodie Flowers himself!
Additional Awards
Congratulations to the Teams and individuals that earned the remaining awards at the Monterey Bay Regional! See the list here.
---
Press

Above video and article link here.
---
Support
An immense THANK YOU to all the Sponsors who contributed to this very successful Regional with funding, mentors, volunteers and enthusiasm! Regional Sponsors include the Brin Wojcicki Foundation and Salad Savoy.
Thanks to Matt Lussier, Worldwide FIRST Program Manager from FIRST's strategic partner Apple, who inspired all by reminding us that "humanity isn't singular it's plural, its our differences that bring us together" and to embrace diversity.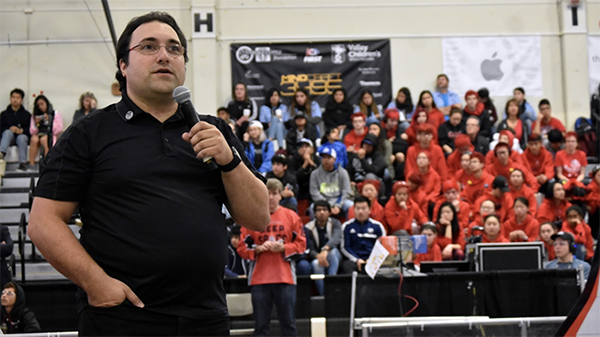 Opening remarks from Congressman Jimmy Panetta.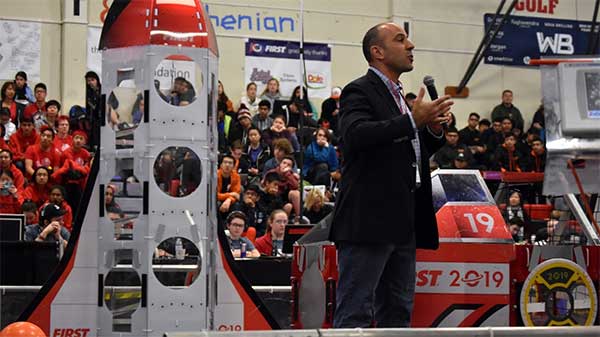 ---
We hope you too had a memorable experience at the inaugural Monterey Bay Regional.  We'd love to hear your stories.  Please consider sharing them with us here in the comments below or on our facebook page.  Photo and video links welcome!