Congratulations to the 47 Teams from California, Hawaii, Arizona, Nevada, Utah, Chinese Taipei and the Netherlands PLUS Mentors, Volunteers, Sponsors, Friends and Family members who participated in the 13th Annual San Diego FIRST Robotics Regional Competition presented by Qualcomm, March 6-9, 2019!
ADVANCING TO CHAMPIONSHIPS IN HOUSTON!!!
The following teams and individuals earned top honors at the San Diego Regional and earned their way to compete at the FIRST Championships in Houston in April.
Regional Chairman's Award
Team 1622, Spyder – from Poway, CA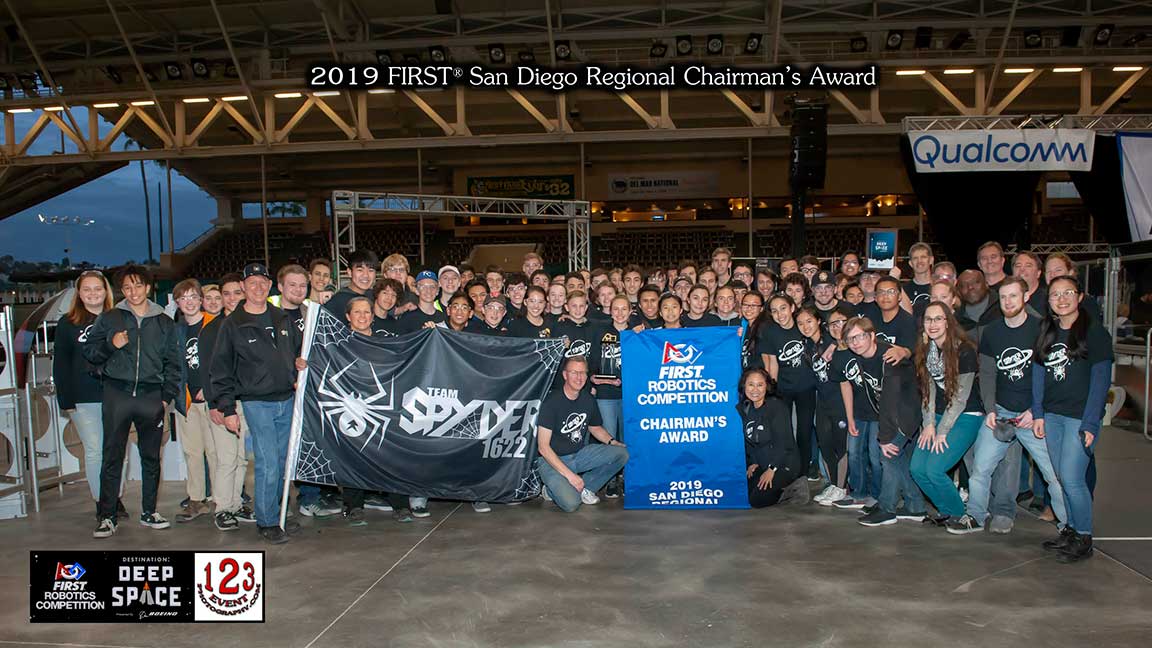 The Chairman's Award represents the true spirit of FIRST. It honors the team that best serves as a model for other teams to emulate and that embodies the goals of FIRST. It remains FIRST's most prestigious team award. The Chairman's Award is presented to the team judged to have the most significant measurable impact of its partnerships among its participants, school, and community over a sustained period, not just a single build season or school year. The winner is able to demonstrate progress towards FIRST's mission of transforming our culture. The recipient will be invited to the FIRST Championship where it will compete for the Chairman's Award against the winners from all the other qualifying events.
Here's what the Judges had to say –
"This team has consistently demonstrated the ideals of FIRST by inspiring teenagers throughout their community to pursue careers in engineering and STEM. They have created an innovation and engineering culture by establishing a women in engineering chapter, starting multiple teams in Title 1 schools, working with politicians to bring about legislative change, and more outreach than we can count. Providing a true model for other FIRST teams to emulate.
This innovation culture expanded globally as they provided mentoring, sustainability education, and financial support to teams in other countries with limited resources. Their web of influence may not get them to Hollywood, but they are going to Championships."

Engineering Inspiration
Team 2485, W.A.R Lords – from San Diego, CA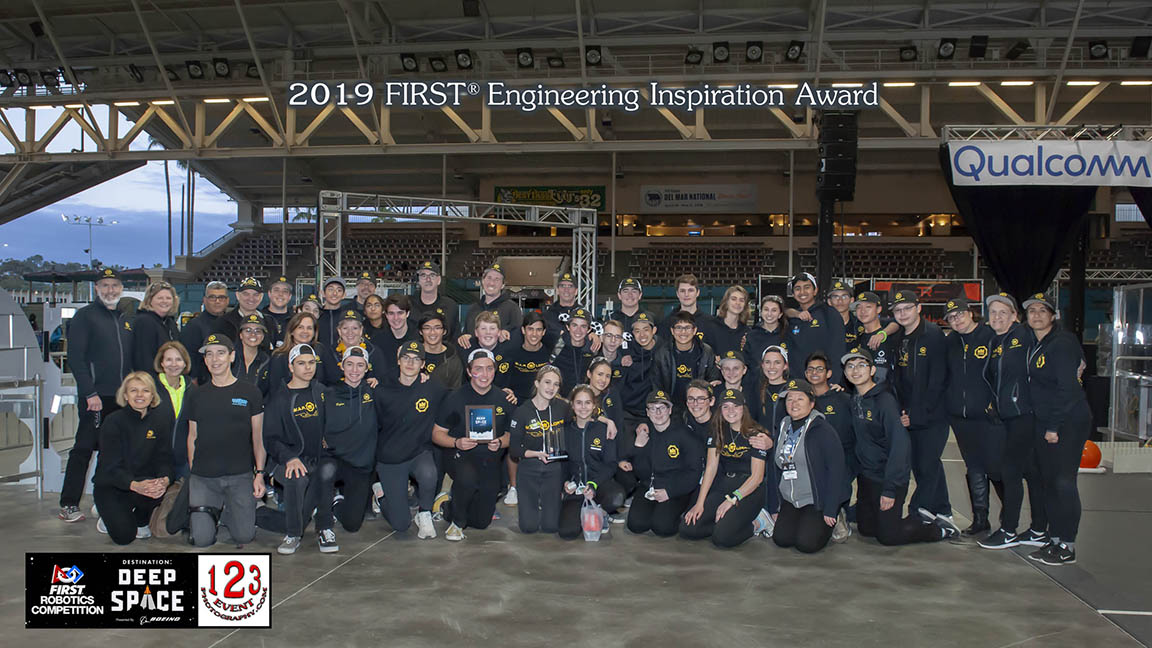 The Engineering Inspiration Award celebrates outstanding success in advancing respect and appreciation for engineering within a team's school and community. This team will advance to the Championships and receive a $5000 NASA grant toward registration.
Here's what the judges had to say –
"This team's impact extends from their school to the world stage. An eighth of their student body is engaged with various FIRST programs. They join with two other local teams to sponsor "Battle at the Border" during the off season. They sponsor FLL and FLL Jr. teams in eastern Europe. Inclusive engagement and empowerment which draws girls into STEM is a total WOW. Their outreach has no boundaries or walls."

Regional Winners
Team 987, High Rollers – from Las Vegas, NV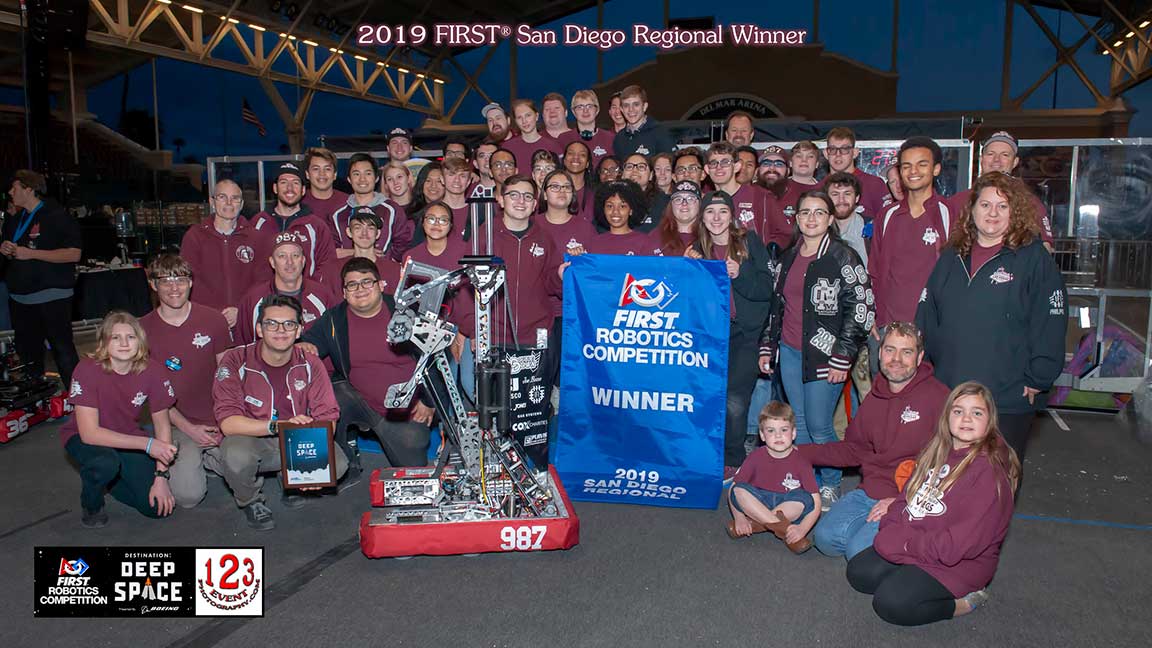 Team 3647, Millennium Falcons – from San Diego, CA


Team 6995, NOMAD – from Escondido, CA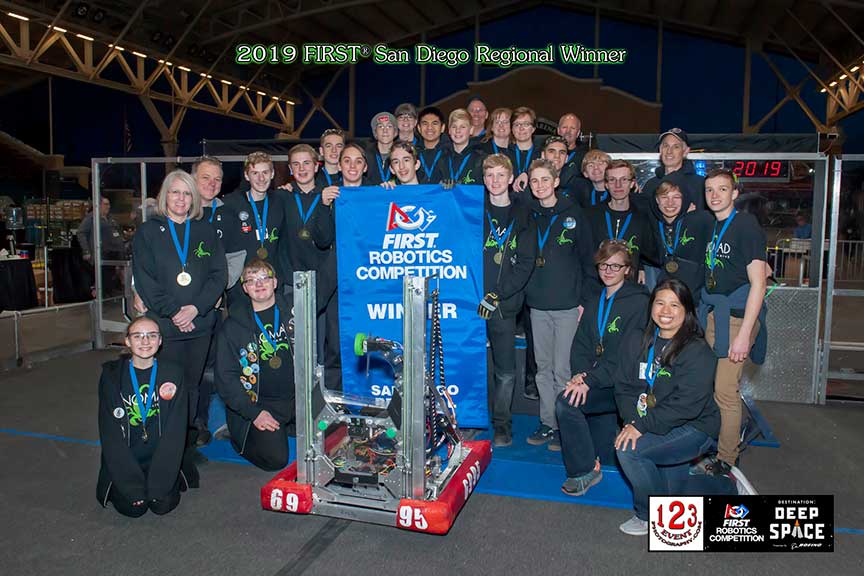 Rookie All-Star Award
Team 7626, NLHS – from Taoyuan, Chinese Taipei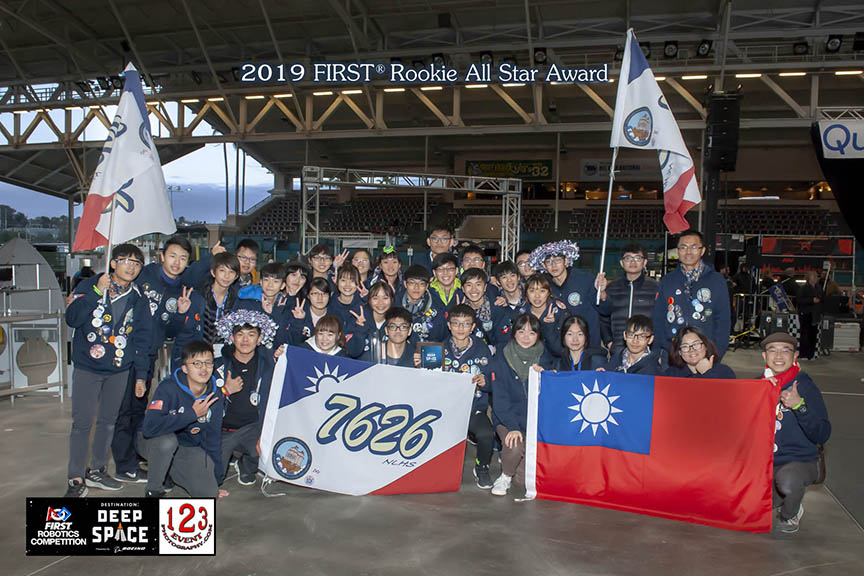 This award celebrates a 1st year team demonstrating an early but strong partnership effort, implementing the mission of FIRST. Its winner understands what FIRST is really trying to accomplish and realizes that technical work is fun and challenging, made better by building a partnership among team, community and school. This is not an easy challenge for a rookie team but the judges want to recognize and reward one team that got it right.
Here's what the judges had to say –
"This team is off to a great start! With their focus on "learning by doing", they recognize that building a strong, sustainable team is more important than building a robot. They defined goals and objectives, created a thorough business plan, documented their team and engineering processes, and established a team structure organized to support their efforts.
In their rookie season, this team has shown all of us their honor and that they will never lose their self-confidence as they smoothly sail into the future."
Regional Finalist
(advancing to Championships because of 3 wildcards)
Team 2839, Daedalus from Escondido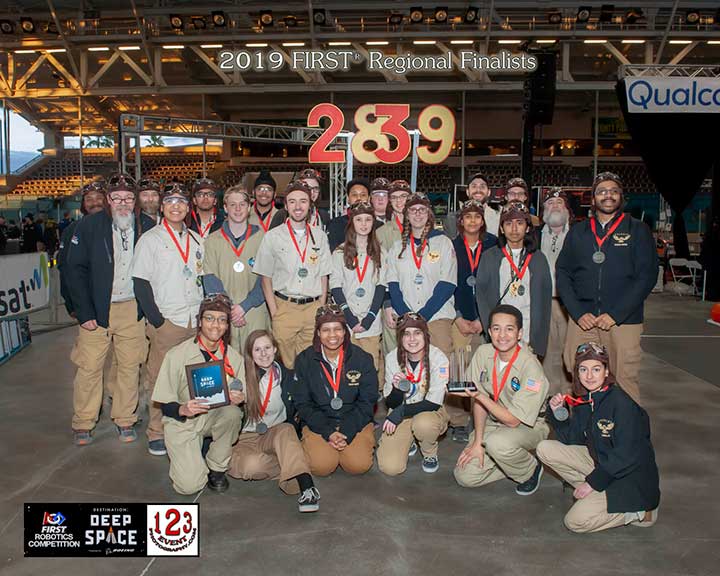 Team 6695, Alpha Knights from San Marcos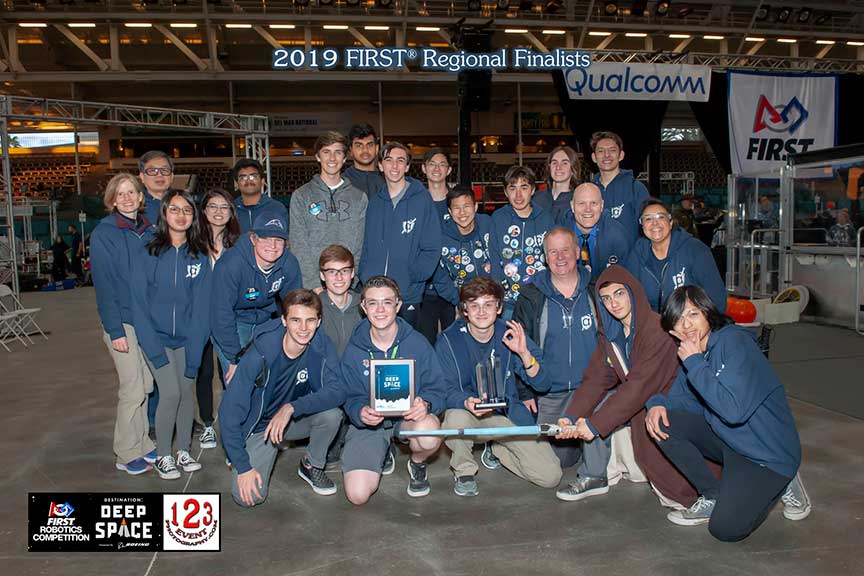 Team 3245, Ravens from Sandy, UT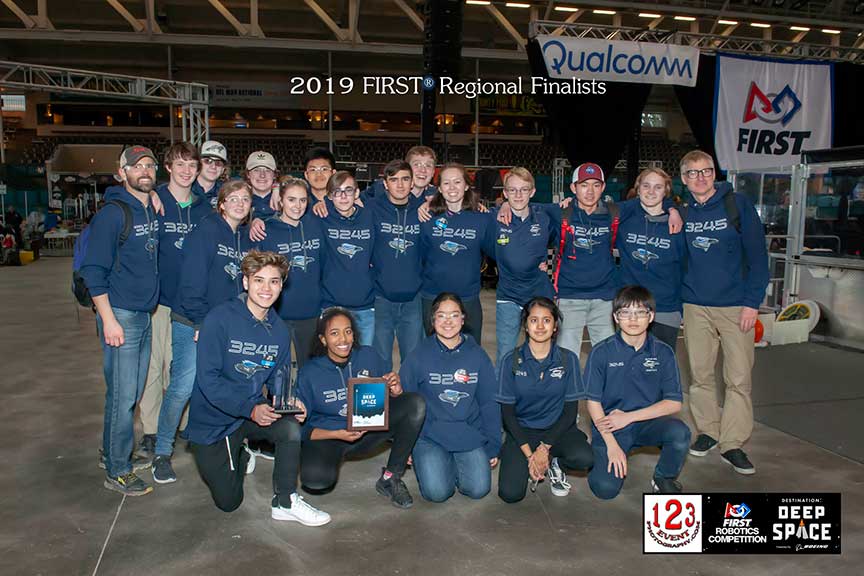 Dean's List Finalist
FIRST Dean's List Finalist – Ethan Champion from Team 1622, Spyder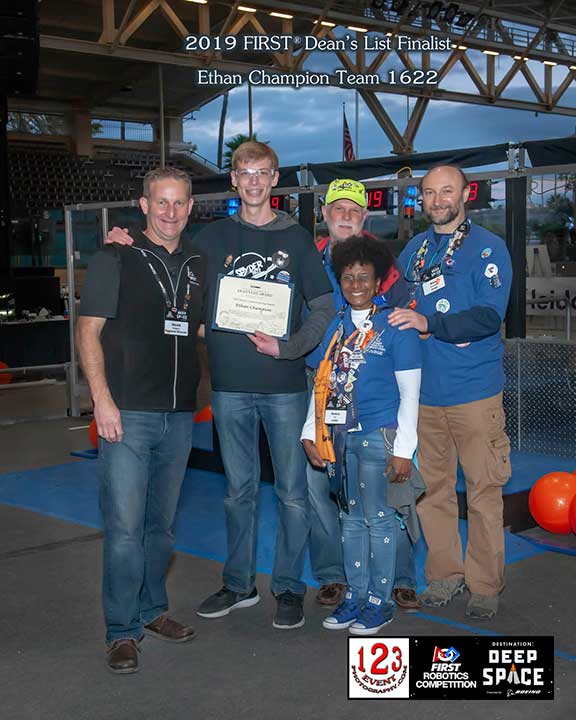 FIRST Dean's List Finalist – Farrah Kaiyom from Team 3647, Millennium Falcons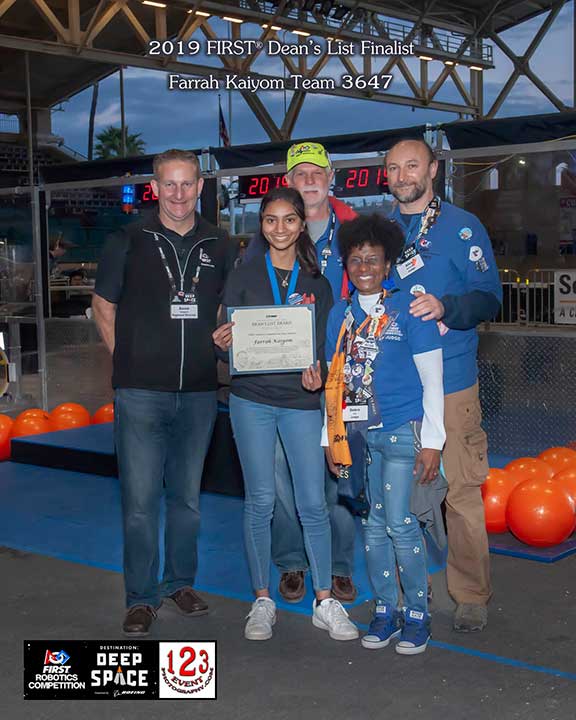 In an effort to recognize the leadership and dedication of FIRST's most outstanding FRC students, the Kamen family sponsors an award for selected top students known as the FIRST Dean's List.
This award celebrates a student's outstanding leadership and effectiveness in advancing respect and appreciation for engineering and engineers, both within their school, as well as their community. FIRST Dean's List Finalists will compete at the championship for the FIRST Dean's List.
Woodie Flowers Finalist Award
Todd Parr – Mentor for Team 1622, Spyder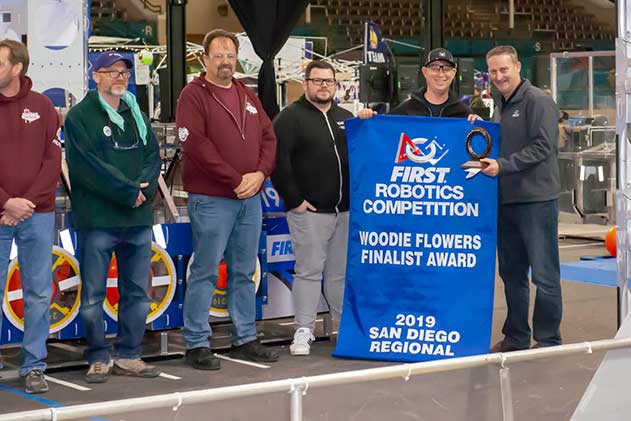 Additional Awards
Congratulations to the Teams and individuals that earned the remaining awards at the San Diego Regional! See the list here.
---
SPECIAL EVENTS
Women In Stem Event

Sponsored by Viasat
Alumni Mixer
---
Support
An immense THANK YOU to all the Sponsors who contributed to this very successful Regional with funding, mentors, volunteers and enthusiasm!
Regional Sponsors include Qualcomm Incorporated, Marathon, ViaSat, General Atomics Sciences Education Foundation, Leidos, Hewlett Packard, Booz Allen Hamilton and Solar Turbines.

Qualcomm sponsored teams
Media Attention
Photos
123EVENTPHOTOGRAPHY: The 2019 San Diego Regional WEB & DEVICE-FRIENDLY Gallery contains high quality (but lower resolution) images to upload fast for your phone, devices and social media, etc.
123EVENTPHOTOGRAPHY:The 2019 San Diego Regional HIGH RESOLUTION Gallery contains high resolution images that should only be used to make prints from. NOTE: The device you are downloading to must have the available memory/storage. They recommend using a desktop computer with an external hard drive or a flash drive. By selecting to download any images, you assume all resulting responsibility.
TOM LAFLEUR: 2019 San Diego Regional Gallery
Please be sure to assign the photo credits on your shared images for the above photographers.
---
We hope you too had a memorable experience at the San Diego Regional. We'd love to hear your stories. Please consider sharing them with us here in the comments below or on our facebook page. Photo and video links welcome!