Congratulations to the 59 Teams from California, Minnesota, Turkey and China PLUS all the Mentors, Volunteers, Sponsors, Friends and Family members who participated in the Silicon Valley FIRST Robotics Regional from March 28-31, 2019!
ADVANCING TO CHAMPIONSHIPS IN HOUSTON!!!
The following teams and individuals earned top honors at the Silicon Valley Regional and earned their way to compete at the FIRST Championships in Houston in April.
Regional Chairman's Award
Team 2220, Blue Twilight from Eagan, Minnesota
The Chairman's Award represents the true spirit of FIRST.  It honors the team that best serves as a model for other teams to emulate and that embodies the goals of FIRST.  It remains FIRST's most prestigious team award.  The Chairman's Award is presented to the team judged to have the most significant measurable impact of its partnerships among its participants, school, and community over a sustained period, not just a single build season or school year. The winner is able to demonstrate progress towards FIRST's mission of transforming our culture.  The recipient will be invited to the FIRST Championship where it will compete for the Chairman's Award against the winners from all the other qualifying events.
What the judges had to say …
"This team truly inspires
By connecting all the WIRES
Changing the world order
This robot team with no border
From establishing a beachhead
On the old farmstead
To making innovations
Even at the United Nations
Inspiring beyond their quota
This team from Minnesota
The RCA Award of FIRST light
Goes to team Blue Twilight"
Engineering Inspiration
Team 649, M-SET Fish from Saratoga, CA
The Engineering Inspiration Award celebrates outstanding success in advancing respect and appreciation for engineering within a team's school and community.  This team will advance to the Championships and receive a $5000 NASA grant toward registration.
What the judges had to say …
"This team's sponsorship of FLL teams is a matter of pride, and their partnership with 4 award winning FTC teams shows a commitment to the FIRST mission. They lead a hands-on class at a community youth facility and workshops at their local library, impacting over 700 middle school students led by over 100 students affiliated with this team.
MMMM-agnificent communication skills demonstrated by students describing how they spread their SPLASH to meet the FIRST mission and strong support from their school, like a MANTA from heaven, in the form of an identity-affirming lab, means there is no need to FISH for mechanical, science or engineering team resources."
Regional Winners
Team 254, The Cheesy Poofs from San Jose, CA
Team 5499, The Bay Orangutans from Berkeley, CA
Team 6418, The Missfits from San Francisco, CA

Rookie All-Star Award
Team 7667, OtterBots from Napa, CA
This award celebrates a 1st year team demonstrating an early but strong partnership effort, implementing the mission of FIRST.  Its winner understands what FIRST is really trying to accomplish and realizes that technical work is fun and challenging, made better by building a partnership among team, community and school.  This is not an easy challenge for a rookie team but the judges want to recognize and reward one team that got it right.
What the judges had to say …
"This rookie team built a machine with a BUCKET for their youthful enthusiasm.  Their carnivorous robot took good care of its owners, who in turn made sure the bot was well-fed on its favorite foods –  cargo balls, fish, and other invertebrates.
This young team contacted dozens of organizations before finding supporters to fund their team. They campaigned to be the most inclusive team they could be, obtaining waivers so middle school students in their community could join. This winning team and their robot "Dozer" have a good home in the back of an autoshop, nestled between the vineyards."
Regional Finalists
(Advancing to Championships because of 2 Wild Cards)
Team 972, Iron Claw from Los Gatos, CA
Team 7308, Deep Vision from Los Altos, CA
Dean's List Finalist
FIRST Dean's List Finalist – Kevin Wang from Team 199
FIRST Dean's List Finalist – Kaitlyn Kumar from Team 1967
In an effort to recognize the leadership and dedication of FIRST's most outstanding FRC students, the Kamen family sponsors an award for selected top students known as the FIRST Dean's List.
This award celebrates a student's outstanding leadership and effectiveness in advancing respect and appreciation for engineering and engineers, both within their school, as well as their community. FIRST Dean's List Finalists will compete at the championship for the FIRST Dean's List.
Woodie Flowers Finalist Award
Alvin Cheng from Team 1967, The Janksters.
See scanned 35mm photo below at the 1999 Silicon Valley Regional, where Alvin (on the right in Hawaiian shirt) participated as a student – he's not aged a day in 20 years!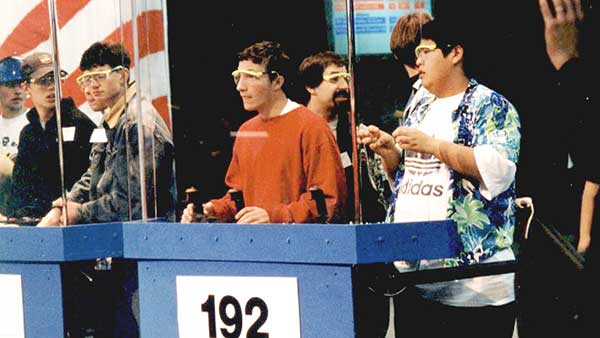 Awards
Congratulations to the Teams and individuals that earned the remaining awards at the Silicon Valley Regional! See the list here.
---
Press
 ABC 7 News

Link to full article and video here.
---
Support
An immense THANK YOU to all the Sponsors who contributed to this very successful Regional with funding, mentors, volunteers and enthusiasm! Regional Sponsors include the Brin Wojcicki Foundation, the KLA Foundation, Qualcomm, Oracle, Bosch, Arm and Atlassian.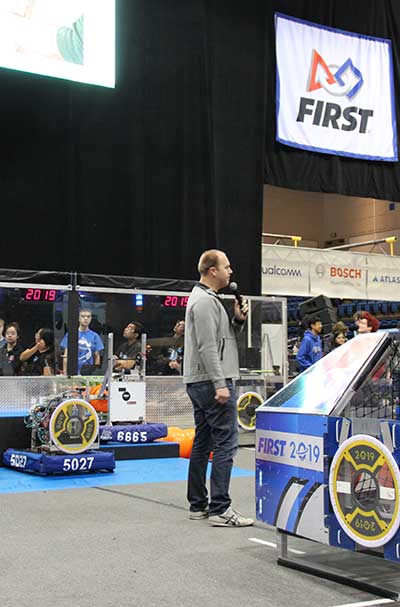 Thank you to Philip Roan from FIRST's Strategic Partner Bosch for sharing their broad portfolio and how they support FIRST teams a
round the world.
The Silicon Valley community graciously thanks KLA for their generous support of teams and sponsorship of the Silicon Valley Regional.
Checkout the KLA video and speech by Jijen Vazhaeparambil, Senior VP and General Manager.
---
We hope you too had a memorable experience at the Silicon Valley Regional Regional.  We'd love to hear your stories.  Please consider sharing them with us here in the comments below or on our facebook page.  Photo and video links welcome!