Congratulations to ALL Teams, Mentors, Volunteers, Sponsors, Friends and Family members who participated in the 8th Annual San Diego FIRST Robotics Regional and helped to create an exciting and memorable weekend.
Definitely a successful and action packed weekend with over 1,500 high school students on 60 teams and over 7,000 in attendance over the 3 day event!  High energy matches, a very special visit from FIRST President Donald Bossi, a Proclamation from Councilmember Lightner, a rockin' band, incredible sponsor involvement on all levels and great local major media attention all made for an exciting weekend.  We were featured in an in depth article in the Union Tribune, on KPBS TV and Radio, and nearly all the local TV stations.  Here's a fun segment from 10News.
Below you can find a great video from the last day of the Competition filled with action, time lapse and Bot Talk! A big thank you to the San Diego FTC Team, Stuffed Dragons, for creating this gem.


HEADING TO CHAMPIONSHIPS IN ST. LOUIS!!!
The following teams and individuals earned top honors at the San Diego Regional and will be going on to compete at the FIRST Championships in St. Louis in April.  We wish them the best of luck!
Regional Chairman's Award
Team 3476, Code Orange – Dana Point, CA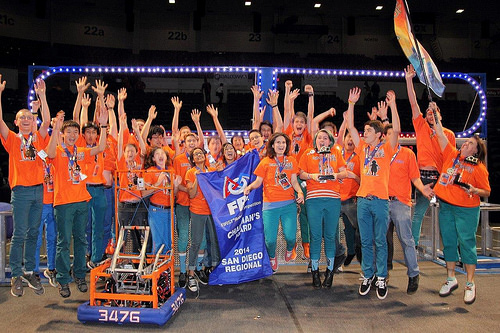 The San Diego Chairman's Award represents the true spirit of FIRST.  It honors the team that best serves as a model for other teams to emulate and that embodies the goals of FIRST.  It remains FIRST's most prestigious team award.  The Chairman's Award is presented to the team judged to have the most significant measurable impact of its partnerships among its participants, school, and community over a sustained period, not just a single build season or school year. The winner is able to demonstrate progress towards FIRST's mission of transforming our culture.  The recipient will be invited to the FIRST Championship where it will compete for the Chairman's Award against the winners from all the other qualifying events.
Here's what the Judges had to say –
"This team has been a spark behind the growth of FIRST in their wide ranging communities and surrounding area.  They have leveraged their deep standing relationships with key sponsors to create opportunities for their team members and grow FIRST across their diverse region.
They personally maintain and continuously grow a well-rounded program of progression through every one of the FIRST competition levels.  Not only do they mentor and work directly with numerous FLL teams, they also work to inspire educators to multiply this success around the world.  In addition to taking FIRST to schools and community events, they have actively connected engineers and educators around the world, reinforcing the value of FIRST to the professional community.
From early on , this team has made sustainability a specific priority for themselves and for the teams with whom they work, recognizing their greatest legacy will come long after current team members have moved on in their lives.
This team has really cracked the Code . . . "Orange" you glad the did?!"

Engineering Inspiration
Team 987, High Rollers- Las Vegas, NV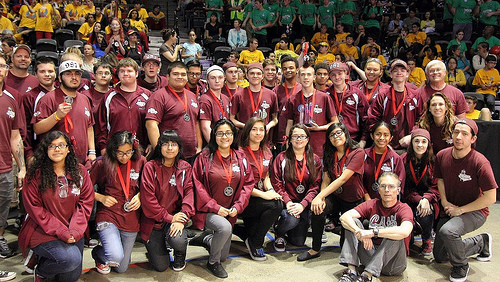 The Engineering Inspiration Award celebrates outstanding success in advancing respect and appreciation for engineering within a team's school and community.  This team will advance to the Championships and receive a $5000 grant toward registration.
Here's what the judges had to say –
"Our winning team has initiated a transformational change to foster future engineers in their region.  From developing an engineering academy within their school, to ensuring that FIRST Robotics is on the same level as any sports team, to extensive support at all levels of FIRST Competitions, everything they do is toward the goal of transforming their region into a hub of engineering opportunities.  Their efforts have led to many internships, job openings, and scholarships providing that their exceptional program is no risky gamble . . . rather a bet on our future."

Regional Winners
Team 1266, Devil Duckies from San Diego, CA; Team 330, Beach Bots from Hermosa Beach, CA; Team 4583, Robosaurus from San Diego, CA; Team  4486, Tee Squares from Vista, CA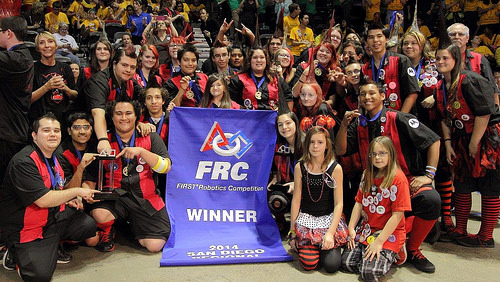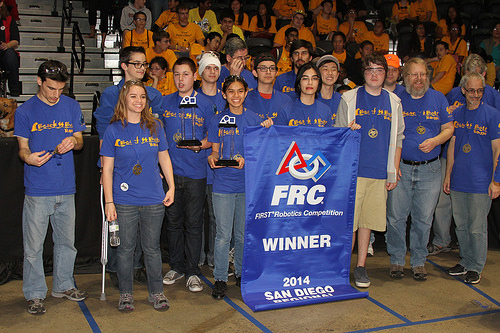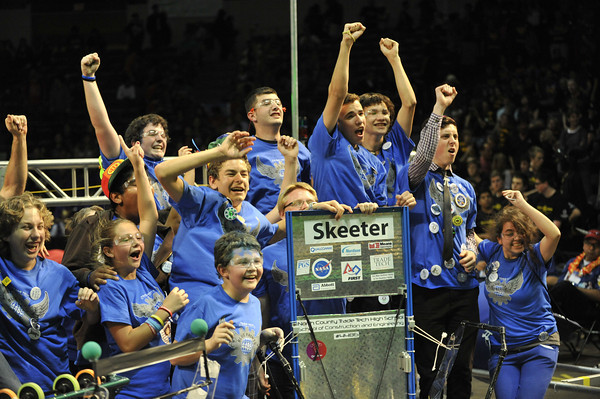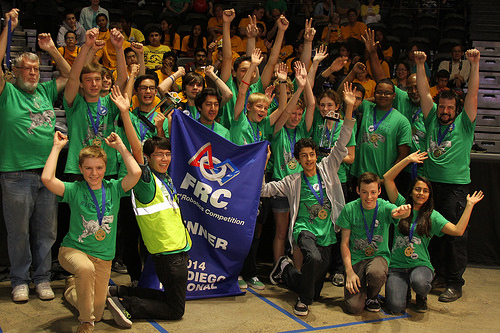 Rookie All-Star Award
Team  5137, Iron Kodiaks from San Marcos, CA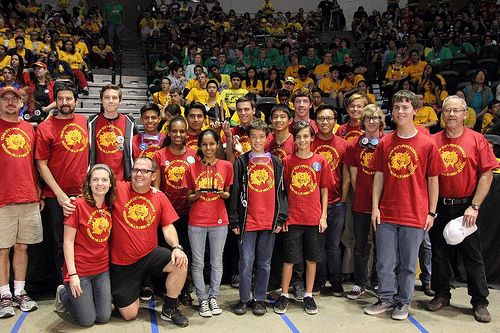 This award celebrates a 1st year team demonstrating an early but strong partnership effort, implementing the mission of FIRST.  Its winner understands what FIRST is really trying to accomplish and realizes that technical work is fun and challenging, made better by building a partnership among team, community and school.  This is not an easy challenge for a rookie team but the judges want to recognize and reward one team that got it right.
Here's what the judges had to say –
"While in their first year, they have been able to jump start a solid team and have developed core elements that embody FIRST. While their leader is petite, her bears are worth their metal."

Dean's List Finalist: Honoring FIRST Student Superstars
FIRST Dean's List Finalist #1 – Camille Considine, Team 2485 from San Diego, CA
FIRST Dean's List Finalist #2 –  Kian Sheik, Team 3128 from San Diego, CA

Both winners are featured below with 2013 FIRST Championship Dean's List Award Winner, Isabel Martos-Repath, from Team 589 in La Crescenta, CA.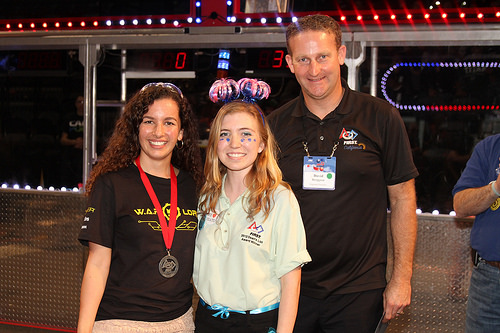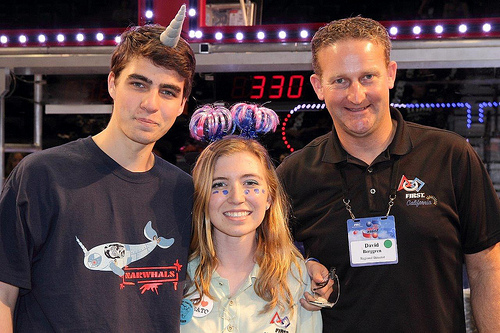 In an effort to recognize the leadership and dedication of FIRST's most outstanding FRC students, the Kamen family sponsors an award for selected top students known as the FIRST Dean's List.
This award celebrates a student's outstanding leadership and effectiveness in advancing respect and appreciation for engineering and engineers, both within their school, as well as their community. FIRST Dean's List Finalists will compete at the championship for the FIRST Dean's List.

Woodie Flowers Finalist Award
Ken Collins
Mentor for Team 2485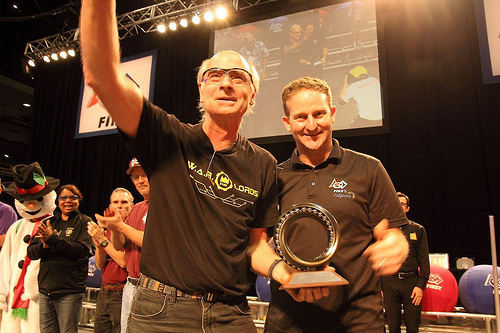 Here's what the judges had to say about Ken –
"This lead mentor's enthusiasm, dedication, and wisdom not only captivates and instructs, but nurtures and inspires all the students he works with. He has the incredible talent to foster and enhance a student's potential into robot fabricating dexterity by teaching concepts as simple as "measure twice, cut once" and as complex as molding carbon fiber. 

The student nominator did an excellent job of explaining how this mentor can make something out of nothing. We judges definitely see how he has made a team of amazing and appreciative students."
Additional Awards
Congratulations to the Teams and individuals that earned the remaining awards at the San Diego Regional! See the list here.

FIRST Impressions
Stephen des Jardins, senior staff engineer at Nordson ASYMTEK shared this on the company's blog:
"It is personally rewarding, challenging, and fun to help these students prepare for this competition. Each robot is so different. It's exciting to see how the teams progress and how each robot reflects the personality of the teams and the students. After eight years of working with the students, I still feel extremely fortunate to be involved. "
Wanda Parise, the FIRST Robotics Coordinator at SPAWAR shared:
"National Defense Education Program (NDEP) is proud to support our  local communities with Department of Defense volunteer mentors and to sponsor events like this where our teams gain competitive experience. We hope to see these students continue on in internships, scholarships and careers that help make our nation strong."

Support
An immense THANK YOU to all the Sponsors who contributed to this very successful Regional with funding, mentors, volunteers and enthusiasm!
Regional Sponsors include Qualcomm, Leidos, NDEP, ecoATM, Teradata, D&K Engineering, SGEEI.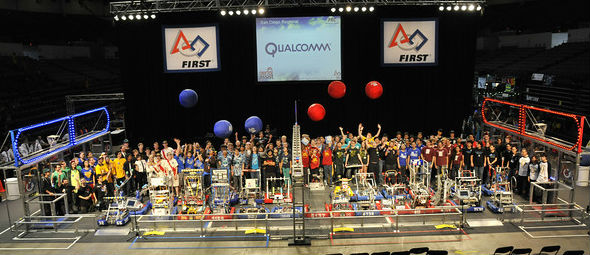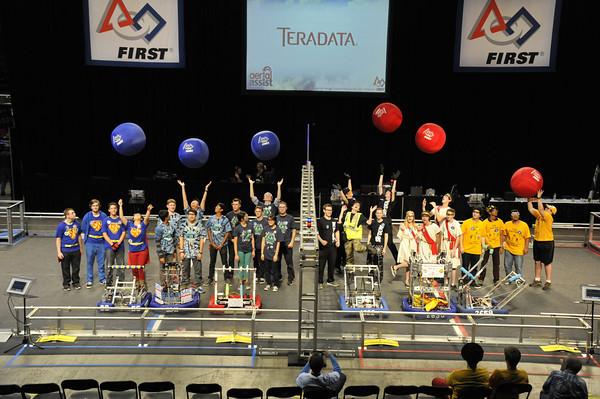 Relive the Memories!

We hope you too had a profound experience at the San Diego Regional.  We'd love to hear your stories.  Please consider sharing them with us here in the comments below or on our facebook page.  Photo and video links welcome!