Attended by thousands of fans, families, educators and industry leaders, the Sacramento Regional awarded 16 teams with honors that rewarded design excellence, competitive play, sportsmanship and high impact partnerships between schools, businesses and communities. Held at the University of California Davis Pavilion at the ARC from March 16-19, 2023, 46 high school student teams competed to earn a spot at the FIRST Championship.
With the hope of winning one of the several coveted awards, high school students worked with professional Mentors to design and build a robot over a six-week period that solved a problem using a kit of parts and a standard set of rules, while also developing high-impact partnerships between schools, businesses, and communities.
Each team clearly demonstrated teamwork, professionalism and strategic thinking in solving the competition's challenges. The noise level from the audience cheering on the teams was tremendous. Students, school groups, community members and professional team mentors filled the stands and helped to bring a level of fun and excitement to the competition. With the sustained support of the Sacramento community, this robotics competition will continue to grow and inspire students to study math, science and engineering.
LIST OF TEAMS ADVANCING TO CHAMPIONSHIPS IN HOUSTON!!!
The following teams and individuals earned top honors at the Sacramento Regional and earned their way to compete at the FIRST Championships in Houston, April 19-22, 2023
FIRST Impact Award
The FIRST Impact Award is the most prestigious award at FIRST, it honors the team that best represents a model for other teams to emulate and best embodies the purpose and goals of FIRST.   
The FIRST Impact Award is presented to the team judged to have the most significant measurable impact of its partnerships among its participants and community over a sustained period, not just a single build season. The winner is able to demonstrate progress towards FIRST's mission of transforming our culture.  The recipient team will be invited to a FIRST Championship where it will compete for the FIRST Impact Award against winners from other qualifying events.
Engineering Inspiration
The Engineering Inspiration Award celebrates outstanding success in advancing respect and appreciation for engineering within a team's school and community.  This team will advance to the Championships and receive a $5000 NASA grant toward registration.
Regional Winners
Team 254, The Cheesy Poofs from San Jose, CA
Team 1678, Citrus Circuits from Davis, CA
Team 3189, Circuit Breakers from Placerville, CA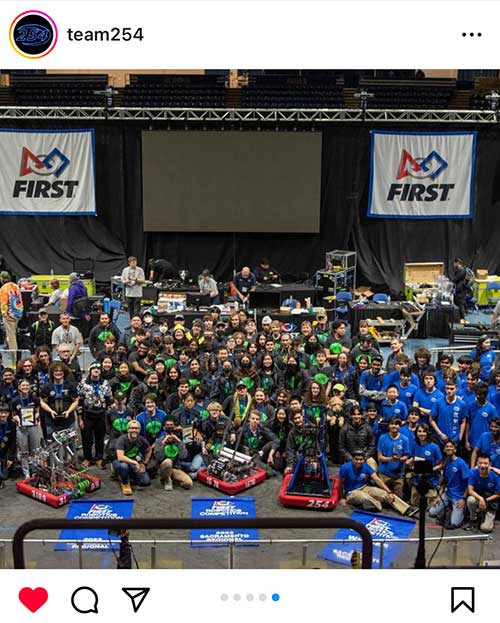 Regional Finalists (wildcards)
Dean's List Finalist
In an effort to recognize the leadership and dedication of FIRST's most outstanding FRC students, the Kamen family sponsors an award for selected top students known as the FIRST Dean's List. This award celebrates a student's outstanding leadership and effectiveness in advancing respect and appreciation for engineering and engineers, both within their school, as well as their community. FIRST Dean's List Finalists will compete at the championship for the FIRST Dean's List.
Sanaya Bhasin from Team 1458, Red Tie Robotics
Hongfei Liu from Team 6941, IronPulse Robotics
Woodie Flowers Finalist Award
FIRST stands apart from other competitions in STEM and sports due to the FIRST Ethos of Gracious Professionalism, the concept of Coopertition, and the commitment to the FIRST Core Values. The guiding force behind these principles was Dr. Woodie Flowers. Dr. William Murphy, Jr., who was instrumental in creating the concept of FIRST with Dean Kamen, recognized the unique perspective, wisdom, and communication style that Woodie brought to the FIRST Robotics Competition.
In honor of Woodie, Dr. Murphy founded the Woodie Flowers Award in 1996. He recognized that the FIRST ethos would be carried forward by our FIRST mentors and sought to celebrate those mentors who demonstrate the leadership, ethical behavior, and communication skills exemplified by Woodie. Woodie believed "societies get the best of what they celebrate".
Being recognized by students, through nomination essays, makes this honor very meaningful to mentors. It is truly an honor for a mentor to be nominated for this award.
Ryan Cahoon from Team 766, M-A Bears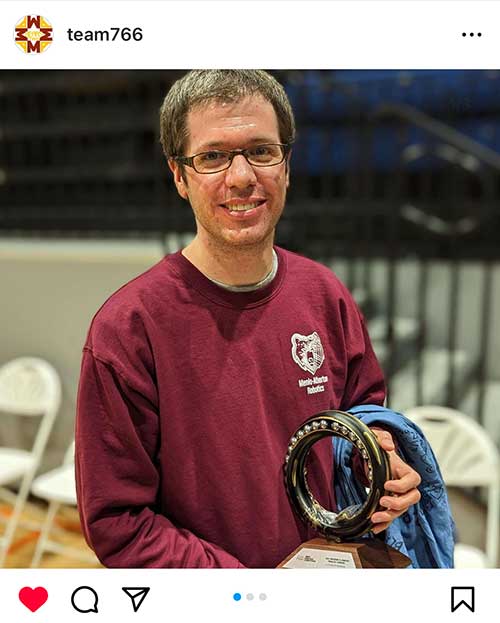 Additional Awards
Congratulations to the Teams and individuals that earned the remaining awards at the Sacramento Regional! See the list here.