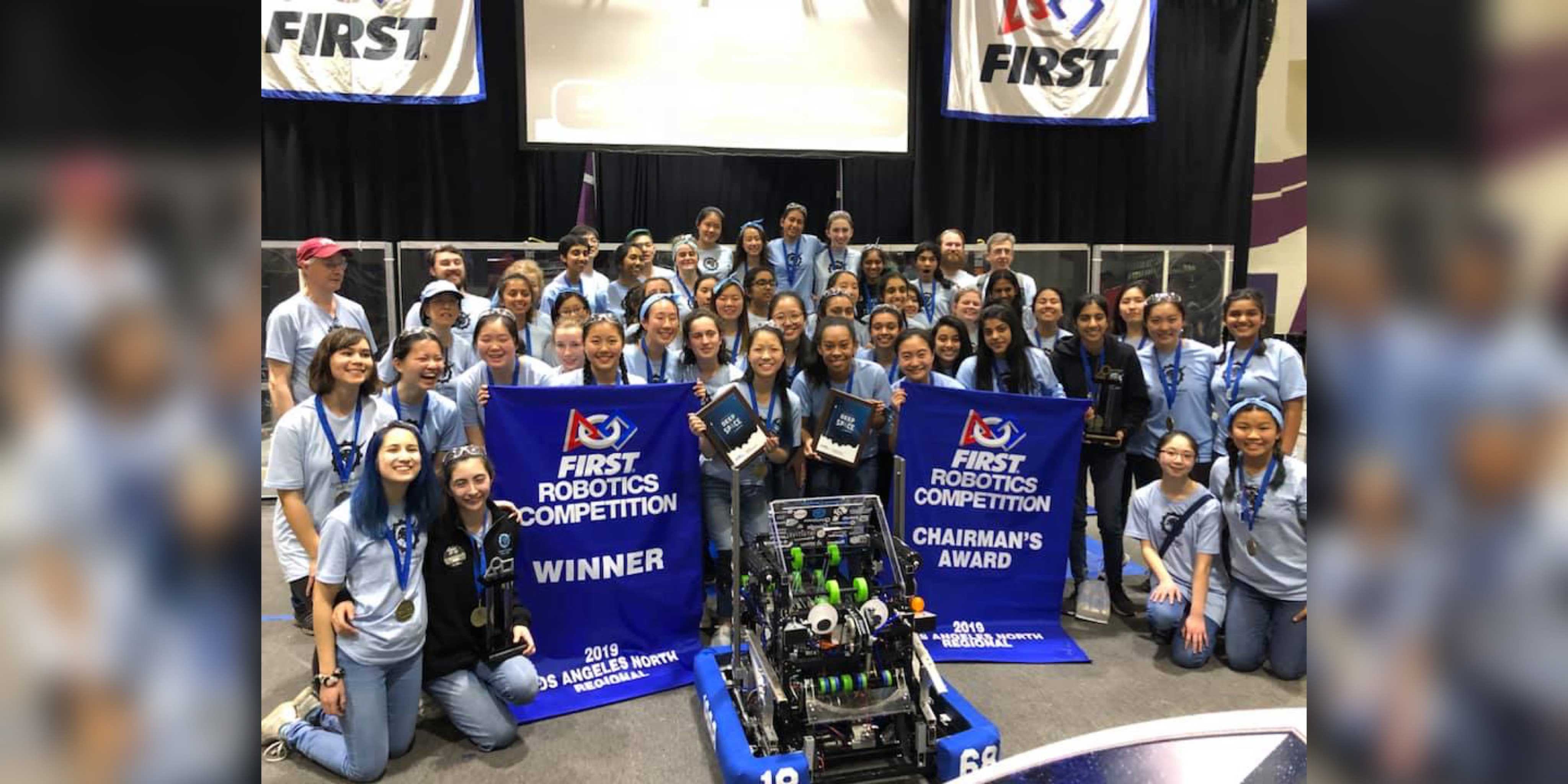 Congratulations to the 36 Teams from California, Hawaii, Arizona, China and Chinese Taipei PLUS all the Mentors, Volunteers, Sponsors, Friends and Family members who participated in the Inaugural LA North FIRST Robotics Regional from March 14 – 17, 2019!
ADVANCING TO CHAMPIONSHIPS IN HOUSTON!!!
The following teams and individuals earned top honors at the LA North Regional and earned their way to compete at the FIRST Championships in Houston in April.
Regional Chairman's Award
Team 1868, Space Cookies from Mountain View, CA
The Chairman's Award represents the true spirit of FIRST.  It honors the team that best serves as a model for other teams to emulate and that embodies the goals of FIRST.  It remains FIRST's most prestigious team award.  The Chairman's Award is presented to the team judged to have the most significant measurable impact of its partnerships among its participants, school, and community over a sustained period, not just a single build season or school year. The winner is able to demonstrate progress towards FIRST's mission of transforming our culture.  The recipient will be invited to the FIRST Championship where it will compete for the Chairman's Award against the winners from all the other qualifying events.
What the judges had to say …
"This team has created possibilities for thousands of students in their local area, around the US, and internationally.  They have changed people through their extensive rookie training program, by hosting FLL tournaments and mentoring FLL teams, and by assisting numerous FRC teams.  This team is authoring new ways to spread the word about FIRST and STEM. Any regular viewers of the Daily Show already knows who this team is… grab some milk and celebrate with the Space Cookies!"
Engineering Inspiration
Team 2429, La Canada Engineering Club from La Canada, CA
The Engineering Inspiration Award celebrates outstanding success in advancing respect and appreciation for engineering within a team's school and community.  This team will advance to the Championships and receive a $5000 NASA grant toward registration.
What the judges had to say …
"This team has had an enormous impact on increasing commitment to STEM education in their local community and beyond. Their impact spreads across the entire Los Angeles area. They have developed a sustainable pipeline from FLL to FTC to FRC. They provide financial support that has helped to expand FIRST's presence in Southern California, and they broth STEM classes into their school's curriculum. Their heads are definitely filled with more than just blocks."
Regional Winners
Team 1868, Space Cookies from Mountain View, CA
Team 6803, HAI-Panda from Shanghai, China
Team 2659, RoboWarriors from Mission Hills, CA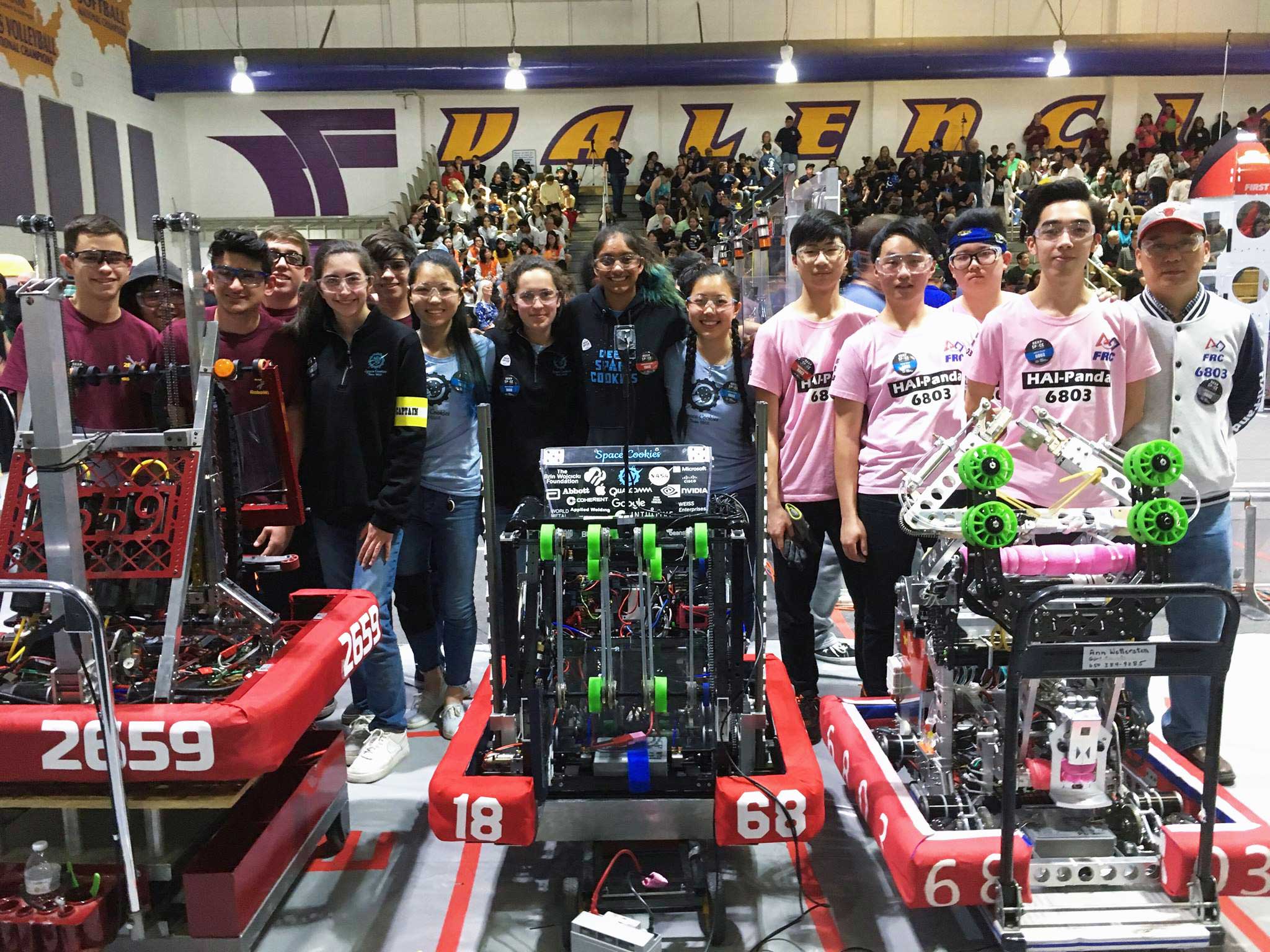 Photo Credit: Space Cookies

Rookie All-Star Award
Team 7645, NK MTC from Chinese Taipei
This award celebrates a 1st year team demonstrating an early but strong partnership effort, implementing the mission of FIRST.  Its winner understands what FIRST is really trying to accomplish and realizes that technical work is fun and challenging, made better by building a partnership among team, community and school.  This is not an easy challenge for a rookie team but the judges want to recognize and reward one team that got it right.
What the judges had to say …
"This team showed great Engineering practices while documenting their designs from sketches to prototype and beyond. Who knew dominoes could teach Robotics?"
Regional Finalists
(Advancing to Championships because of 2 Wild Cards)
Team 2584, Flame of the West from Calabasas, CA
Team 691, Project 691 Robotics from Stevenson Ranch, CA

Dean's List Finalist
FIRST Dean's List Finalist – Alison Wang from Team 599, Robodox
"This student is a clear go-getter and can definitely get things done! She was elected team president in her junior year, the first non-senior president of her team. She also raised $10,000 in sponsorships for her team. She has a true passion for her team and her community, even reaching out to disadvantaged youth by creating an FLL team at a local homeless shelter. We look forward to see the teams that she's going to start in the future."
FIRST Dean's List Finalist – Maxwell Weinberger from Team 2429, La Canada Engineering Club
"Passion! Passion! Passion! This student started with FTC and later joined his team's FRC team where he blossomed under the pressure. He was elected Captain because of his Passion, Leadership, and Focus, and his dedication to mentoring others has impressed his team and our judges."
In an effort to recognize the leadership and dedication of FIRST's most outstanding FRC students, the Kamen family sponsors an award for selected top students known as the FIRST Dean's List.
This award celebrates a student's outstanding leadership and effectiveness in advancing respect and appreciation for engineering and engineers, both within their school, as well as their community. FIRST Dean's List Finalists will compete at the championship for the FIRST Dean's List.
Woodie Flowers Finalist Award
Shifei Yin 
Additional Awards
Congratulations to the Teams and individuals that earned the remaining awards at the LA North Regional! See the list here.
---
Support
An immense THANK YOU to all the Sponsors who contributed to this very successful Regional with funding, mentors, volunteers and enthusiasm! Regional Sponsors include Boston Scientific, Walt Disney Imagineering  and PwC .
We hope you too had a memorable experience at the LA North Regional.  We'd love to hear your stories.  Please consider sharing them with us here in the comments below or on our facebook page.  Photo and video links welcome!