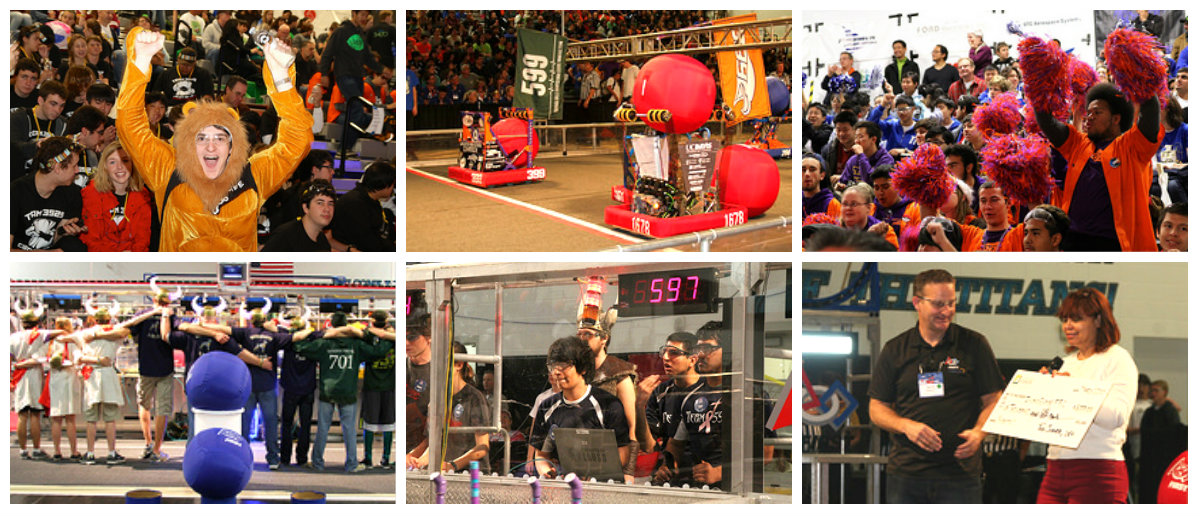 Congratulations to ALL Teams, Mentors, Volunteers, Sponsors, Friends and Family members who participated in the 2nd Annual Inland Empire FIRST Robotics Regional and helped to create an exciting and memorable weekend.
The following teams and individuals earned top honors at the Inland Empire Regional and will be going on to compete at the Championships in St. Louis in April.  We wish them the best of luck!
Regional Chairman's Award
Team 399, Eagle Robotics – Lancaster, CA



The Inland Empire Chairman's Award represents the true spirit of FIRST.  It honors the team that best serves as a model for other teams to emulate and that embodies the goals of FIRST.  It remains FIRST's most prestigious team award.  The Chairman's Award is presented to the team judged to have the most significant measurable impact of its partnerships among its participants, school, and community over a sustained period, not just a single build season or school year. The winner is able to demonstrate progress towards FIRST's mission of transforming our culture.  The recipient will be invited to the FIRST Championship where it will compete for the Chairman's Award against the winners from all the other qualifying events.
Here's what the Judges had to say –
"This veteran team has chosen to deck themselves out in secondary colors, but they are not secondary by any means.  Their love of Java keeps them up late on weekdays, but they are always sure to recycle their cups and bottles.  Their love isn't just for Java though, they spread it around, making Valentines for those who served our country, and reaching out to those affected by sudden loss.  They make sure they always have fresh birds coming to the nest by recruiting early and engaging those not even eligible to join their team!
They currently mentor 19 other robotics programs.  Mentoring is so engrained in the spirit of the team, they have been overheard saying: "To think that we helped this team start almost a year ago and to watch them expand is a beautiful thing."  They even manage to set other teams up for success as their mentees have gone on to win amazing awards of their own!  They always step up their game at the end of the season.  Even when they do not qualify for Championships they always send a delegation to throw a geeky shindig."

Engineering Inspiration
Team 4499, The Highlanders – Fort Collins, CO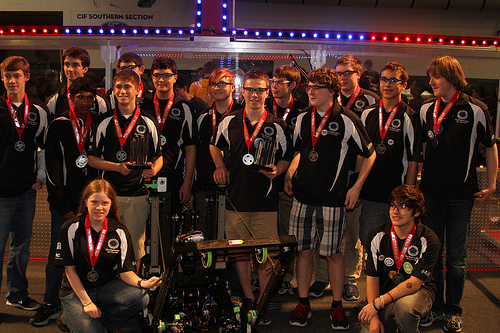 The Engineering Inspiration Award celebrates outstanding success in advancing respect and appreciation for engineering within a team's school and community.  This team will advance to the Championships and receive a $5000 grant toward registration.
Here's what the judges had to say –
"This second year, community team hit the ground running starting a non-profit to support the growth of robotics programs in their local area.  Their team was the result of a quickening of two other teams, creating a powerhouse of energized members.  They suited up for their interviews and brought survival kits for all the rookies this year.  Their first battle on the Scottish Highlands was in 1536, and then..Oh Wait…I'm being told that was a different guy. 🙂  But it's true, there can only be one: Team 4499, The Highlanders!"

Regional Winners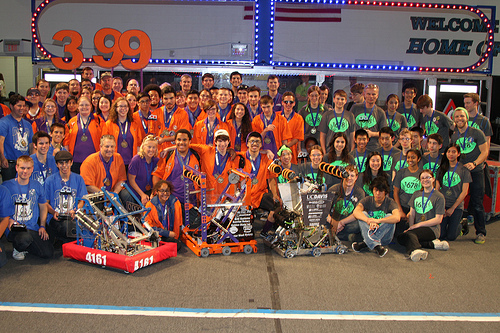 Team 1678, Citrus Circuits from Davis, CA; Team 399, Eagle Robotics from Lancaster, CA; Team 4161, T-Birds from Yucaipa, CA
Rookie All-Star Award
Team 5012, Gryffingear from Palmdale, CA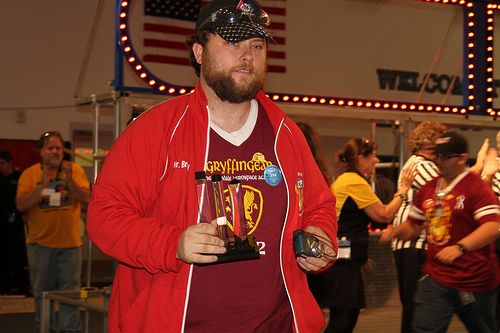 This award celebrates a 1st year team demonstrating an early but strong partnership effort, implementing the mission of FIRST.  Its winner understands what FIRST is really trying to accomplish and realizes that technical work is fun and challenging, made better by building a partnership among team, community and school.  This is not an easy challenge for a rookie team but the judges want to recognize and reward one team that got it right.
Here's what the judges had to say –
"This Rookie team has come out of the gates blazing, ranking above many senior teams here at the Inland Empire Regional.  If FIRST was like college, this team ensured their freshman year would be a good start by auditing their classes a whole year ahead.  If you take the numbers of their mentoring teams and add them together, divide that number by the number of months the team's school has been open, 54, and then divide that number by the repeating decimal 1.868945, you get nine and three quarters. That my friends, is the platform where you will find this Rookie team waiting for the train to St. Louis where no one will catch their "golden snitch"! The sorting hat has picked, Team 5012, Gryffingear!"

Dean's List Finalist: Honoring FIRST Student Superstars
FIRST Dean's List Finalist #1 – Anthony Stuart, Team 4201 – Hawthorne, CA
FIRST Dean's List Finalist #2 – Dylan McNamara, Team 3925  – Ventura, CA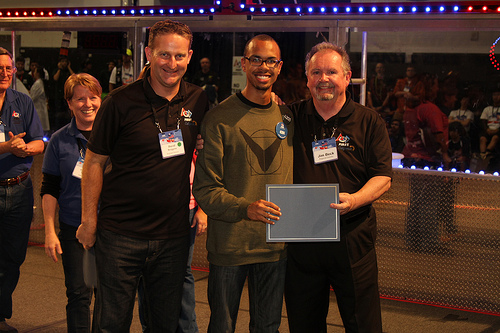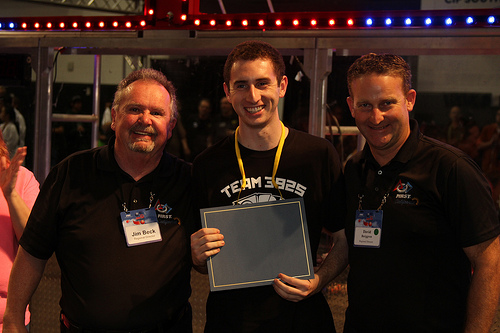 In an effort to recognize the leadership and dedication of FIRST's most outstanding FRC students, the Kamen family sponsors an award for selected top students known as the FIRST Dean's List.
This award celebrates a student's outstanding leadership and effectiveness in advancing respect and appreciation for engineering and engineers, both within their school, as well as their community. FIRST Dean's List Finalists will compete at the championship for the FIRST Dean's List.
Woodie Flowers Finalist Award
David Voracek
Mentor for Team 399

Here's what the judges had to say about David –
"This mentor's enthusiasm for FIRST and STEM is contagious.  He inspires and motivates his team with innovative presentations and events keeping students actively engaged.  He coins motivating mottos for the team to pursue. He invites his students to his workplace to meet engineers and technicians.  This mentor also runs an FTC team and has started several other FRC and FTC teams.  His team recognizes that their coach mentors with both his head and his heart.  He rejoices in their successes"
Additional Awards
Congratulations to the Teams and individuals that earned the remaining awards at the Inland Empire Regional! See the list here.
FIRST Impressions
FIRST Senior Mentor and Inland Empire Regional Planning Committee member, Rick Sisk had this to say:
"Producing a FIRST Robotics Competition is a lot of hard work. We start planning for the next year's event as soon as this one is complete.  So why do so many professionals volunteer so much time out of their busy schedules?  It is all about the impact this program has on the team members, the mentors, and the community.  We are providing an environment where kids can get excited about science and technology, kids that might be shy at a school dance are on the competition floor dancing to YMCA with judges, mentors, mascots and their friends.  It is a world where they can have fun, work hard, and learn so many great skills that will help them for the rest of their lives. The work is hard, the rewards are huge."
FIRST Outstanding Volunteer Award winner, Inland Empire Regional Planning Committee member and CEO of Regional Sponsor SMaRT Education, Liberty Naud shared:
"When Rick and Dona Sisk asked me if I thought we could bring an FRC Regional to the Inland Empire, my gut reaction had been, "No way," which was surprising, as I'm usually the one touting that we can do anything and everything. Now, here we are after our second successful IEFRC Event and I shake my head in amazement at what we are able to do together as a team. We really can do anything.  The Inland Empire needs leaders who can think on their feet, perform under pressure, and collaborate seamlessly and graciously across industries and demographics. I haven't seen an educational institution, degree, or program do that better than FIRST. "
Support
An immense THANK YOU to all the Sponsors who contributed to this very successful Regional with funding, mentors, volunteers and enthusiasm!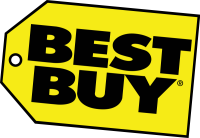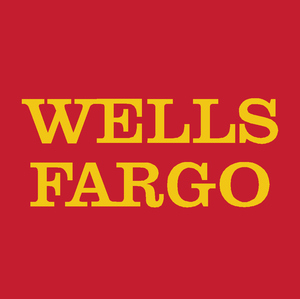 Relive the Memories!

We hope you too had a profound experience at the Inland Empire Regional.  We'd love to hear your stories.  Please consider sharing them with us here in the comments below or on our facebook page.  Photo and video links welcome!