Inaugural Del Mar FIRST Robotics Regional
Congratulations to the 35 teams from California, Hawaii, Colorado, Arizona, Nevada, Turkey, Chile and Mexico PLUS all the Mentors, Volunteers, Sponsors, Friends and Family members who participated in the inaugural Del Mar FIRST Robotics Regional, Feb 28-Mar 3, 2019!
ADVANCING TO CHAMPIONSHIPS IN HOUSTON!
The following teams and individuals earned top honors at the Del Mar Regional and earned their way to compete at the FIRST Championships in Houston in April.
Regional Chairman's Award
Team 399, Eagle Robotics – from Lancaster, CA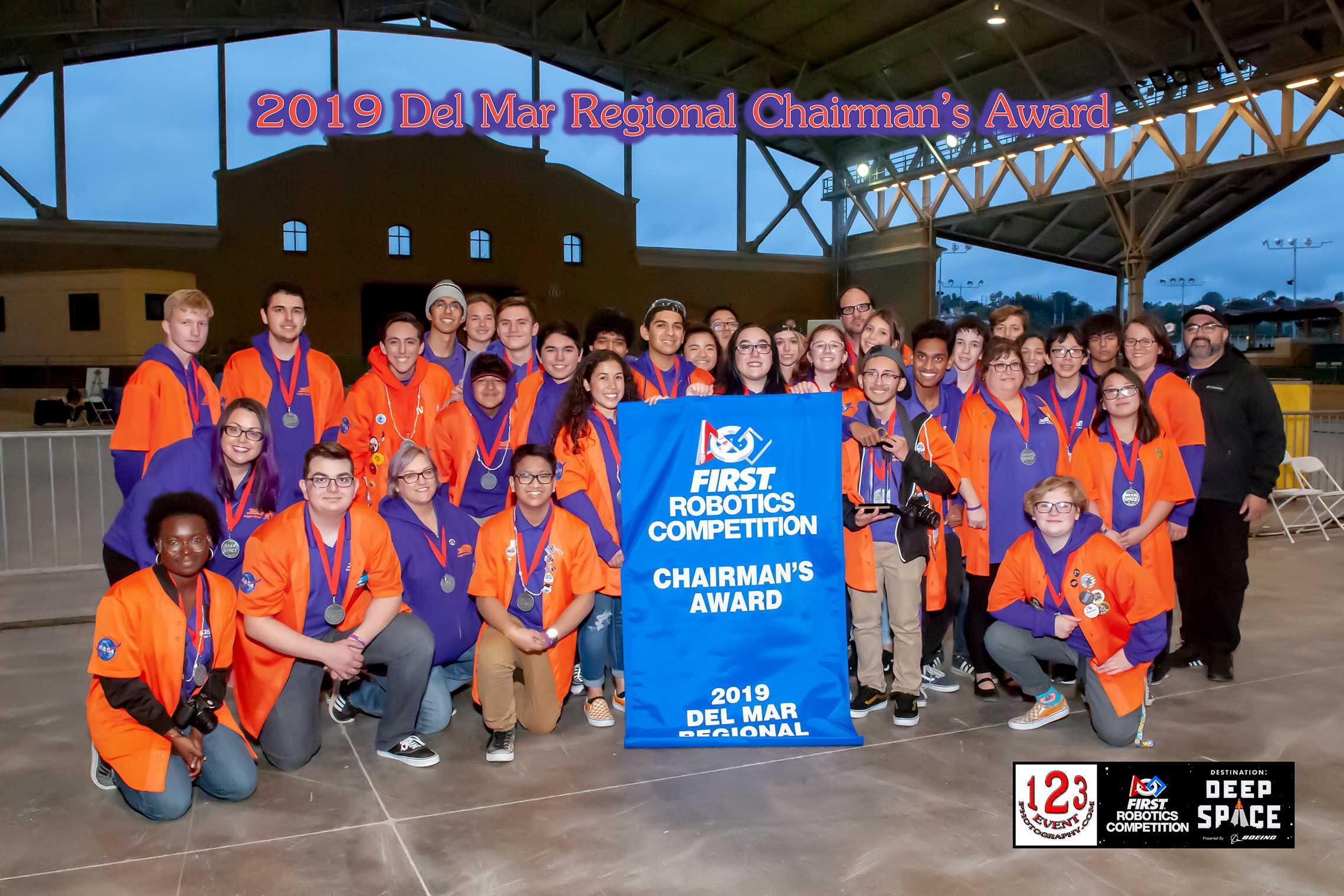 The Chairman's Award represents the true spirit of FIRST.  It honors the team that best serves as a model for other teams to emulate and that embodies the goals of FIRST.  It remains FIRST's most prestigious team award.  The Chairman's Award is presented to the team judged to have the most significant measurable impact of its partnerships among its participants, school, and community over a sustained period, not just a single build season or school year. The winner is able to demonstrate progress towards FIRST's mission of transforming our culture.  The recipient will be invited to the FIRST Championship where it will compete for the Chairman's Award against the winners from all the other qualifying events.
Here's what the Judges had to say –
"This team has shown a sustained and strong commitment by establishing programs to introduce students of all ages to STEM and FIRST principles. They host multiple events to expose their community and emphasize underserved and under-represented groups. They broaden their horizons and impact through international outreach, but their true passion for FIRST is found closer to the nest.

The key part of this community focus; is to create a strong partnership with their district to support robotics teachers, provide facilities, and teach other teams how to start and grow. This "CORE" focus on their local community shows that FIRST can blossom, thrive, and soar above the desert."

Engineering Inspiration
Team 2012, Paradox – from Encinitas, CA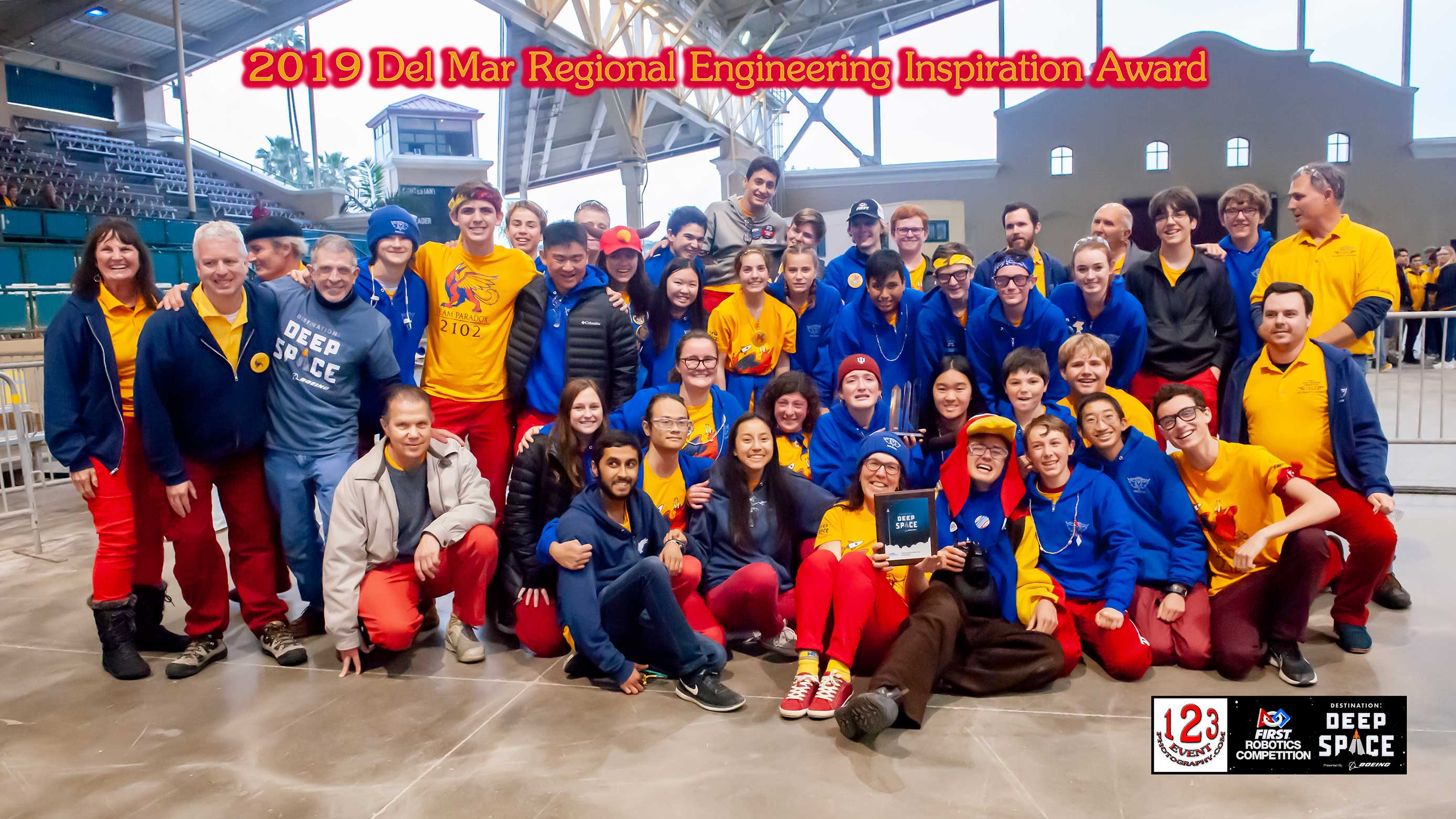 The Engineering Inspiration Award celebrates outstanding success in advancing respect and appreciation for engineering within a team's school and community.  This team will advance to the Championships and receive a $5000 NASA grant toward registration.
Here's what the judges had to say –
"This established student led team actively reaches out throughout their community promoting FIRST ideals. From branding FIRST through an annual district wide marketing meeting to inspiring new team members through a customized learning program, they continuously foster FIRST ideals. Developing team members through active mentoring and student led classes allow all their members to achieve their potential. How a team with 35 rookie members can perform at such a top level is a paradox to us."

Regional Winners
Team 4414, HighTide – from Ventura, CA

Team 3647, Millennium Falcons – from San Diego

Team 5526, tCATs – from Torreon, Coahuila, Mexico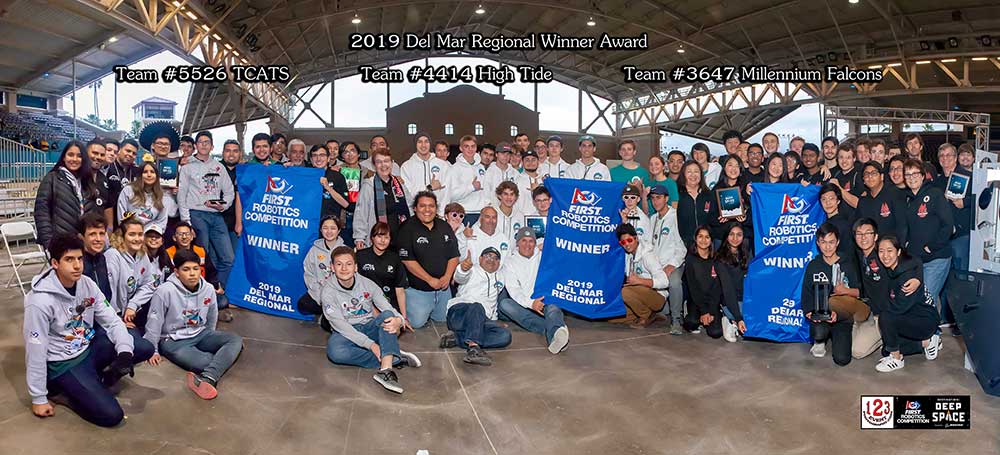 Regional Finalist
(advancing to Championship event due to a Wildcard)
Team 2576, Chilean Heart from Santiago, Chile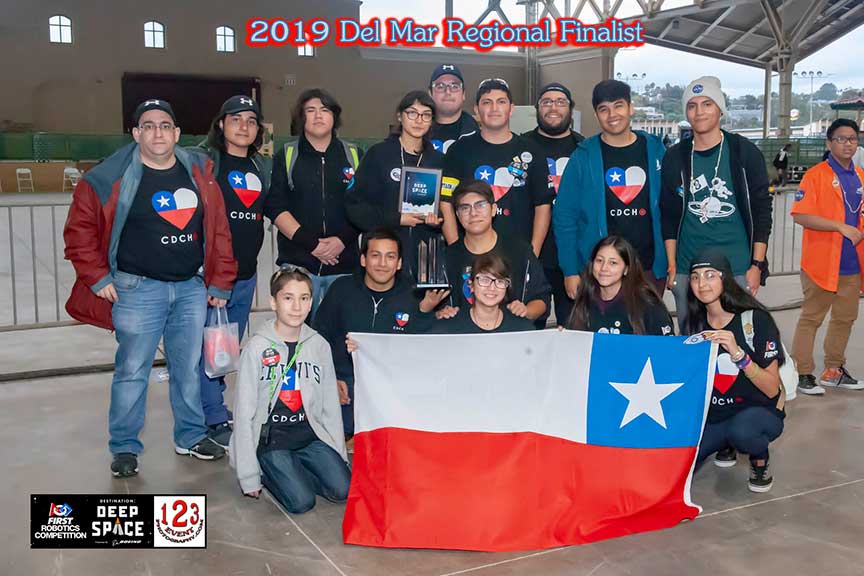 Rookie All-Star Award
Team 7426, Pair of Dice – from Las Vegas, NV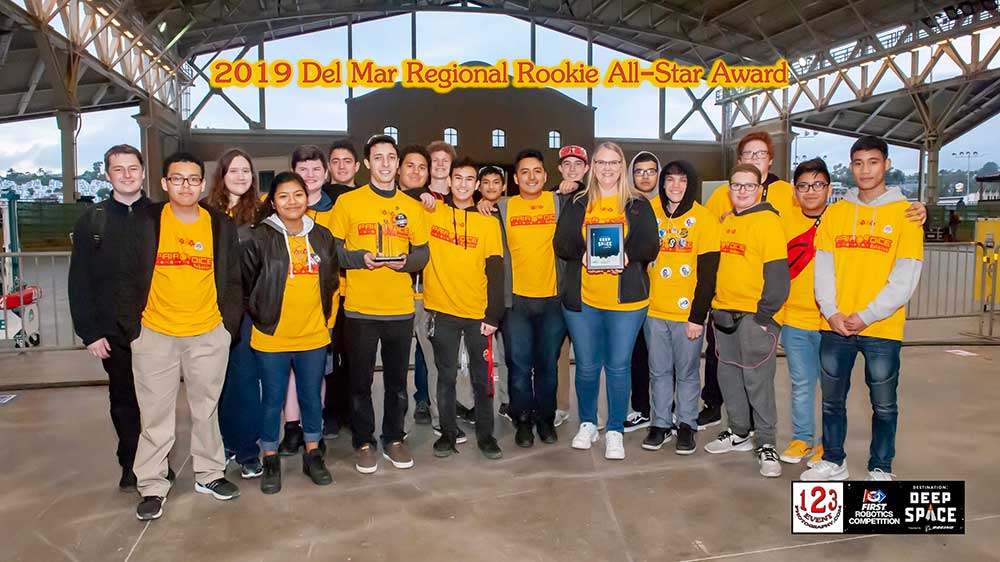 This award celebrates a 1st year team demonstrating an early but strong partnership effort, implementing the mission of FIRST.  Its winner understands what FIRST is really trying to accomplish and realizes that technical work is fun and challenging, made better by building a partnership among team, community and school.  This is not an easy challenge for a rookie team but the judges want to recognize and reward one team that got it right.
Here's what the judges had to say –
"While it should be no surprise as to who the winner is – we wanted to highlight how strong of a robotic team this is…

One year in, with a crew of 20 mostly sophomores, they have recruited and supported multiple FRC and FLL teams, and their mentor leaves little to chance. May the rest of your inaugural season go as smoothly as this one, as you have qualified to attend the Championships!"
Dean's List Finalist
FIRST Dean's List Finalist – Lawrence Chang from Team 8, Paly Robotics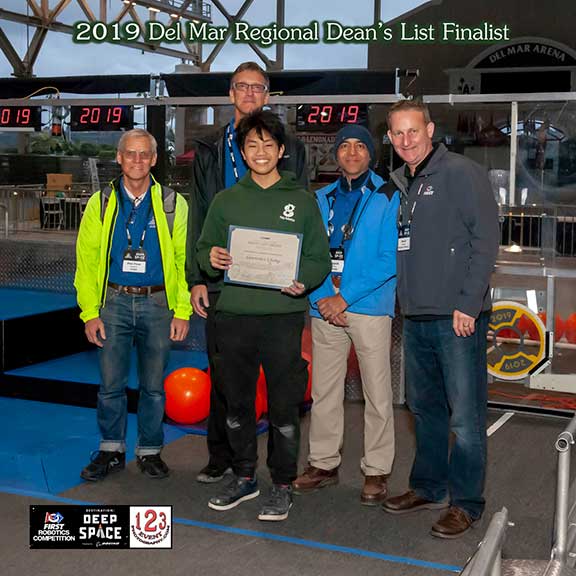 FIRST Dean's List Finalist – Blake Lieber from Team 2102, Paradox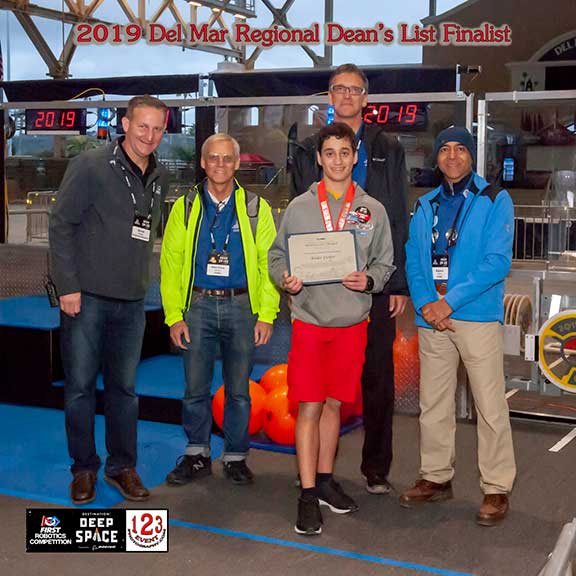 In an effort to recognize the leadership and dedication of FIRST's most outstanding FRC students, the Kamen family sponsors an award for selected top students known as the FIRST Dean's List.
This award celebrates a student's outstanding leadership and effectiveness in advancing respect and appreciation for engineering and engineers, both within their school, as well as their community. FIRST Dean's List Finalists will compete at the championship for the FIRST Dean's List.
Woodie Flowers Finalist Award
Patrick Rambo Vieira – Mentor for Team 7426, Pair of Dice Robotics 

---
Additional Awards
Congratulations to the Teams and individuals that earned the remaining awards at the Del Mar Regional! See the list here.
Photos
The 2019 Del Mar Regional WEB & DEVICE-FRIENDLY Gallery contains high quality (but lower resolution) images to upload fast for your phone, devices and social media, etc.
The 2019 Del Mar Regional HIGH RESOLUTION Gallery contains high resolution images that should only be used to make prints from. NOTE: The device you are downloading to must have the available memory/storage. They recommend using a desktop computer with an external hard drive or a flash drive. By selecting to download any images, you assume all resulting responsibility.
Please be sure to assign the photo credit to @123eventphotography on your shared images.
---
We hope you too had a memorable time at the Del Mar Regional.  We'd love to hear your stories.  Please consider sharing them with us here in the comments below or on our facebook page.  Photo and video links welcome!