FIRST California Sponsor Spotlight: Raytheon
Raytheon has been involved with FIRST since 2004, supporting regional competitions, robotics teams with sponsorships and mentor programs as well as providing scholarship opportunities to FIRST students. For the 2018-2019 season, Raytheon will support more than 40 teams in California and many more throughout the U.S., with Raytheon employees acting as coaches, mentors, designers and general volunteers to teams.
---
EMPLOYEES WHO CARE
This season, Raytheon employees will contribute more than 8,000 hours volunteering and mentoring students on robotics teams in California alone!
Fazlul Zubair, Raytheon employee and dedicated FIRST mentor and volunteer, was able to spare a few moments out of his busy schedule leading up to the Los Angeles Regional to give us a first-hand look into his experience.
As the Department Manager in the System Integration and Test Center at Raytheon Space and Airborne Systems, Fazlul first volunteered at a FIRST event 8 years ago, loved the experience and has been heavily involved ever since.
Each year he logs over 1200 hours in support of various FIRST events and is currently a mentor for Team 4201, The Vitruvian Bots and Team 6904, The TeraWatts.  During build and competition season he drops by the school after work on Tuesday's and Friday's, and spends Saturday and Sunday with the team. In addition to mentoring, he also is a member of the Los Angeles Regional planning committee and serves as the Head Referee for FIRST Lego League in the Los Angeles Region.
We captured the above photo of Fazlul with his wife, Shahnaz, as her team was getting ready for their next match in the quarter finals at the San Diego Regional competition.  Shahnaz was inspired to start her own team after watching and working with Fazlul's team for so many years. Yes – FIRST is a family affair!
We asked him to tell us about the most rewarding part of being involved in FIRST and he shared that it's,
"Hiring these talented students to work at Raytheon and on my programs. I have also developed as an engineer, learning new skills such as CAD, programming, and machining. Working with high school students to form a team also helps make me a better leader at Raytheon."
And like so many others in FIRST, he knows first-hand that it's more than just the robots.  Fazlul shared this story about how he sees FIRST changing lives.
"Students come into FIRST with other career plans, then after a season decide to go into STEM fields. I have seen this over and over again. The best example is our Systems Director. She started high school with the intention to be an English teacher, and now she wants to work in STEM, then come back and teach engineering to the next generation!"
Participating in FIRST comes with many great stories, so we asked Fazlul to tell us about one of his favorite and this is what he told us.
"My favorite thing to do at FIRST is to be around a robot in production, turning to a new student and saying "could you give me a hand?" The look of confusion, uncertainty, and doubt starts creeping in and I can see the wheels turning in their mind. They are thinking, "I don't know how to do that", or "I haven't used tools before", or "What if I get something wrong?". This is even more the case when female students are involved due to the STEM equity gap between genders. Once the student gets past the initial apprehension, I enjoy seeing their confidence grow. Soon, they are encouraging and showing others how to get involved."
There is no doubt that this kind of commitment from mentors and volunteers can involve a time and energy commitment, so we asked Fazlul why he continues to come back year after year.
He said he does it
"to inspire the next generation and bring more kids into STEM. I love to work to help make FIRST accessible to more communities to ensure we give everyone the chance to "go pro" in STEM."
Congrats to their team, TeraWatts, for earning the Judges Award at the San Diego Regional last weekend!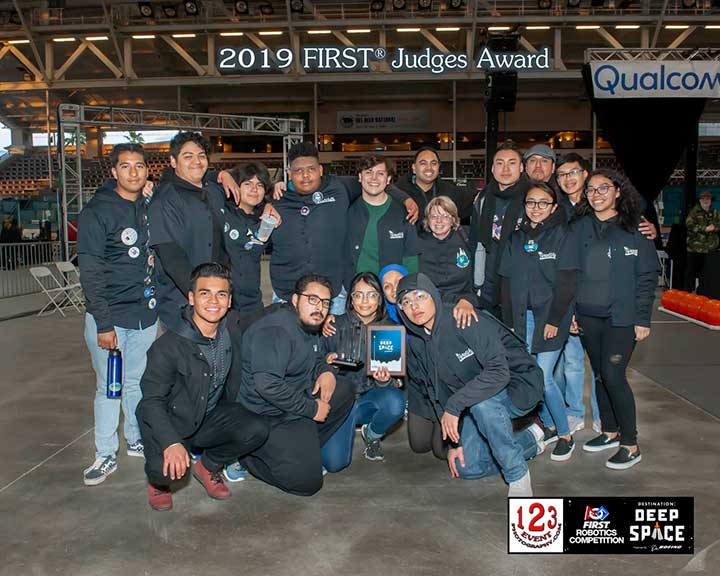 This season, Raytheon employees will contribute more than 8,000 hours volunteering and mentoring students on robotics teams in California alone!
---
NARROWING THE GENDER GAP
In an ongoing effort to narrow the gender gap and increase diversity in the workplace, Raytheon began hosting a Women in STEM event at the Los Angeles Regional in 2017. They then grew the event to a highly successful Women in STEM Speed Mentoring event for over 100 young women in 2018.  The event encouraged them to tackle the challenge of diversity in STEM by becoming a future scientist, engineer or programmer. Nine Raytheon women engineers shared important lessons about making it in a field where women are often underrepresented.
This year, their Women In Stem event will be open to female FIRST team members and mentors at the Los Angeles Regional AND to female SciFest attendees.
2019 Women In Stem
sponsored by Raytheon
March 23, 2019: 12:30 P.M. to 1:30 P.M
Los Angeles Convention Center
Room 408 on the 2nd Level Concourse.
Come hear from high profile women who are space engineers and leaders as they describe for you the amazing and innovative technologies they work on every day. Hear about their innovative jobs, career journeys, and overcoming strategies in the workplace. Ask them your most pressing questions during an interactive Q&A.
---
$40,000 IN SCHOLARSHIPS
Raytheon also annually awards $1,000 FIRST Scholarships to 40 high school seniors and college students who participate in the competition and pursue undergraduate education as STEM majors.
---
MORE RAYTHEON / FIRST STORIES!
Read more stories about Raytheon's commitment to FIRST:
https://www.raytheon.com/news/feature/one-robot-maker-another
https://www.raytheon.com/news/feature/first_comes_full_circle
https://www.raytheon.com/news/feature/first-robotics-2016-champs
https://www.raytheon.com/news/feature/first_robotics
https://www.raytheon.com/news/feature/robot_wizards
---
Raytheon's on-going commitment to FIRST is helping to cultivate valuable STEM skills that create sustainable careers for future innovators. We are so thankful for their dynamic and generous sponsorship.