FIRST Robotics Competition
SAN DIEGO REGIONAL
presented by Qualcomm

March 21-24, 2024 | La Jolla, CA
UCSD LionTree Arena  | 9730 Hopkins Dr.

18th Annual San Diego Regional
presented by Qualcomm
Dubbed a varsity Sport for the Mind,™ FIRST Robotics Competition (FRC) combines the excitement of sport with the rigors of science and technology.
Under strict rules, limited resources, and time limits, teams of high school students are challenged to raise funds, design a team "brand," hone teamwork skills, and build and program a robot to go head to head against a field of competitors.
It's as close to "real world" engineering as a student can get.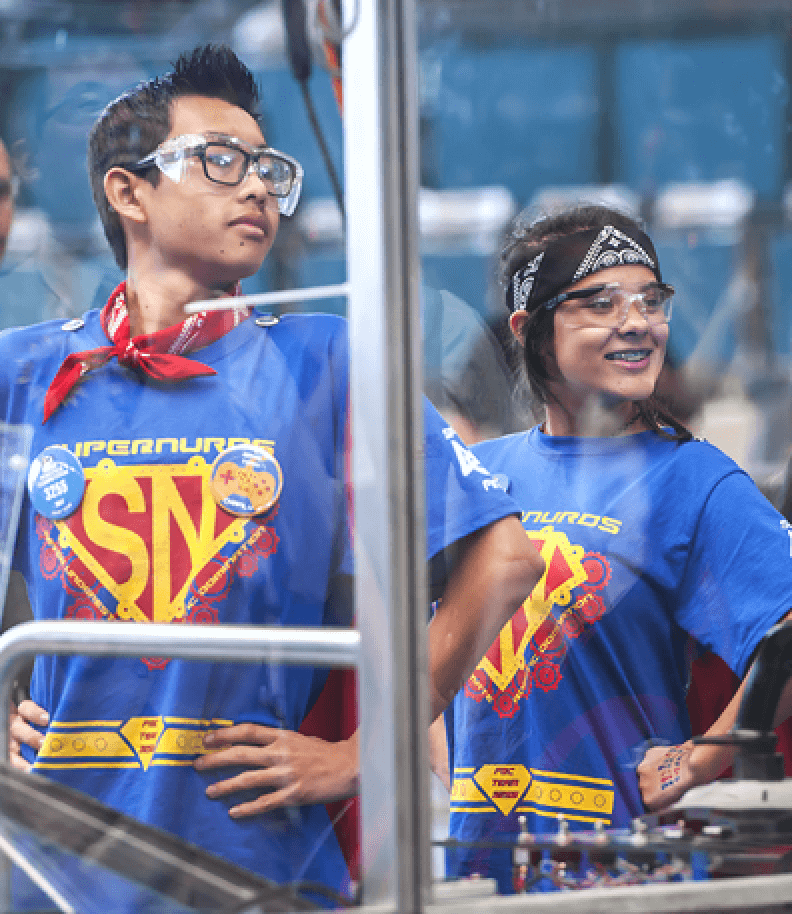 Teams at the San Diego Regional will vie for regional awards and a spot at the FIRST Championship. The competition is part of FIRST, a not-for-profit organization dedicated to inspire young people's interest and participation in science and technology. 
At the San Diego Regional, 1,500+ high school students and 50 of their life-sized robots (plus hundreds of volunteers and mentors) will convene to measure the effectiveness of their innovations & test the power of collaboration. 
It's a high-energy, high-tech spectator sporting event where teams, professionals and young people together solve an engineering design problem in an intense and competitive way. The program is life-changing, career-molding and a lot of fun.
Spectators welcome!  Catch the excitement of this intense competition, tour the pits to visit with teams and robots, and cheer on their favorite teams. Admission is free.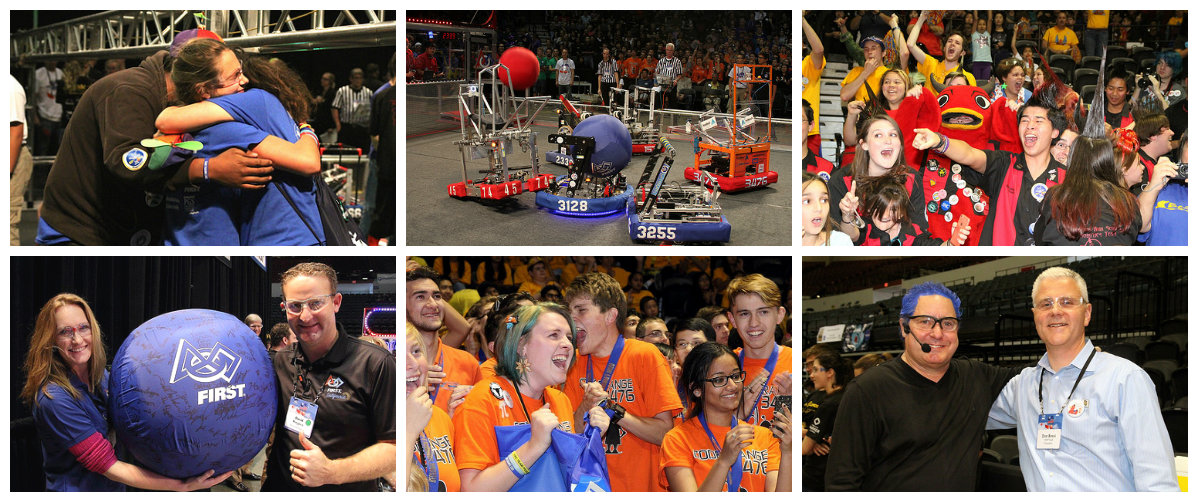 Congratulations to ALL Teams, Mentors, Volunteers, Sponsors, Friends and Family members who participated in the 8th Annual San Diego FIRST Robotics Regional and helped to create an exciting and memorable weekend. Definitely a successful and action packed weekend with...
FIRST
 

IN SHOW

 

presented by Qualcomm
Lights, camera, STEAM! Science, technology, engineering, arts, and math (STEAM) inspire big ideas, bold action – and creativity. Our skills make it possible to create art and experiences that bring us together, entertain us, and move us.
During the 2023-2024 FIRST season, FIRST® IN SHOW℠ presented by Qualcomm, we're shining a spotlight on the role STEM plays in the arts and empowering young people to design and build a world of endless possibilities. The future is a place you will create.
In CRESCENDO℠ presented by Haas, a new challenge debuting January 6, 2024, FIRST® Robotics Competition teams will use their engineering skills and creative power to entertain and move the world.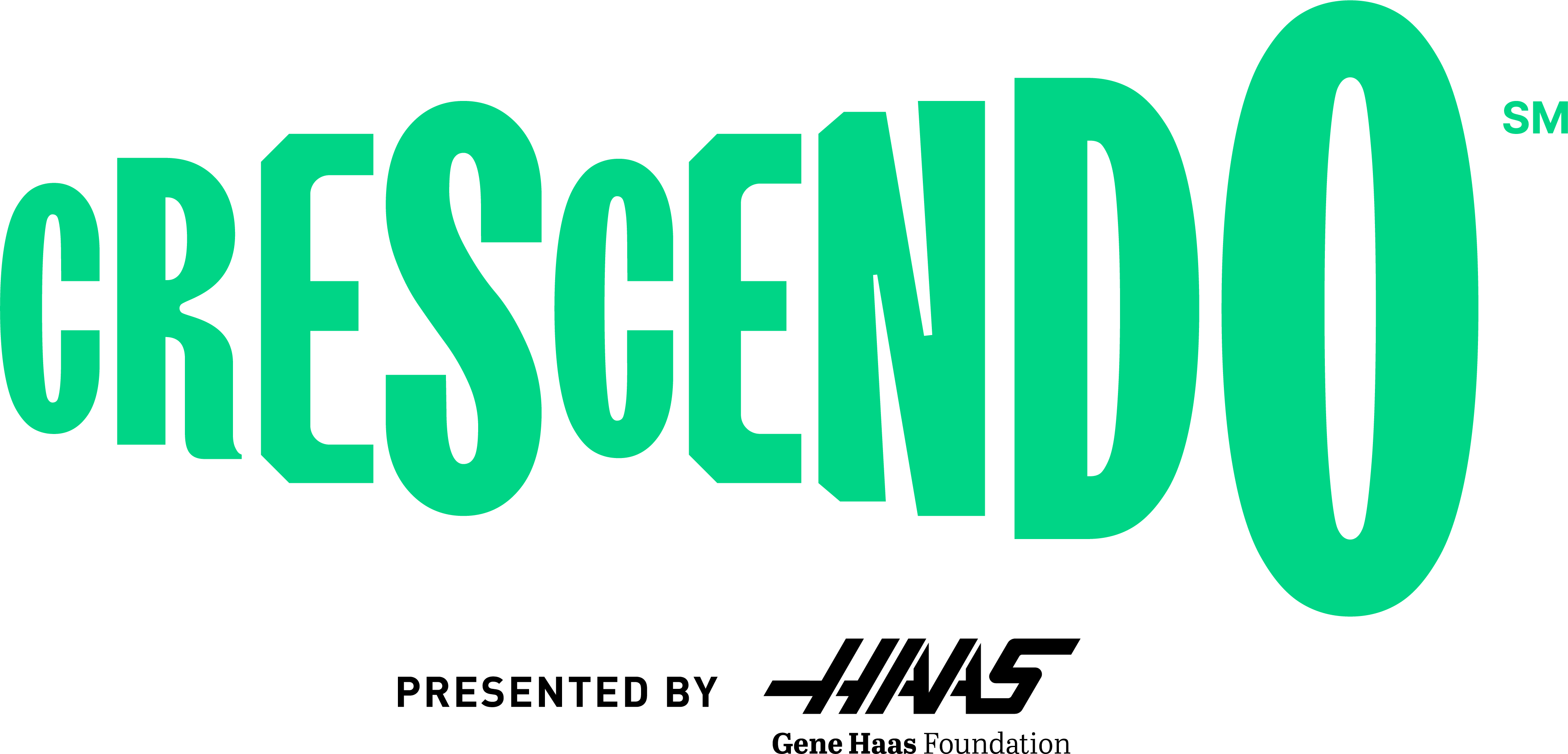 2023 Vehicle Parking 
Teams and attendees will be able to park in the UCSD Hopkins Parking Structure (please see map) 
Parking fee is $4/day with zone code and must be paid for using UCSD's parking app, ParkMobile.

Parking is only allowed in lettered labeled spots of B, S & V and NOT in A, SR or Reserved/Disabled. Overflow parking is available in the Pangea Parking Structure (5-10 min walk to the arena) 
If you choose not to use the ParkMobile app, parking is $4 per hour and you can only park in spaces marked "V".
Please see steps below: 
Prior to Event

Download the

ParkMobile App

on your phone 

Create an account with your vehicles license plate and a payment method

At the Event

Park in Hopkins Parking Structure or Pangea Parking Structure if Hopkins is full (only spots labeled B, S or V)
Open ParkMobile app
Select Park at the bottom of the app (if not already selected)
Enter our special zone code in the 'Search Zone' box at the top of the app
Select UCSD – Valid in D Lots Only from the drop down (Hopkins & Pangea are not a D lots but we have a special agreement that they will accept it for our participants during the competition)
Select Proceed To Checkout
Select Start Parking

You are All set and will need to do each day or risk getting an expensive parking ticket

Oversized Vehicle Parking 
There will be an area to park trailers and other large vehicles in one of UCSD's remote parking lots on the east side of Interstate 5. No other oversized or overnight parking is available on campus. Those wishing to park trailers or other oversized vehicles can do so by parking in the sectioned off parking are at the back the Regents Road Northeast Lot, located at the corner of Voigt Dr. and Campus Point Drive.  The regional is covering the cost of using this lot so team do not need to pay to park vehicles there. 
There is no security at this lot so teams may park trailers and oversized vehicles there at their own risk.  The lot is not really walkable from the venue so teams will need to coordinate transportation appropriately. 
We are thrilled that the San Diego Regional will be held March 21-24 at UCSD's LionTree Arena (formerly RIMAC Arena / Triton Arena).  We want to make sure that we are respectful and courteous guests. We ask your team to please always practice your Gracious Professionalism. 
There are several ways to enter UCSD but for team robot load in, team/public entrance and parking it is recommended that you enter via the UCSD Northpoint Driveway off North Torrey Pines Rd. 
2023 Team Member/Public Access: 
 Team members and public will access the LionTree Arena through the main entrance located off of Ridge Walk pathway, which is easily accessible from the Hopkins parking Structure (please see map)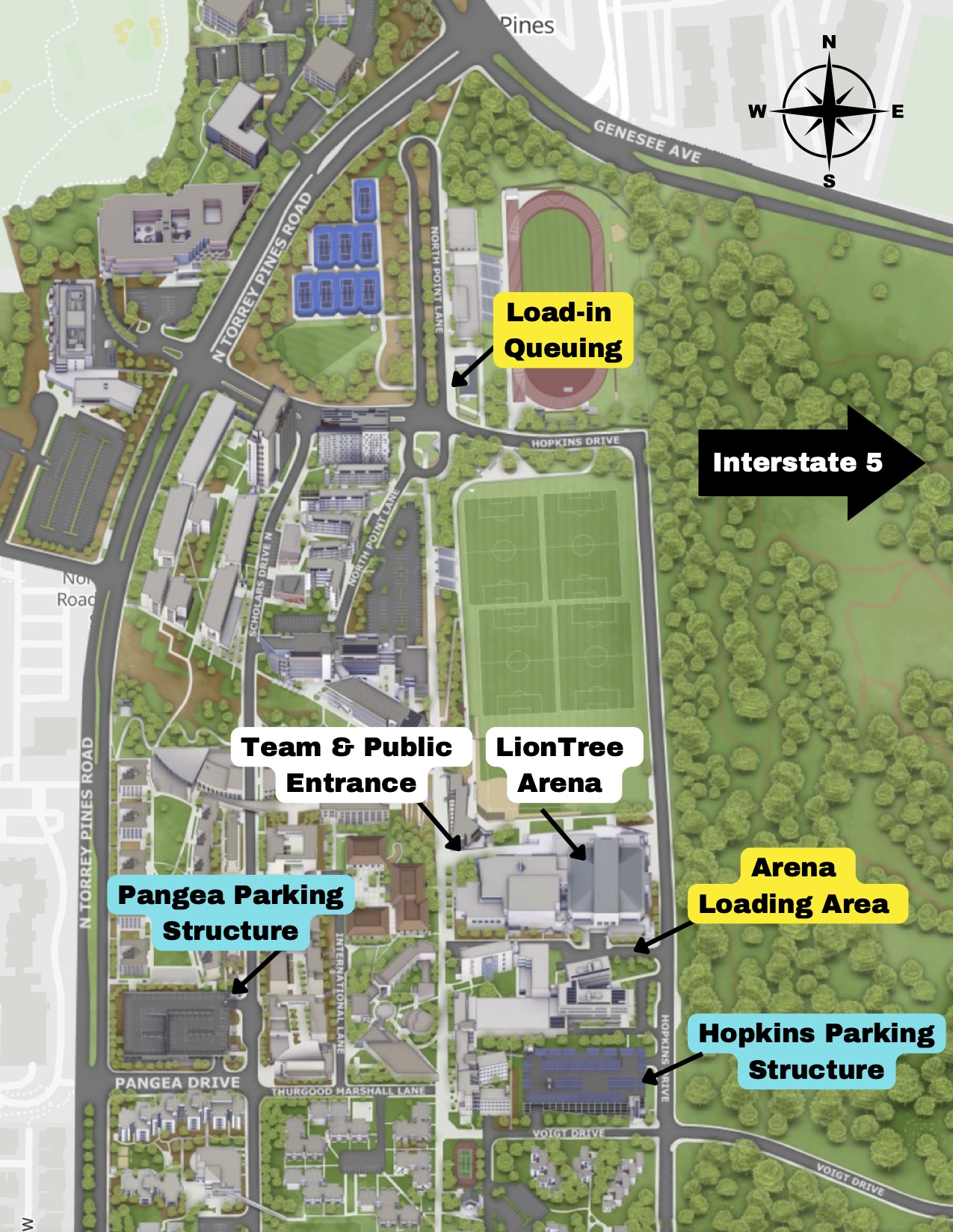 PITMAP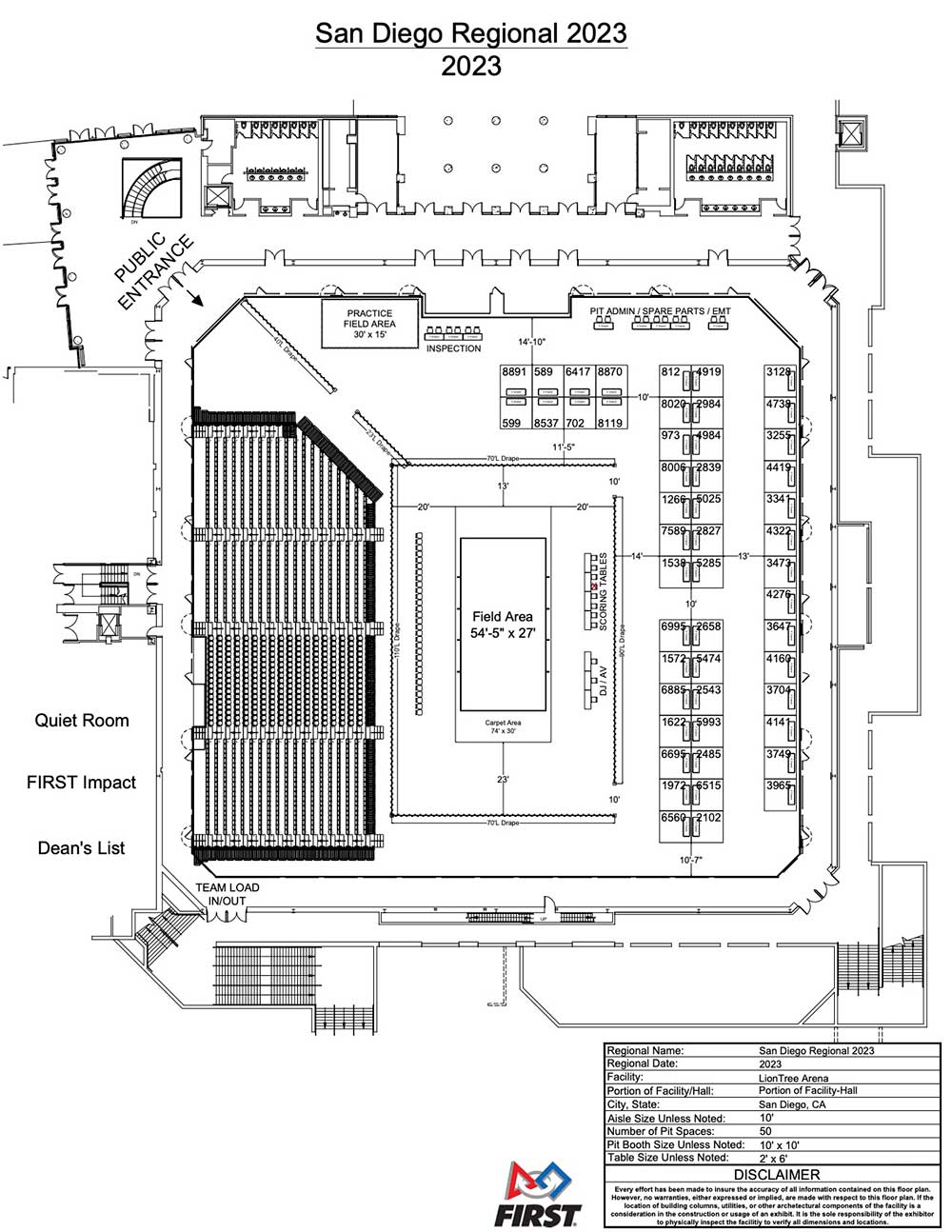 Team Robot/Pit load In: 
Active Load In Times –
Thursday, 3/23, 5:00 PM to 8:00 PM
Friday, 3/24, 7:45 AM to 8:30 AM

 
We are at a new event space this year. Load-in instructions have changed significantly. Please distribute these instructions to everyone that will be carrying items for your team's load-in.  
Key points 
Teams must queue in a remote area prior to being allowed into the arena loading area. 
Teams will be turned away at the arena loading area if they did not check in with the volunteers at the queue area and received a load in pass.
Drivers need to stay with their vehicles at all times through the load in process. 


The arena loading area is very tight. Large trailers are discouraged. If you have questions, please contact David Berggren at

dberggren@firstinspires.org

.

5 people max for loading-in still enforced. With at least one of the 5 being an adult. 

Drivers, with vehicles, are not counted as the 5 team members loading in 

Load-in has been extended to 5pm – 8pm on Thursday night. 

Follow the directions of volunteers completely. 
Load-in Procedure (subject to change and/or update)  
Drive to the queue area located at Northpoint Lane parking

 

loop (lot P359) and check in with the volunteer there.

HOURS:

On Thursday: Teams can arrive in the queue area 4:00pm – 7:45pm
On Friday: Teams can arrive in the queue area 7:15am – 8:15am

Follow directions of volunteers who will direct you to line up around the inside of the loop road 

Please stay tight as you can to the inside (left) curb, so vehicles can still get by

Wait, with your vehicle, in the queue area until a volunteer informs you that you can leave

Vehicles will need to move forward in the queue line as the line progresses

Once at the front of the line and there is space, a volunteer will allow you to depart to the arena loading area by providing you a load in pass

We will try to keep team vehicles together. They may be sent separately 

Drive to Arena Loading Area at the arena (

please see

map

)

Check in with Volunteer upon arrival

Follow volunteer directions for parking your vehicle for load in

Unload vehicle

Driver must stay with vehicle at all times

Vehicles should be unloaded as quickly as possible

Unload everything prior to moving anything into the venue

Depart the load in area immediately after your vehicle is unloaded
Team Robot/Pit load Out: 
Key points 
Load out will take place Sunday, 1:00 – 6:00pm
Drivers need to stay with their vehicles at all times through the load out process. 

Team's load out vehicle/s must queue in the remote area prior to being allowed in the arena loading area

Teams will be turned away at the arena loading area if they do not have a load out pass
Load-out Procedure (subject to change and/or update) - load-out process is different than load-in 
Completely pack up pit and be ready to load out

Check in with Pit Admin once your load out vehicle/s is ready to go and provide them with a cell phone number of the driver or drivers
Once driver/s receive a text messaged Load Out Pass they can proceed to the arena loading area. There will be no queue area volunteer for load out.
2023 Message from our Judge Advisor, Rick Segil: 
Interviews for Dean's List and the FIRST Impact (formerly Chairman's) Award both will be conducted in person at the venue this year. Teams and individuals can check at pit admin on (Friday after 4:00) to find their interview time slot. If teams or individuals need to reschedule to accommodate their match schedule, they should make arrangements to switch with another team individual as soon as possible after the schedule is announced. They will need to inform pit admin of any agreed upon switches. If a translator is needed for the interviews, please contact us as soon as you can so we can make accommodations. 
New This Year: We will be hosting an optional Impact and Dean's List judging tour on Friday afternoon at 4pm.  This is an opportunity for teams who will be presenting to the judges for the FIRST Impact Award or students meeting with the judges as a Dean's list nominee, to see where the judge rooms are, how they are set up and ask questions about logistics.  Meeting location and time will be shared out at the event. 
Venue operated concessions will be available at the event Friday-Sunday

Outside food is not allowed in the venue

Any food can be eaten outside the venue

If raining, we will work to allow eating in covered areas

Please make sure your team cleans up after themselves

Water will be allowed to be brought in during robot load in times on Thursday evening and Friday morning
Should your team need any special assistance and/or accommodations, please contact David Berggren at dberggren@firstinspires.org prior to the event. 
Safety First: 
Safety glasses are required to be worn at all times by anyone in the pit or competition area. Please make sure that you bring enough safety glasses for every member of your team (students and adults). Safety glasses will not be available to borrow this year.  It would also be smart for your team to bring extra safety glasses for and parents or visitors that may be attending with your team. 
Additionally, please remind your team members and any adults that may be coming with your team that closed toe shoes are required in the pits along with safety glasses. 
Pit Information 
Per fire code restrictions, all pits must be open at the top. Teams will be asked to remove any tents or other covering. If you are not planning to use the table provided in your pit area, please let us know in advance. We are not formally restricting numbers of people in the pit. However, we ask teams to use good judgment about numbers of team members and mentors in their pit at any given time. If event organizers feel the pit area is getting too crowded to allow for reasonable physical distancing, teams may be asked to have non-essential members leave the area. 
COVID Policy and Event Entry:

February 28, 2023 – The event will be open to the public this year, and we do not plan to have any COVID restrictions. Masks are absolutely welcome, and teams and spectators should feel perfectly comfortable choosing to wear them.
September 9, 2022 – We are continuing to monitor local public health conditions and are developing plans on how to best support FIRST events across all programs for the 2022 – 2023 Season. This includes the ability to implement modifications such as the use of masks, health screening, event scaling, social distancing, event formatting, and other precautions as determined by local conditions and regulations.
Providing opportunities for hands-on learning and recognizing our teams' incredible accomplishments are key elements to the lasting impact of FIRST. We remain committed to deliver our programs to as many students as possible, as safely as possible.
This space will be updated with more details as the season progresses.
We thank you for your continued support for our mission as we navigate the season together!
Thank You To Our Partners



WAYS TO SPONSOR
Financial Support of Events or Teams, In-kind Donation of Parts, Equipment and/or Facilities,
Student Scholarships,
Student Internships
SUPPORT THE SAN DIEGO REGIONAL
To discuss sponsorship opportunities and benefits of sponsorship, please contact FIRST California Senior Regional Director, David Berggren, through the Contact Form at the bottom of this page.
FIRST IS FUELED BY VOLUNTEERS
For 30 years, FIRST® volunteers have fueled the mission by inspiring millions of young people to reach for the stars. You are part of a global support system we've built for students who need a spark of curiosity and encouragement to launch their dreams. Together, we're inspiring the next generation of innovators, technology leaders, and change-makers here on Earth – and beyond.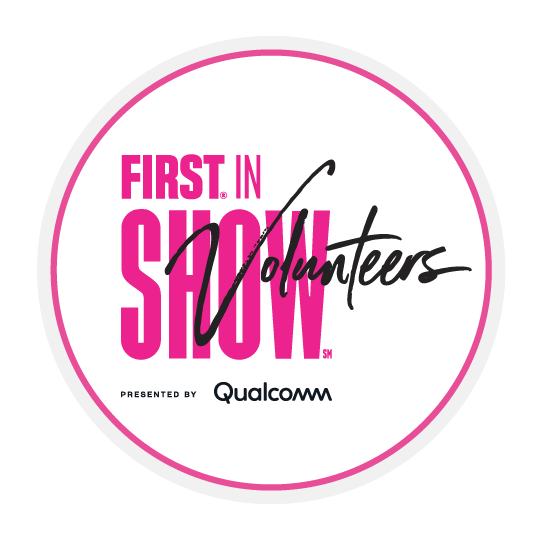 Volunteers Needed for the San Diego Regional!
March 21-24, 2024
Help us inspire students to be our next generation of innovators, scientists, and technicians by enabling them to experience the excitement of math, science, and engineering through an intense robotics competition. 
Our competition events are volunteer driven, and take roughly 90 volunteers to make it happen for our students.
Non-Technical and Technical Roles Available.
Volunteer roles to fit all levels of experience and skills!
SUGGESTED ROLES
Field Repair/Reset, Team Queuing, Safety Attendant, Practice Field Attendant, Robot Inspector, Webcast Operator.
Please apply ASAP. We strongly prefer volunteers available for full days.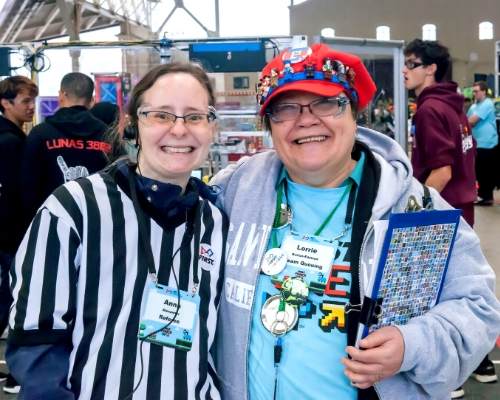 APPLY TO VOLUNTEER
Create a FIRST account at: firstinspires.org >> Register (upper right corner)

From Dashboard, select "Volunteer Registration" >> "Event Volunteering"
Select Program – FRC
Select Country – United States, and State – California, and "Apply Filters"
Select Event – San Diego Regional presented by Qualcomm
Apply to Volunteer for a role!
You will receive confirmation and further communication from our San Diego Regional Volunteer Coordinator.