FIRST Robotics Competition
LOS ANGELES REGIONAL
Mar 7-8, 2020 | El Segundo, CA
DA VINCI SCHOOLS  | 201 N. Douglas St.
The 20th Annual Los Angeles Regional 
Dubbed a varsity Sport for the Mind,™ FIRST Robotics Competition (FRC) combines the excitement of sport with the rigors of science and technology.
Under strict rules, limited resources, and time limits, teams of high school students are challenged to raise funds, design a team "brand," hone teamwork skills, and build and program a robot to go head to head against a field of competitors.
It's as close to "real world" engineering as a student can get.
SAT, 3/07/20: 8:30am – 6:15pm
SUN, 3/08/20: 8:30am – 6:00pm
The Los Angeles Regional is a high-energy, high-tech spectator sporting event that teams professionals and young people together to solve an engineering design problem in an intense and competitive way.
The program is life-changing, career-molding and a lot of fun. We invite you to experience the excitement of this intense competition, tour the "pits" to visit with teams and robots, and cheer on your favorite team. Closed toe shoes required in the pits.

Each year this multinational competition reaches more than 96,250 students on over 3,850 teams in competitions held across the USA and in other parts of the world.

LOCATION: 
Da Vinci Schools
201 N. Douglas St., El Segundo, CA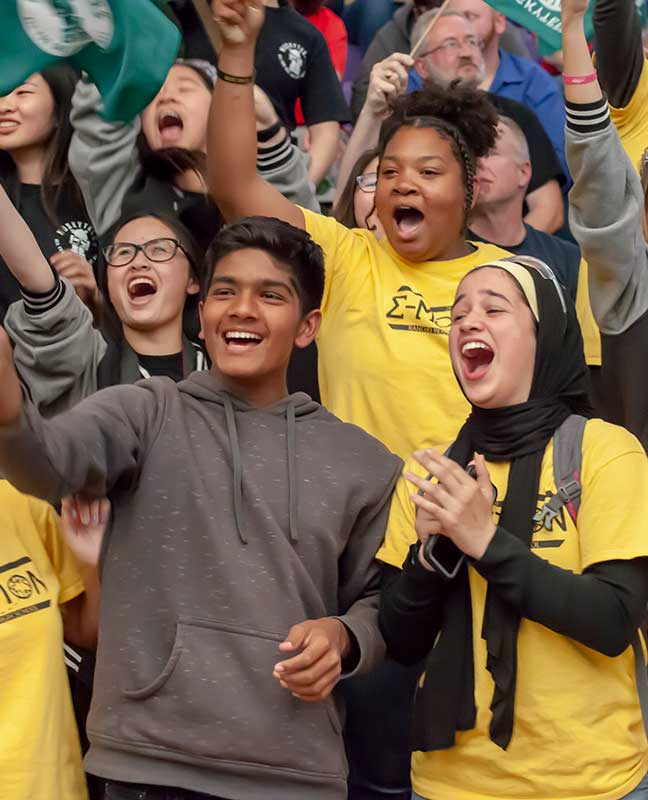 Teams at the Los Angeles Regional will vie for regional awards and a spot at the FIRST Championship which will be help in April in Houston, Texas. The competition is part of FIRST, a not-for-profit organization dedicated to inspire young people's interest and participation in science and technology.   
THIS YEAR'S STAR WARS-INSPIRED CHALLENGE
This year's game, INFINITE RECHARGE, is part of the 2020 FIRST season, FIRST RISE, powered by Star Wars: Force for Change.
In INFINITE RECHARGE, two alliances work to protect FIRST City from approaching asteroids caused by a distant space skirmish. Each alliance, along with their trusty droids, race to collect and score Power Cells in order to energize their Shield Generator for maximum protection. To activate sections of the Shield Generator, droids manipulate their Control Panels after scoring a specific number of Power Cells. Near the end of the match, droids race to their Rendezvous Point to get their Shield Generator operational in order to protect the city.
Checkout who's competing this yearby clicking the button below. Find results from 2019 here.
MEDIA PASS
The Media is invited to capture the excitement of this intense competition. Please fill out the Contact Form at the bottom of the page to request a Media Pass.
Resources for Teams
Team Dates: March 5-8, 2020 
Thursday March 5

 

 

 

6:00PM-8:00PM

5 Team Reps to Load In and Set Up Pits

 

 

 

 

 

 

 

 

Friday March 6

 

Friday March 6

7:45AM  

5 Team Reps to Load In

 

8:30AM-6:00PM

Practice Field Open

8:30AM  

Pits, Machine Shop, Registration and Inspection Open

 

9:00AM-11:00AM

Driver's Meeting, Field Open for Measurement and Calibration

 

11:00AM-12:00PM

Lunch

 

10:30AM

National Anthem Auditions

12:00PM-6:30PM

Practice Matches

 

4:00PM

Chairman's Award & Dean's

List interview schedule

available at Pit Admin

8:00PM  

Pits and Machine Shop Close

 

 

 

Saturday March 7

 

Saturday March 7

8:00AM  

Pits and Machine Shop Open

 

8:00AM-10:00AM

Invited Guest Event

8:30AM-9:00AM

Opening Ceremonies

 

9:00AM-5:30PM

Practice Field Open

9:00AM-12:00PM

Qualification Matches

 

10:00AM-11:00AM

12:00PM-1:00PM

Lunch

 

1:00PM-5:45PM

Qualification Matches

 

11:00AM-12:00PM

5:45PM-6:15PM

Awards Ceremony

 

8:00AM-5:50PM

Sponsor exhibits and FIRST demonstrations

~6:30PM**

Pits and Machine Shop Close immediately following Awards Ceremony

 

11:00AM-1:45PM

Raytheon sponsored Women in STEM – pre-registration required

 

 

 

 

 

Sunday March 8

 

Sunday March 8

8:00AM  

Pits and Machine Shop Open

 

8:30AM-9:00AM

Opening Ceremonies

 

9:00AM-1:00PM

Practice Field Open

9:00AM-12:15PM 

Qualification Matches

 

12:15PM-12:30PM

Alliance Selections

 

8:00AM-1:30PM

Sponsor exhibits and FIRST demonstrations

12:30PM-1:30PM

Lunch

 

1:30PM-4:30PM 

Playoff Matches

 

4:30PM-6:00PM

Awards Ceremony

 

6:30PM  

Pits Close

 
Teams may load in and set up their pits on THURSDAY evening from 6:00pm to 8:00pm and FRIDAY morning from 7:45am to 8:30am.   
Teams loading in on THURSDAY will park and unload in the visitor parking lots in front of Da Vinci, off N. Douglas. 
Teams loading in on FRIDAY will use a drive-thru only lot off Grand in the back of Da Vinci.  Teams will unload all their equipment and vehicles will be immediately moved to park in the designated visitor parking lots. 
As a reminder, pits may be set up during these load-in times but robots may NOT be worked on.  Only 5 members from each team are allowed into the venue during load in, one of which must be an adult mentor.  Safety glasses must be worn to enter.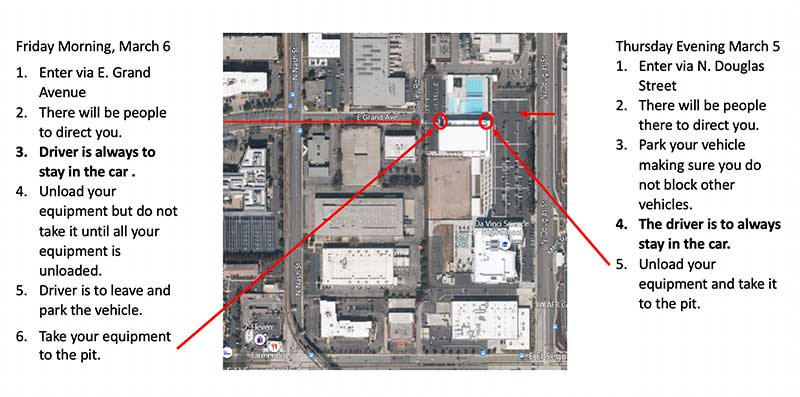 FOOD POLICY:
An outdoor, fenced area between the school and the gymnasium is designated as a "team camp."  There are picnic tables available and open space for portable pop-up tents.  Outside food and beverage MAY be brought into this area.   
Outside food and beverage (with the exception of bottled water) is strictly prohibited inside the gymnasium, including the pits. 
FOOD TRUCKS: 
Food and beverages will be available for purchase from food trucks on Friday, Saturday and Sunday. 
Slammin

Sliders

(American) – menu
Saturday and Sunday, 10am-2pm 
Address: 
Da Vinci Schools: 201 N. Douglas Street, El Segundo, CA 90245 
Parking: See attached map.
 GREEN & RED: Teams and spectators may park in any of the visitor lots marked in green and red on the attached map. 
BLUE: The blue visitor lot is available on Saturday and Sunday.  Da Vinci teachers will be using this lot on Friday. 
Additional parking is available in the Karl Storz structure off Grand and Nash. 
Please do not park in lots indicated as Volunteer Parking or in any spaces marked on-site as reserved.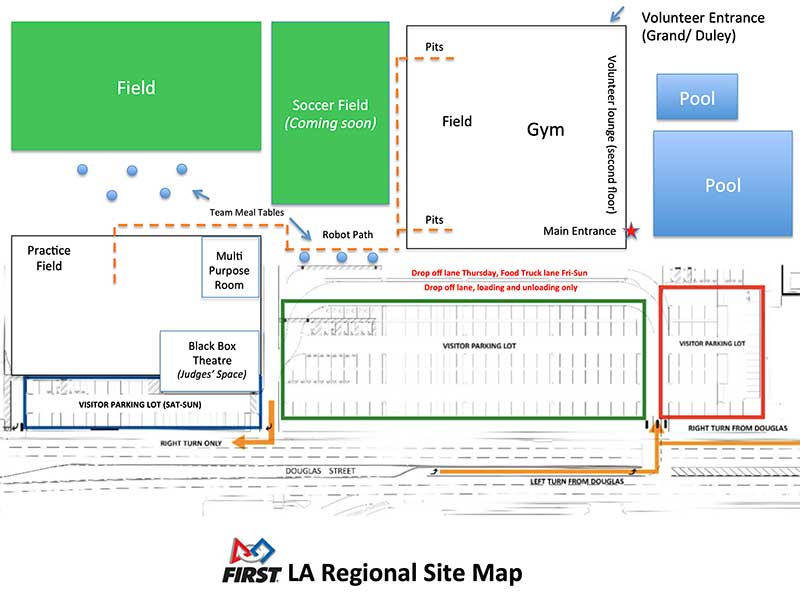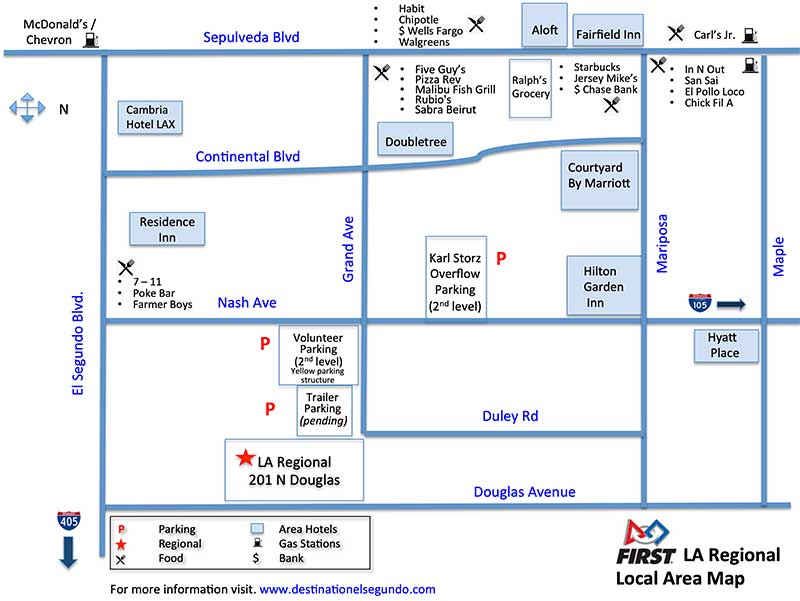 HOUSING:
Make your FIRST® event experience more memorable and affordable. We've negotiated hotel and travel discounts available exclusively for FIRST Robotics Competition events. Through our housing experts at Experient, we provide you 24/7 access to full hotel descriptions, real-time availability, amenities, and other details allowing you to book quickly and confidently.
BOOK NOW FOR THE LOS ANGELES REGIONAL
When you stay with FIRST you and your team:
Stay close to venue and other teams
Receive guaranteed low-rates
Rest easy at FIRST-reviewed hotels
Enjoy convenient FIRST-contracted amenities at most hotels including complimentary parking, Wi-Fi, and breakfast
Gain flexibility to make booking adjustments and pay later
Get reservation protection and assistance before, during, and after your stay if any unexpected challenges occur
Earn reward points at your preferred hotels
And of course, support your region with earned rebates that go towards improving future FIRST Robotics Competition local events
Women in STEM event, hosted by Raytheon
Friday, March 6th – 11am – 1:45pm
Pre-registration required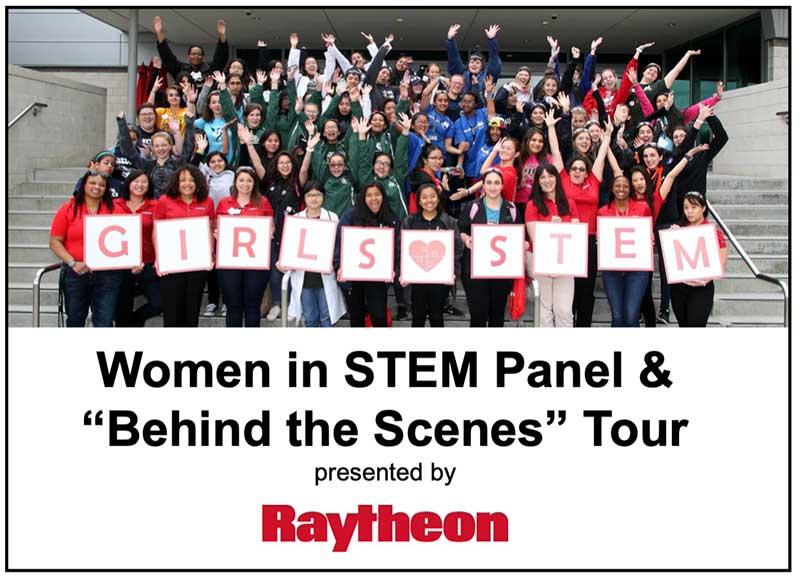 Click for full flyer.
Calling all female robotics students! Find out what it's like to be a woman working in STEM. Join us for an interactive panel featuring a diverse group of women from Raytheon and the L.A. Air Force Base as they share their personal and professional journeys and experiences. Following the panel, you will get a special "behind-the-scenes" tour of our aerospace labs as engineers talk about what they do and why it matters. This is a great opportunity to learn about STEM-related careers and how to architect your future career.  
• Open to U.S. citizens only due to government export controlled restrictions. 
• Parents must register for students under 18 years old. 
• Photo ID required (driver's license or student ID card) 
• Space is limited – open to 100 girls and 20 mentors/chaperones. Everyone must register.
• Location: Meet at Da Vinci Science High School front entrance at 11 a.m. for group walk to Raytheon. Group will return together at 1:45 p.m. 
As was the case last year, slots for Chairman's and Dean's List interviews will be assigned randomly and will be available at Pit Admin. Note that the first interviews will be at 9:40 AM on Saturday so check early! If you need to switch a slot, please find another team or student to switch with and then notify Pit Admin of the switch. 
Lead Robot Inspector notes 
The primary goal of our Robot Inspectors is to ensure that every team passes inspection before the pits close on Friday. Our secondary goal is making the primary goal as educational and fun as possible for everyone. Inspections are performed to ensure safety and fair play for the teams. Section 9 of the Game Manual specifies Robot Rules which for the basis for the Robot Inspection Checklist. Section 10 describes inspection and eligibility to participate in matches – please review them.  
Here are a few reminders and tips to speed up the inspection process:  
1) Remember there is no more "Bag-and-Tag!" This means no more Robot Lock-up Form, no robot bag inspections, and no "withholding allowance" weigh-in.  
2) During load-in (Thursday, 6 pm – 8 pm and Friday, 7:45 am) no more than 5 team members (with safety glasses) can bring in robot and pit items. Teams are only allowed to setup pits at load-in time. We encourage teams to complete pit setup on Thursday pm to reduce traffic and unsafe activities on Friday. No robot work is allowed until pits open (Sat 8:30 am).  
3) Please bring your OpenMesh Wireless Bridge (P/N: OM5P-AN or OM5P-AC), (radio) to the Radio Configuration Kiosk near the inspection station. Radio configuration should take less than two minutes.  
4) After radio configuration, Robot Inspectors conduct a safety check of the robot before their first practice round on the field, consisting of the following items: Verify Driver Station Firmware, RoboRIO image (updated!), Talon SRX, and other firmware versions, and Team Number. Inspectors will check for unsafe conditions at the same time. You will need a Preliminary Inspection plus radio configuration to enter the field for practice matches.  
5) As soon as possible on Friday morning, please bring robot to the inspection area for the Initial Weight and Size Inspection. You should weigh all components planned for your various robot configurations (150 lb for all components, robot weight is limited to 125 lb for a given configuration). You can come back again later as you modify your robot, but we need to know if any robots need to shed pounds or inches as early as possible.  
6) Students (not mentors) should interact with the Inspectors. We prefer to talk to the student leads for Mechanical, Electrical and Pneumatic Systems. Students should be familiar with the 2020 FRC Inspection Checklist posted on the FIRST website with the Game Manual.  
7) Teams are encouraged to get their robot inspected early. Robots do not have to be "finished" in order to be inspected. After the Preliminary Inspection, Inspectors will complete as much of the inspection checklist as they can at each visit, help the team identify any additional work that needs to be done to pass inspection, and recommend other teams with resources that might be helpful. Teams need to pass the full inspection to get in the open queuing line for practice matches on Friday and to participate in qualification matches on Saturday. NOTE: Teams not completing inspection by 5 pm on Friday will not be permitted on the practice field. 
8) The Robot Bill of Materials (BOM) compliant with R11-R13 must be presented in printed or electronic form at the time of Inspection. Teams are encouraged to use the BOM Template posted on the FIRST website with the Game Manual. Current year quantities of items in KOP (including rookie KOP), items from FIRSTChoice or purchased with virtual KOP  vouchers (including Andy Mark drive chassis kit opt-out) are not cost accountable ($0.00), but still must appear in the BOM. Individual items less than $5 are not required to be entered in the BOM. Inspectors will pay special attention to identify higher-cost COTS items (gearboxes, cameras/sensors, electronics boards) on the robot.  
9) All pneumatic components must have manufacturer ratings of at least 125 psi (>70 psi for components downstream of the regulator) and may not be altered.  
10) Important note: All robots must be re-inspected after any changes (except those specified in Section 10, Rule I4, A-F). 
Thank You to our Sponsors!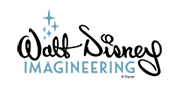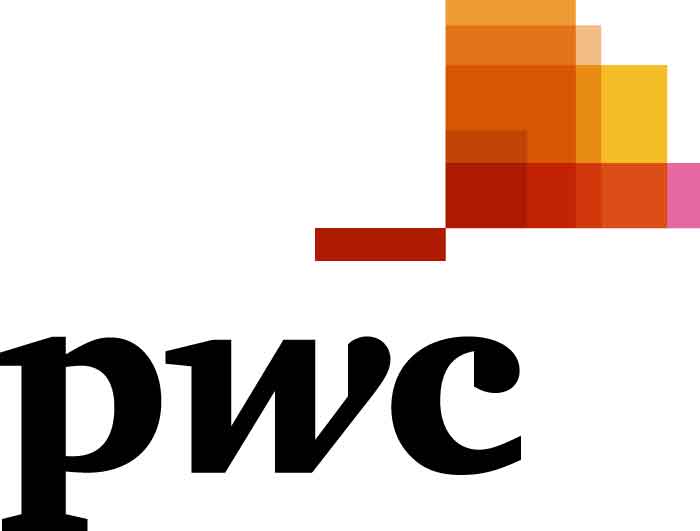 Gerald Oppenheimer Family Foundation
The Kenneth T. and Eileen L. Norris Foundation
WAYS TO SPONSOR
Financial Support of Events or Teams, In-kind Donation of Parts, Equipment and/or Facilities,
Student Scholarships,
Student Internships
SUPPORT THE LOS ANGELES REGIONAL
To discuss sponsorship opportunities and benefits of sponsorship, please contact FIRST California Senior Regional Director, David Berggren, through the Contact Form at the bottom of this page.
FIRST IS FUELED BY VOLUNTEERS
For 30 years, FIRST® volunteers have fueled the mission by inspiring millions of young people to reach for the stars. You are part of a global support system we've built for students who need a spark of curiosity and encouragement to launch their dreams. Together, we're inspiring the next generation of innovators, technology leaders, and change-makers here on Earth – and beyond.
Volunteer at the Competition!
Non-Technical and Technical Roles Available
EXAMPLES OF ROLES
Field Reset, Volunteer and VIP Check-In Assistants, Practice Field Attendant, Replacement Parts, Crowd Control, and more!
APPLY TO VOLUNTEER
Create an account in the FIRST Dashboard – click here to apply.
Click the Volunteer Registration tab & choose 'Volunteer at an Event'.
Filter events by location/ program and select Los Angeles Regional.
Choose up to five roles and apply.
Complete your required youth protection background screening (US & Canada).
You will receive an email from your local event coordinator if you are assigned to a volunteer role.