FIRST LEGO League
CALIFORNIA – Southern
COUNTIES SERVED
San Diego, Imperial, Orange, Riverside, San Bernardino, Los Angeles, Ventura, Santa Barbara, San Luis Obispo
Welcome to the home of the California Southern FIRST® LEGO® League (FLL) – Challenge, Explore and Discover.
In FIRST® LEGO® League, students are immersed in real-world, hands-on STEM challenges. Teams design their own solution or problem to real world engineering challenges while building autonomous LEGO robots that perform a series of missions. Through their participation, students develop valuable life skills, build confidence, grow their knowledge and develop habits of learning.
.
3 FIRST LEGO League Divisions
FIRST LEGO League guides youth through STEM learning and exploration at an early age. From Discover, to Explore and then to Challenge, students will understand the basics of STEM and apply their skills in an exciting competition while gaining productive learning habits, confidence, and teamwork skills along the way.

For children ages 4-6, Discover is a playful introductory STEM program that ignites natural curiosity and builds habits of learning with hands-on activities in the classroom and at home using LEGO® DUPLO® bricks.

In Explore, teams of students ages 6-10 focus on the fundamentals of engineering as they explore real-world problems, learn to design, and code and create unique solutions made with LEGO bricks and powered by LEGO® Education SPIKETM Essential or WeDo 2.0.

Friendly competition is at the heart of Challenge, as teams of students ages 9-16* engage in research, problem-solving, coding, and engineering – building and programming a LEGO robot that navigates the missions of a robot game.
2023-2024 season challenge

 Create the future in MASTERPIECE
In the MASTERPIECE challenge, debuting August 1, 2023, FIRST LEGO League teams will imagine and innovate new ways to create and communicate art across the globe.


FIRST LEGO League Challenge teams get to:
Use and apply the FIRST Core Values and engineering design process to develop a robot and Innovation Project solutions.

Identify and research a problem related to the season theme then design and create an Innovation Project solution.

Identify a mission strategy and design, create, and code a robot to complete missions.

Test, iterate, and improve their Robot Design and Innovation Project.

Communicate their Robot Design and Innovation Project and demonstrate their robot in the Robot Game.

Learn to listen to others ideas and have fun throughout their time together as a team.
CORE VALUES
Demonstrate FIRST Core Values in everything you do. Your team will be evaluated during the Robot Game and the judging session. Core Values are judged everywhere, Referees at the Robot Game table will also be watching how the teams embody Gracious Professionalism® – the spirit of friendly competition unique to all FIRST programs.
Your team will:
Apply

teamwork

and discovery to explore the challenge.

Innovate

with new ideas about your robot and project.

Show how your team and your solutions will have an

impact

and be

inclusive!

Celebrate by having

fun

in everything you do!
ROBOT DESIGN
Your team will prepare a short presentation on your robot design, strategy and program.
Your team will also:
Identify your mission strategy.

Design your robot and programs and create an effective plan.

Create your robot and coding solution.

Iterate, test, and improve your robot and program.

Communicate your robot design process and everyone's contributions with the judges
ROBOT GAME
Your team will have three 2.5-minute matches to complete as many missions as possible.
Your team will:
Build the mission models and follow the field setup to put the models on the mat.

Review the missions and rules.

Design and build a robot.

Explore building and coding skills while practicing with your robot on the mat.

Compete at an event.
INNOVATION PROJECT
Your team will prepare a live, engaging presentation to explain the work you have done on your Innovation Project.
Your team will:
Identify and research a problem to solve.

Design a new solution or improve an existing one, based on your selected idea, brainstorming and plan.

Create a model, drawing, or prototype.

Iterate on your solution by sharing it with professionals, those that would be impacted and collecting feedback.

Communicate your solution's impact with the judges.

It's never too early to discover STEM. FIRST LEGO League Explore introduces science, technology, engineering and math (STEM) concepts to kids ages 6 to 10 while exciting them through a brand they know and love − LEGO®.
Guided by adult Coaches, teams of up to 6 members explore a real-world scientific problem such as energy, transportation of goods, recycling, etc. Then they create a Show-Me poster that illustrates their journey of discovery and introduces their team.
They also construct a motorized model of what they learned using LEGO elements. In the process, teams learn about teamwork, the wonders of science and technology, and the FIRST LEGO League Explore Core Values and  critical thinking. At the end of team season they come together at a Festival to show what they've learned, share ideas, celebrate, and have fun!

FIRST LEGO League Expolore teams get to:
Design and build challenge solutions using LEGO® elements and motorized parts

Apply real-world math and science concepts

Research challenges facing their community today

Learn team-building and presentation skills

Develop Show-Me posters to present their research journey

Learn to work together and accept others opinions

Share ideas and talents

Build self-confidence, knowledge and life skills
"I don't use kids to build robots. I use robots to build kids." - Dean Kamen, FIRST founder
FIRST LEGO LEAGUE
California – Southern
Current Month
december, 2022
FIRST LEGO League Challenge – Coach and Team Resources

Programming & Building Resources
Team Registration
Coach Resources
Season Materials 
Rules, Judging and Rubrics  
 Event Information
FIRST LEGO League Explore – Coach and Team Resources
Getting Started
Programming & Building Resources
Season Materials
Coach Resources
Family Engagement – Learn through Play
Thank you for your interest in joining a FIRST® LEGO® League Explore / Challenge team! 
Please note that FIRST does not match individual children with existing teams and we are not able to provide you with contact information for existing teams. We have included information below to help guide you in finding a team in your area or to helping you start a team.
FINDING A TEAM
Using the

Team and Event Search

tool on the

FIRST 

website is a great way to look for teams in your area!
Use the "Filter" section to narrow your search results. For your convenience, we've filtered the results to include teams within a 25-mile radius of your zip code.

Due to our

Privacy Policy

,

FIRST

is unable to provide contact information for teams; however, you can copy and paste the team name, number, and location into a Google Search as this often yields a website or Facebook page. Once you've identified the team or organization's public contact information, you may contact them directly. 

If you do not find any team information via the Events and Teams page, it's because teams generally form via school groups, youth organizations, and community groups. We recommend reaching out to these organizations in your area to inquire if any have a
FIRST
LEGO League team, and if so, if they are looking for additional members.
The

FIRST

Forums

provide a place for the

FIRST

LEGO League Community to talk to each other; teams, coaches, volunteers,

FIRST

LEGO League partners and parents. Although this is not a

FIRST

site (i.e., where official information is dispensed) it is a popular tool used by many teams and where you can ask if a team in your area is looking for additional youth to join.
STARTING A TEAM
In the event you cannot find a team in your area that is looking for new team members, we highly recommend starting a team. Although this may sound daunting, many parents start teams themselves or work with their local community organizations and schools to get one started. Please know, you do not need to be technical to start a team! We cannot emphasize this enough. In fact, many of our coaches have limited technical skills. The most successful coaches are people who simply have an interest in science and technology, and in helping kids discover and learn.
Here are key items to know about starting a team:
Minimum Team Startup Checklist:
A spirit of adventure

The time commitment is 1-3 hours a week, over the course of 12 weeks.

2 coaches and at least 2+ kids

A place to meet

A willingness to raise funds (

sponsorships available

)

The desire to have fun and help kids learn

The expectation to get more back than you give!

The

FIRST

web page

Start a team

has all the information you will need to start a team.
We know this is a lot of information, please feel free to contact us with additional questions.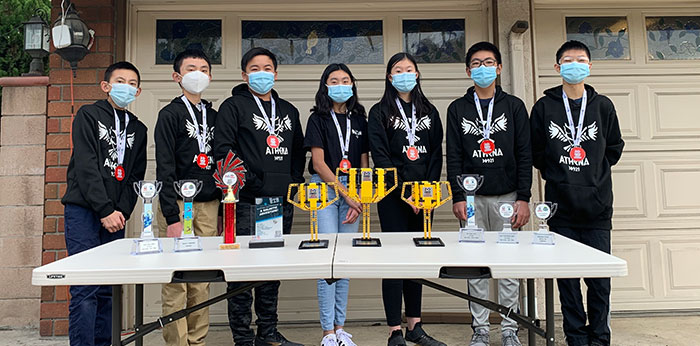 Though the events may be virual this year, the excitement is 100% real! The below video captures the surprise and joy from team Athena when they learn they are Champions of the Los Angeles FIRST LEGO League Challenge Championship event. Championship Event - December...
read more
FIRST IS FUELED BY VOLUNTEERS
For 30 years, FIRST® volunteers have fueled the mission by inspiring millions of young people to reach for the stars. You are part of a global support system we've built for students who need a spark of curiosity and encouragement to launch their dreams. Together, we're inspiring the next generation of innovators, technology leaders, and change-makers here on Earth – and beyond.
Volunteer Opportunities!
Non-Technical and Technical Roles Available
FIRST® LEGO® League is a volunteer-run organization lead by passionate, like minded individuals who see the value in encouraging elementary through middle school students to participate in a program that exposes them to a world of imagination and innovating. 
Why Volunteer?
Make a difference in the lives of young people

Help young people apply real-world math and science concepts

Network with like-minded professionals

Help celebrate science and technology

Help kids discover the fun in science and technology
Volunteers are needed to enable more than 2,400 Southern California FIRST® LEGO® League students to compete at tournaments and demonstrate what they have achieved.
Thank You To Our Partners

WAYS TO SPONSOR
Financial Support of Events or Teams, In-kind Donation of Parts, Equipment and/or Facilities,
Student Scholarships,
Student Internships
SUPPORT FLL - CA, SOUTHERN
To discuss sponsorship opportunities and benefits of sponsorship, please contact FIRST California Senior Regional Director, David Berggren, through the Contact Form at the bottom of this page.
JOIN OUR NEWSLETTER
Subscribe to the FLL California Southern newsletter to stay up-to-date on events and all things FLL in Southern California.