FIRST™ LEGO League – Grades 4-8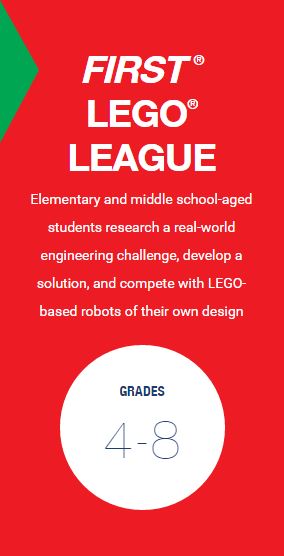 In FIRST LEGO League, children are immersed in real-world science and technology challenges. Teams design their own solution to a current scientific question or problem and build autonomous LEGO robots that perform a series of missions. Through their participation, children develop valuable life skills and discover exciting career possibilities while learning that they can make a positive contribution to society.

Children ages 9 to 14 get to:
Create innovative solutions for challenges facing today's scientists as part of their research project.
Strategize, design, build, program, and test a robot using LEGO MINDSTORMS® technology.
Apply real-world math and science concepts.
Develop employment and life skills including critical thinking, time management, collaboration, and communication while becoming more self confident.
Become involved in their local and global community.
Choose to participate in official tournaments and local events.
Qualify for an invitation to World Festival.
Engage in team activities guided by FIRST LEGO League Core Values.